Introduction:
Thinkific Vs Teachable; both the hosted platforms are for creating, marketing, and selling online courses. The bottom line is that if you utilize one of these platforms, you won't have to worry about using any additional tools.
Teachable and Thinkific aren't online marketplaces like Skillshare and Udemy, so you have absolute control over your course cost and content.
Who needs Thinkific and Teachable?
Anyone, including solopreneurs, communicators, writers, and consultants, can technically use one of these online course platforms to explore their skills.
Thinkific vs Teachable; Features:
Thinkific Features: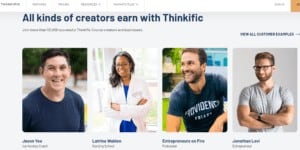 Thinkific Course Creator:
Thinkific is the best platform for its content variety, ability to build different membership levels, personalized course design, and variety of content features as a platform for producing online courses.
Many trainers find it difficult to maintain online courses engaging. For online courses, Thinkific supports various content types like Video, Quiz, Multimedia, Text, Audio, and more. Thinkific's 'Bulk Importer' enables content creators to migrate content from other platforms.
>> Start a free trial in Thinkific
Certificates of Completion:
The online learning experience might become boring if there is no encouragement.  Keep your learners interested as an online instructor.
Thinkific makes it possible for educators to design professional course completion certificates to facilitate this process.
Website Builder:
The performance of your internet learning business is dependent on the quality of your website.
For developing a website for your online course, Thinkific is excellent.  The following is a list of Thinkific's website features.
Drag-and-Drop builder.

Theme Library with stunning themes.

Can add a custom domain.

SSL certificate included.

Remove the Thinkific logo.
Thinkific Payment methods:
One important aspect of selling online courses is having payment method choice. Your visitors must be able to select a payment option that is convenient for them.
Thinkific allows both Stripe and PayPal as payment methods.
Stripe accepts credit and debit cards,  PayPal, on the other hand, is accessible in most countries. Also, vendors can collect payments through PayPal or Stripe accounts. There is no payment waiting periods. 
Marketing Tools:
Your marketing strategy is the major step for your online success. Thinkific offers some fantastic tools and marketing integrations for your online courses.
You can create instant discount coupons by using Thinkific.

If you have any external platform to integrate like an email marketing platform, it is possible to integrate them into your Thinkific account.

You can add affiliates to your courses in

Thinkific

. You can either sign up your current or new students as an affiliate.
Reporting:
Thinkific has a strong reporting program built-in. With Thinkific's matrices, you can gain significant insight into your business. Income, sales, student registration, and student engagement can all be tracked.
Get feedback:
You can track the feedback of your students for Progress reports, ratings, and certificates.
Data security:
Thinkific takes care of any security issues. All course creation tool registrations come with free SSL encryption.
Thinkific always use safe cloud hosting to keep both you and your students' information safe. Also, the automatic backup system is there.
Teachable Features: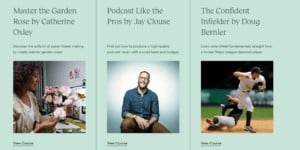 Add Custom domain:
Instantly connect your current website to Teachable using a custom domain.  Customize with the help of the power editor. Teachable's power editor can create speeches, videos, and training courses.
statistics:
The entire dashboard analytics for data like number sales, student registration, and more.
>> Start a free trial in Teachable
Create a stunning sales page:
By using a flexible page editor, you can create outstanding sales pages that engage people and leads to sell.
All unlimited:
All paid subscriptions include unlimited video capacity, countless training and education, and unlimited students.
A live one-on-one class:
Organize one-on-one live classes to ensure that each student receives individual care.
Certificate of course completion:
After completion of the course, encourage students with certificates.
Get Feedback:
You can use third-party forms and questionnaires for student feedback.
Thinkific vs Teachable; Pros & Cons:
Thinkific Pros:
With the free basic plan, you can launch your course.

There are no transaction charges.

Transfer funds to your bank instantly.

Add a custom domain.

You can remove

Thinkific

branding.

Third-party integrations are possible.
Thinkific Cons:
Cart abandonment chances increases due to the two-step check-out process.
Teachable Pros:
The course builder is extremely user-friendly, a newbie can easily use it without any technical skills.

You can create a high converting sales page. 

Various marketing tools are available.

You can include video, PDF files, and audio as mixed media components.

Include sections for discussion and feedback to your course.
Teachable Cons:
If you use a free or basic plan, you have to pay up to 10% transaction fees.
Thinkific vs Teachable; Price details:
Thinkific Price: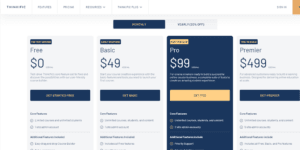 Free, Basic, Pro, and Premier are the four types of pricing options available in Thinkific.
>> Start a free trial in Thinkific
Free:
Check out Thinkific's basic features for free and see how powerful and easy this platform is.
Basic:
When invoiced annually, it costs $39 per month, and it costs $49 per month on a month-on-month basis.
Pro:
It costs $79 per month when invoiced annually, and it costs $99 per month on a month-on-month basis.
Premier:
This plan costs $399 per month when invoiced annually, and it costs $499 per month on a month-on-month basis.
Teachable Price:
The Teachable platform offers four different pricing options: Free, Basic, Pro, and Business.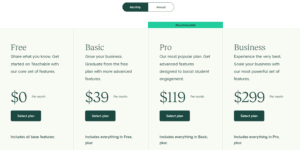 Free:
Describe everything you know. You can start with the most essential features of teachable for free.
>> Start a free trial in Teachable
Basic:
With enhanced features from the free plan, you can move with this upgrade. Price: $39 per month when invoiced annually, $29 per month for a month-on-month basis.
Pro:
This is the highly recommended plan in Teachable. Get enhanced features to increase student engagement. Price: $119 per month when invoiced annually, $99 per month for a month-on-month basis.
Business:
Take advantage of the best. Expand your knowledge business to this most powerful plan. Price: $299 per month invoiced annually, $249 per month for a month-on-month basis.
Thinkific vs Teachable;

Conclusion:
That's all about Thinkific Vs Teachable. You must go through all features and benefits for making your final decision to choose the right platform for your knowledge business. So, you must take a step back and thoroughly consider each point.
In my opinion, you can try both platforms as they both have a free plan to start. Sign up for the free plans first, and upgrade to the right platform that you think is best suitable for your business and niche. I hope this Thinkific Vs Teachable comparison post will be helpful for you to pick the right tool. Thank you very much for reading the article.
>> Start a free trial in Thinkific
>> Start a free trial in Teachable
Few related articles you may like to read: