What is content marketing?
Content marketing is a robust way if you want to attract, engage, and retain potential customers. In this article, we will discuss the 15 best content sharing platforms to reach more people quickly. 
Content marketing includes creating and sharing relevant articles, videos, podcasts, and other media channels. This technique builds experience, improves brand awareness, and keeps your business at the top of people's minds whenever it's time to purchase the same products or services that you provide.
Great content marketing will assist you to target relevant audiences. Content marketing is an essential marketing method that focuses on creating and distributing valuable and useful content.
Why is a content sharing important?
This is obvious that, if you will get more visits, more people will see your valuable content. Content sharing makes your website SEO seem more organic and trusted. Shared information is valued by both search engines and visitors. So, sharing content is important whether you are a newbie or an experienced content marketer. 
15 Best content sharing platforms:
1. Facebook:
Facebook is a huge platform to share your content. To reach out to relevant people you can share content in various related groups. For example, if your product is related to health and fitness, you will find lots of groups related to health, fitness, and weight loss. Start sharing content in those relevant groups. Facebook is one of the best content sharing platforms.
Also, you can create your own Facebook group and Facebook page to share content. Invite people to join your groups and pages to reach out to more people. Keep in mind, do not share your website link many times in a day on Facebook, it may blacklist your website link.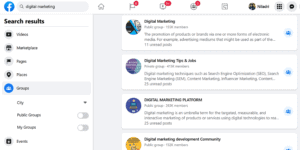 2. Instagram:
After Facebook, Instagram is the most popular social media platform. There are over one billion active monthly users and 500 million daily users inside this social media platform.
The number of brands with a presence on Instagram has increased significantly. Instagram is used by 70% of US businesses. So, you can easily reach out to potential customers by sharing content on Instagram.
Do you want to grow your Instagram followers in a paid way? Try Kicksta.
3. Twitter:
Twitter content marketing can help you expand your audience, market your products, boost traffic to your website, and much more. You can boost your entire account to get new followers, increase engagement and content visibility.
Twitter marketing is focused on the content you produce, and share. Through Twitter, Your content can attract new viewers, attract new leads, increase conversions, and brand awareness.
4. Tumbler:
Tumblr is a very popular social media platform that allows users to share content such as short blog posts. Tumblr's distinctive feature is its unlimited access flexibility and individuals' ability to fully modify their individual profiles.
5. Quora:
Quora is a very popular question-and-answer platform. Anyone can ask questions and anyone can answer that question. To share your content, start answering questions inside Quora. Look at the stats below, I got more than 75k views in the last 30 days in my Quora account.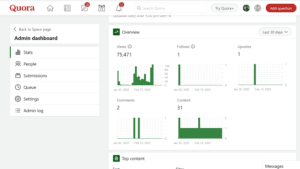 6. YouTube:
We all know about YouTube, the platform to share video content. Video marketing is a powerful method now for online marketing. You don't have a YouTube channel? Go and create one today and start making videos. Do you want to grow your YouTube channel fast? Create a free account in TubeBuddy.

7. Emails:
Email marketing is a robust method for online marketing. You can share your content to your email list to grab more visitors. But, making an email list takes time. You can use the lead magnet strategy to collect emails. In lead magnet, you need to provide some valuable giveaways in exchange for people's email addresses.
8. Reddit:
In Reddit people can subscribe to some relevant community and publish content to it. Reddit is a fantastic place to keep up with the latest news and connect with individuals who share similar backgrounds. It functions similarly to a newspaper, except it is driven by individuals who want to express their thoughts.
Reddit created the "karma" concept. Users earn karma by having their comments and the contents upvoted by the community.
9. Medium.com:
Medium is an online platform where you can publish your content. Writers can create a free Medium account and begin writing right away. As this is a high authority website, valuable content ranks in Google very fast. So, Medium is one of the best content sharing platforms.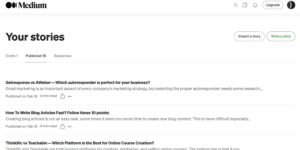 10. Mix.com:
Mix specializes in all aspects of social media for businesses of all sizes. Simply you can mix your website link inside Mix.com to get more traffic to your website content.
11. Linkedin:
LinkedIn is the best platform for B2B leads. You can reach out to more business professionals in your niche through LinkedIn. Create a LinkedIn page and share your content. Also, invite people to follow your LinkedIn page. Don't know how to create a LinkedIn page? Watch the video below…
12. Telegram Channel:
Telegram channels are a more powerful version of WhatsApp's Broadcast list, and they're used to send one-way broadcast messages. A Telegram group is identical to any other chat group in which members can communicate via text messages. Create a Telegram channel to share your website content.
13. Slideshare:
Slideshare is a platform where you can upload PDF documents. This is a very popular platform for Bloggers and Affiliate Marketers. You can bring traffic to your content through Slideshare.
14. Snapchat:
Snapchat is a popular instant messaging software that allows users to send and receive photos and videos that are known as snaps. The platform is designed in a way that contents will be deleted once they've been viewed. You can use Snapchat to share your content.
15. Pinterest:
Pinterest is a very popular social media platform to share your content. Bloggers and affiliate marketers use Pinterest to get lots of traffic to any link in any niche. You need to create the pins to share your content.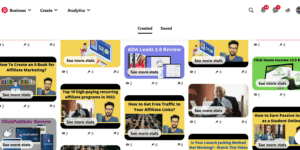 Recommended social media management tools:
Marketers utilize social media management solutions to monitor and manage their social media channels more effectively. These tools help marketers in more efficiently planning, and scheduling content. Here I want to recommend two tools for your social media management. The tools are SocialPilot and Sprout Social. Want to know more about these tools? Read this article >> SocialPilot vs Sprout Social – Which Social Media Tool is the Best?
Conclusion:
So, these are the 15 best content sharing platforms to bring more traffic to your content. I am pretty sure if you can share your content on the above 15 platforms you can get a lot of traffic to your content in a short period of time. Thank you for reading the article.
Few Related articles you may like to read: