What is OptimizePress? 
This is a WordPress plugin to build pages. By using OptimizePress you can build landing pages, sales funnels, creating an opt-in form, etc.
Do you have an eCommerce business? Do you want to build a marketing website, which converts? Optimizepress is a great choice for you. 
The drag and drop feature will make it easy to build your desire web page within a very short time. The latest version of this page builder is OptimizePress 3. This new version is completely different from the old one. They rebuild the entire plugin in a new way.
The main focus of OptimizePress:
OptimizePress is not a simple page builder, the main focus of this WordPress plugin is to convert visitors to lead and a paid customer. This plugin is mainly optimized to build landing pages that convert. But for making simple pages, this plugin is also a helpful one.
Immediately after signing in, you can download OptimizePress easily. This is called the dashboard plugin. Inside this dashboard, you will find other OptimizePress products to install and activate. Integration with various email automation service providers to the landing page is simple and easy.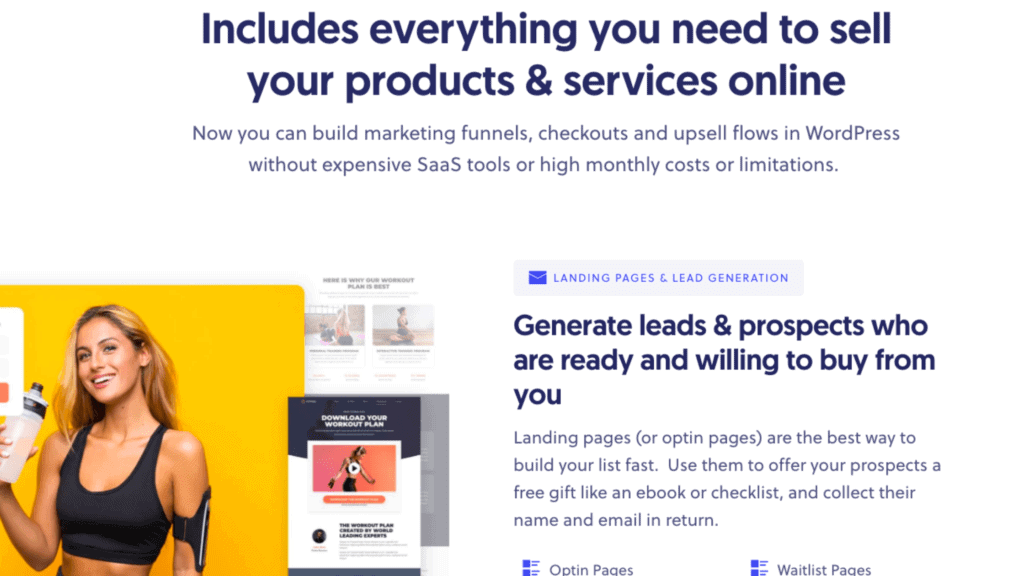 Who should use OptimizePress? 
OptimizPress is for company owners, marketers, authors, influencers, and for all those peoples who want to expand their blog or business by a good website and high conversion funnels.
OptimizePress is perfect for you if you want full control of your marketing websites and sales funnels, building high-conversion landing pages, or sell digital products or services.
Make your landing page quick, simple, and easy by using "Lightning Builder":
"Lightning Builder" is a simple template to build a landing page, which you will use for lead generation. This template has a clean interface and there is a panel provided at the top to build the landing page. 
Making a quick landing page is easy by using the elements provided in the top panel. Preview, undo/redo, and save button also there. There are a lot more options and features available to make the landing page builder professional and high converting.
Available templates in OptimizePress 3: 
There are more than 50 templates available to use, which will save you time and make the work simplified.
while selecting a template, you have to choose from the available categories. The categories are: landing page, thank you page, sales page, webinar page, launch page, collections, my templates.
In most of the categories, you will find a selection template that is basically designed for conversion. There are many more templates available for building landing pages. Examples are Personal branding, Event promotion, Free shipping offer, Mini-course opt-in, and more.
I personally found it easier than Elemantor as a page builder.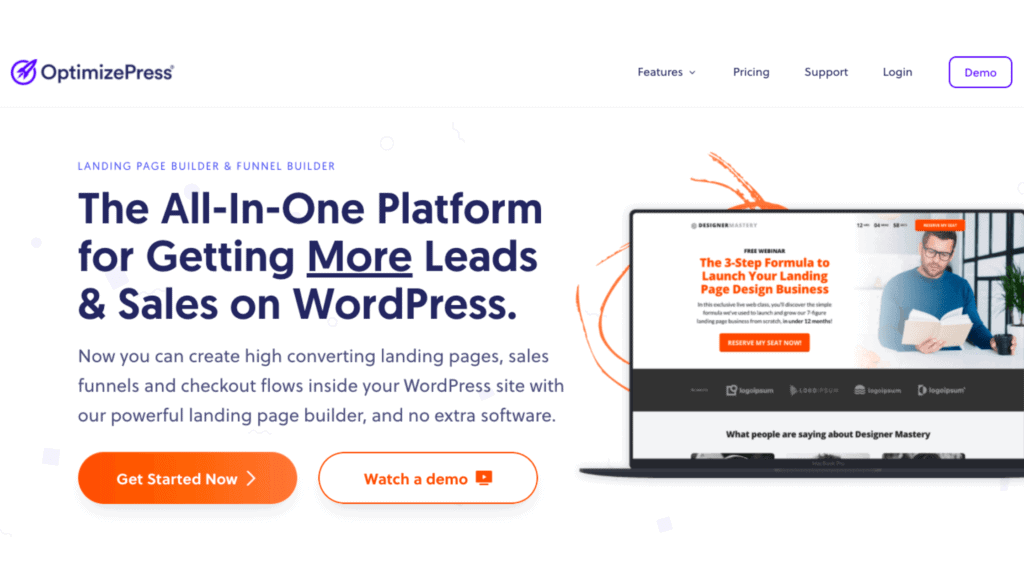 Lead generation theme included which is called "SmartTheme":
This conversion-focused WordPress theme included built-in opt-in forms and there are smart customization options. There is an option for simple one page opt-in and also two-page opt-ins. You can use the opt-in form in various posts and pages. If your main goal is to generate leads, you can definitely choose "SmartTheme"
OptimizePress 3 speed:
The lightning editor is efficient and of course fast. Page loading time is really less. There is no requirement for any kind of performance optimization. The additional feature scripts and styles enabler is there to solve the loading time issue.
OptimizeLeads:
This is basically a SaaS platform. By using opt-in forms you can create lead magnets. This OptimizeLead facility is available in a higher plan. There are various options available like full-screen overlay, screen popover, alert bar, etc.
There are also options available for A/B testing in the forms. Also, you can check the analytics and can choose the right one.
OptimizeLeads have a pageview limit of 5000. I feel that this limit is enough for the small and medium level website. Though pageview limit in OptimizeLeads opt-in form can be an increase by paying extra. 
If you have a large website "Thrive Leads" is the cheaper alternative other than OptimizeLeads.
Funnel builder in OptimizePress 3:
By using funnel builder you can create a sales funnel, webinar funnel, list building funnel, launch funnel. A/B testing with funnel analytics also available to test which funnel is performing better. 
Additionally, there is an option called checkout builder. You can build checkout pages by using this. In other landing page builder plugins, you hardly found the checkout page builder. So, by using OptimizePress you can fulfill all your requirement in a single platform.
OptimizePress pricing:
There are three types of pricing plans available to buy:
Essential plan:
The cost is $99 per year. In this plan, you can install and use OptimizePress on one website.
The features you will get:
Access to page building platform called OptimizeBuilder.
Unlimited pages you can build.
Unlimited traffic and leads can capture.
Access to marketing theme called "SmartTheme"
More than 250 conversions friendly templates
More than 27 premium integration.
New features and product update on a regular basis.
Business plan:
Cost $149 per year. In this plan, you can install and use OptimizePress on five websites.
The features you will get:
You will get access to all the features of the Essential plan. Additionally, you will get OptimizeUrgency. By using OptimizeUrgency you add Scarcity alerts to your pages.
Suite plan:
In this plan, you can install OptimizePress on 20 websites.
The features you will get:
You will get access to all the features of the Business plan. Additionally, you will get 
OptimizeFunnels – This is a WordPress sales funnel builder.
OptimizeCheckouts – This is for accepting payment on your website.
OptimizeLeads – You can use the opt-in form anywhere.
Easy Split Testing – This is to optimized the funnel performance. 
Collections of premium templates.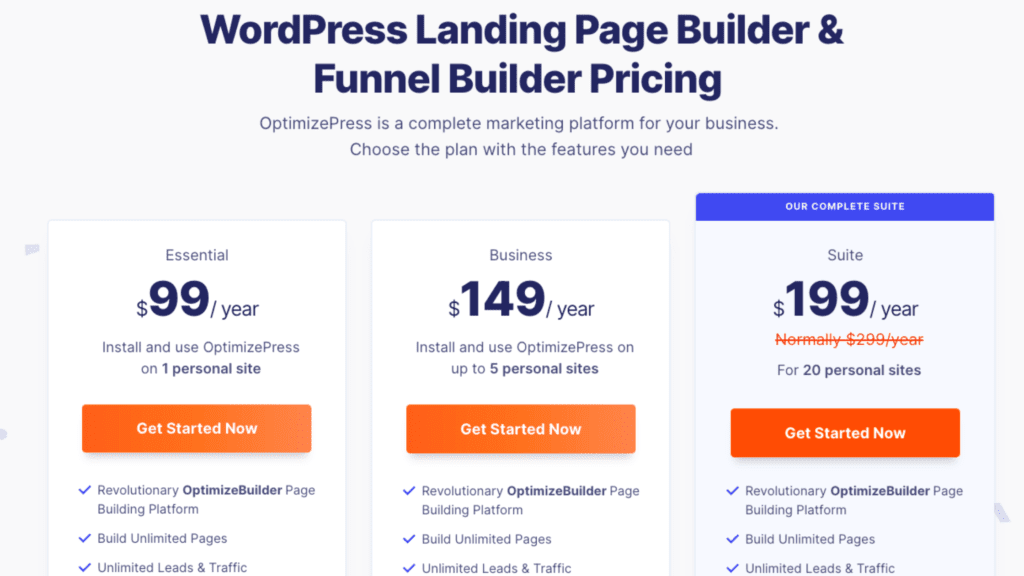 Money-back guarantee:
OptimizePress provides a full money-back guarantee within 30 days after your purchase. If you found OptimizePress is not helpful to solve your requirement, there is an amazing support team to resolve your issues. If the support team can't justify or solve your problem, they will return the full amount.
Support team:
If you face any problem related to OptimizePress at any point in time, you can contact the support team. There is only email support available. This email support team is highly knowledgeable. They will solve your problem quickly and easily.
Product updates on a regular basis:
Until you remain subscribed, you will get all updates and new features instantly.
Conclusion: 
My personal experience with OptimizePress 3 is awesome. Whatever the problems I have faced with this new version of OptimizePress have been resolved immediately.
This is really amazing, faster and user friendly. The model is updated and better. Now, this becomes a complete funnel maker for sales. This will really help you to sell your product or services. You can optimize the funnel by A/B testing and many more facilities.