Introduction of Thrive Themes
Do you want to engage with your audience more effectively? Then thrive WordPress theme must be your first choice. Thrive WordPress theme builds high converting sales funnels inside WordPress. If you compare it with click funnels or other good funnel-building software on the basis of pricing, Thrive Theme costs are very less.
You can create beautiful websites with Thrive, totally customize, and have all the resources to build a professional website. Thrive Themes operating since the year 2013, and it this becomes a # 1 WordPress plugin and theme organization.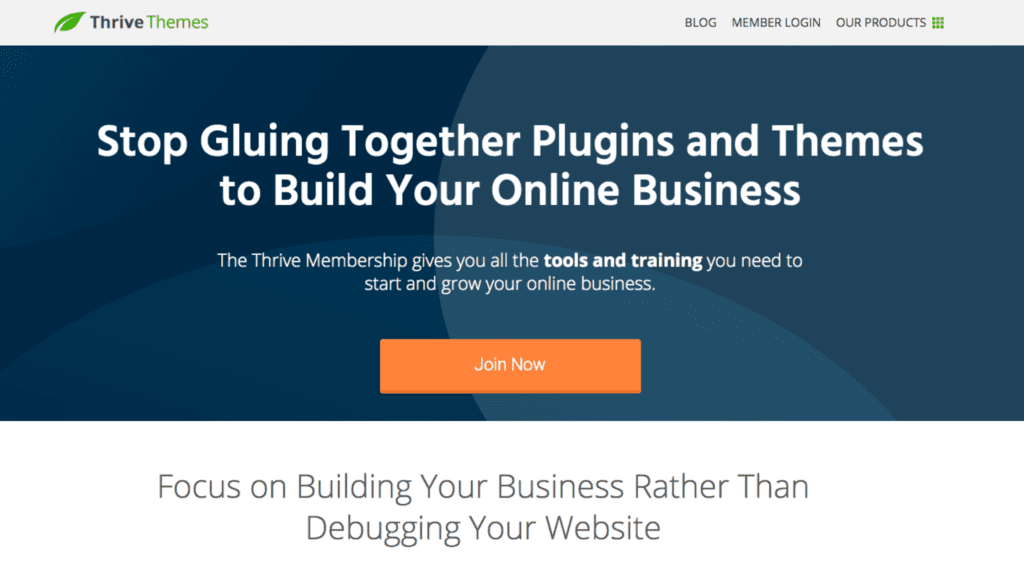 I build one of my new websites by using Thrive Themes. I am able to build my website well within a very short period of time. Thrive Theme offers me great designs to build my WordPress website with zero coding knowledge.
So, simply Thrive WordPress themes is a company or an organization that makes WordPress themes and plugins. Thrive Themes builds on the goal of conversion of your visitors. All the things inside Thrive Themes are designed to ensure that the website visitors will become a buyer or a subscriber. The founders of the company are Shane Melaugh and Paul McCarthy.
Key products inside Thrive Themes:
Thrive Theme builder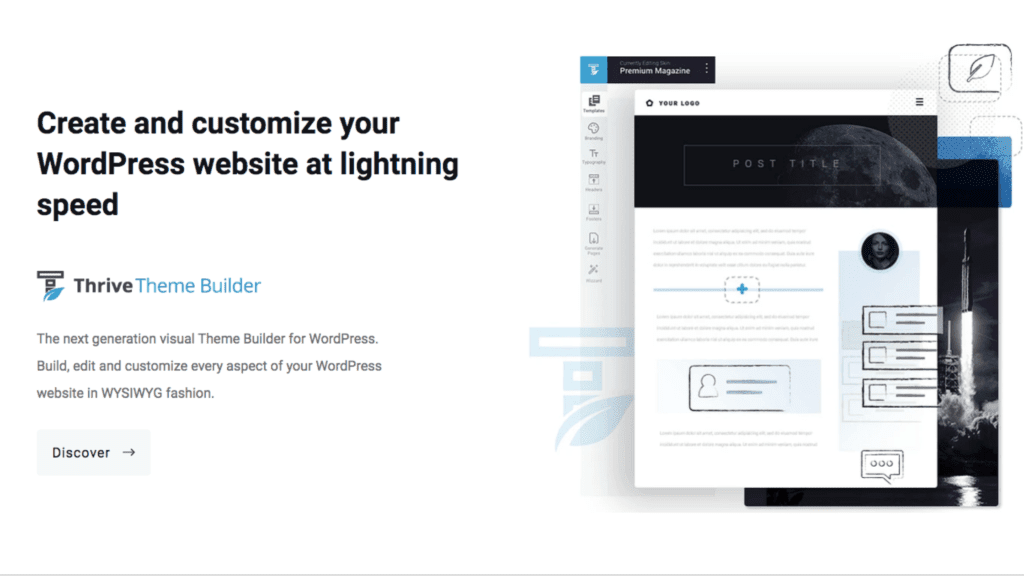 This theme builder is easy to use and also very flexible. You can build your conversion-friendly WordPress website within a short period of time with no technical knowledge. You can edit and visualize simultaneously at any point of your website like header, footer, page and post layout, sidebar, search pages, etc. You can build your website as per your needs with its drag & drop editor with the various elements that are available with the theme.

Thrive Architect and other Thrive products are integrated with Thrive WordPress theme builder. By using this Thrive Theme builder, you don't need to be a graphic designer, in every area of the website builder there are predesigned sections. You can build a pixel-perfect website that is fully responsive for any device, and also these theme builder features are customizable. There are several customizable homepage designs available, you can choose any one from them for the easy starting of your website.

Thrive Architect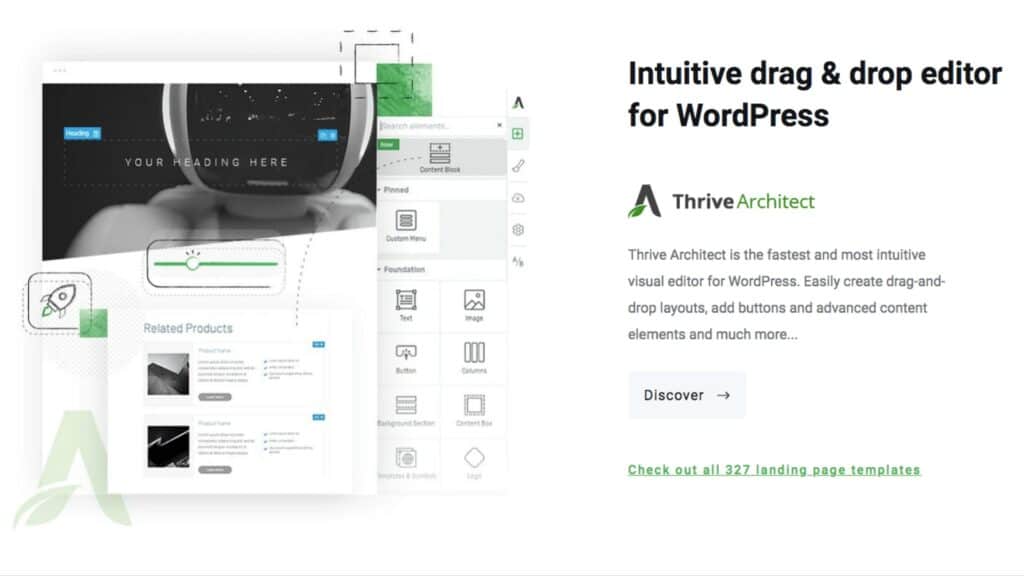 The business owners, who have the main focus in marketing must use Thrive Architect WordPress page builder. This is a next-generation page builder with high responsiveness for any device. Previously it was called Thrive content builder, but they changed the name to Thrive Architect. For building and editing your landing page, sales page, lead magnet, etc. you can use this visual editor effectively.
Thrive Architect has a lot of versatility and control in comparison to the default editor in WordPress and has many pre-designed landing pages to select from. It will help you turn your pages and blog posts into exclusive, responsive, beautiful, and high customer conversion pages that your audiences will like.
Thrive Architect consists of more than 40 sets of landing pages and also there are 2 to 3 landing pages in each set. The price is reasonable in comparison to other page builders. Also, you will get a lifetime update for WordPress page-building tools. For beginners, it is easy to learn, as customer support is awesome.
I have been using Thrive for over five years now, this is the greatest investment that I have made ever for my business. Just don't listen to my word, try it today!
Thrive Leads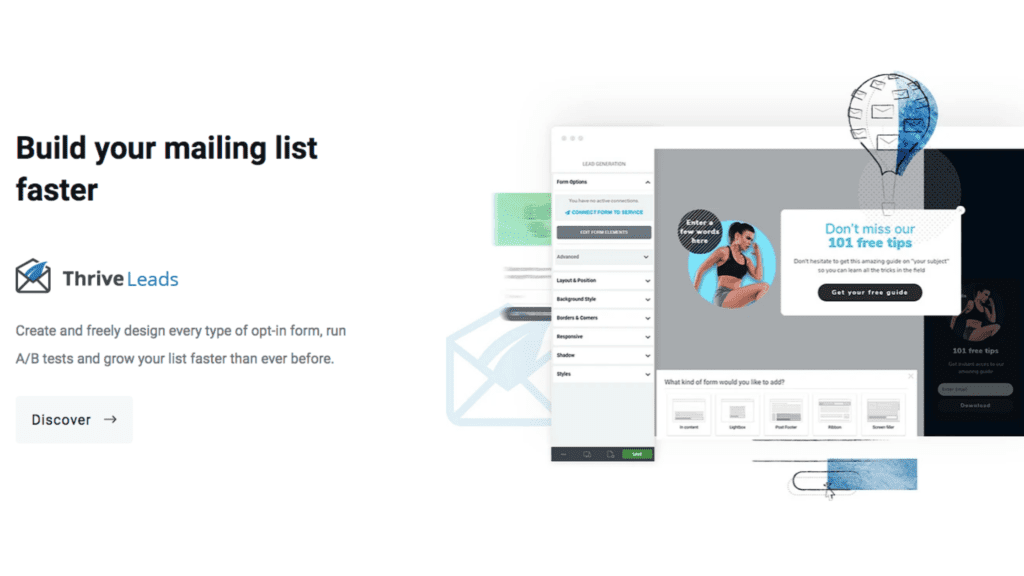 Thrive Leads is a tool used to build email lists of relevant audiences. It has that much potentiality to attract visitors to input their email addresses. So, by using Thrive leads this is easy to build your email list. This is possible to display your opt-in form in different ways. You can include it as a pop-up, in the sidebar, or in the main body.

You can measure the performance of your email marketing and can get a detailed report of the performance, which will help to choose the right campaign from the A/B testing. You can do a different type of testing for your email collecting system and can choose the right one which converts better. Thrive Leads there are seven types of opt-in forms in the Thrive WordPress theme.
Without using an email autoresponder you can use the asset delivery mechanism of Thrive Leads, this will deliver the e-book of your lead magnet. All these things you can do directly through your website only. Now there are more than 35 integrated marketing products and services and the number will increase in the coming days.
Thrive Ultimatum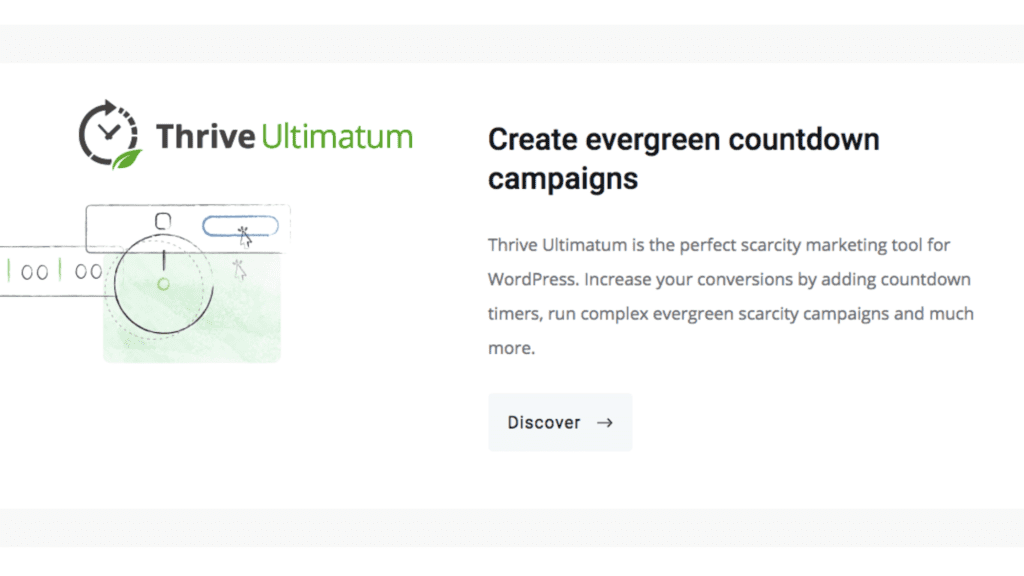 This is the process of running the recurring campaign automatically. In this campaign, you can fix a particular date of expiring your offer. On that particular date, your campaign stop and will again start with a new expiring date.
This is the process of generating scarcity for your visitors. So, this is also called a scarcity campaign. By using thrive ultimatum you can easily create your scarcity campaign and can put it in autopilot mode. This process will really be going to increase your conversion and sale in Thrive WordPress themes.
Thrive Quiz Builder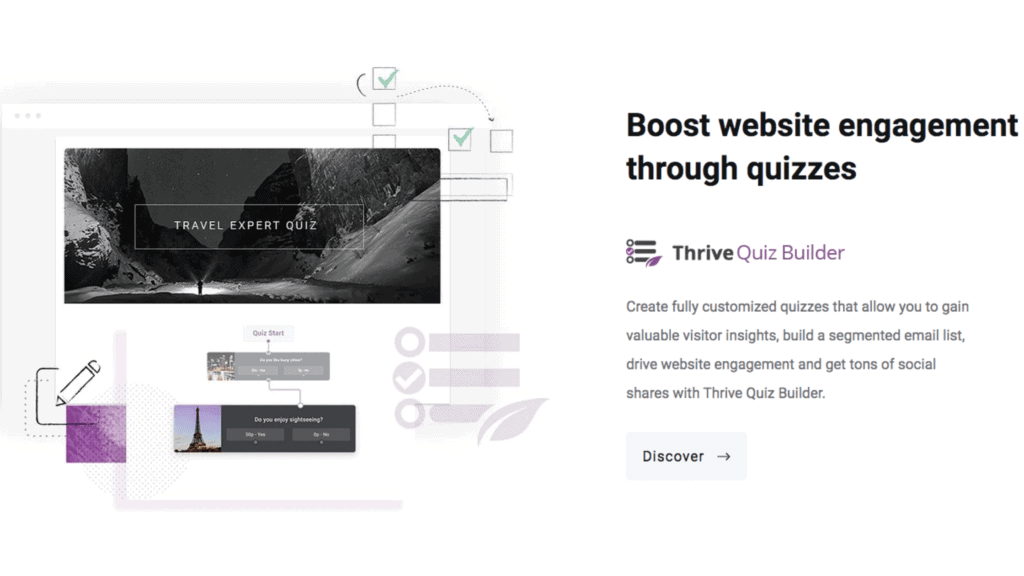 To build excellent quizzes for your website visitors, Thrive quiz builder has all you need. One of the best marketing practices on social media is online quizzes. By using thrive quiz builder you can make different opt-ins for different specific users and also possibly build a different call to action in Thrive WordPress themes. This process will help you to split your email list.
This quiz builder will help you to collect more information about your website visitors. All the templates to build a quiz are easy to use and responsive to any device. A/B split testing with analytics is also available.
Thrive Apprentice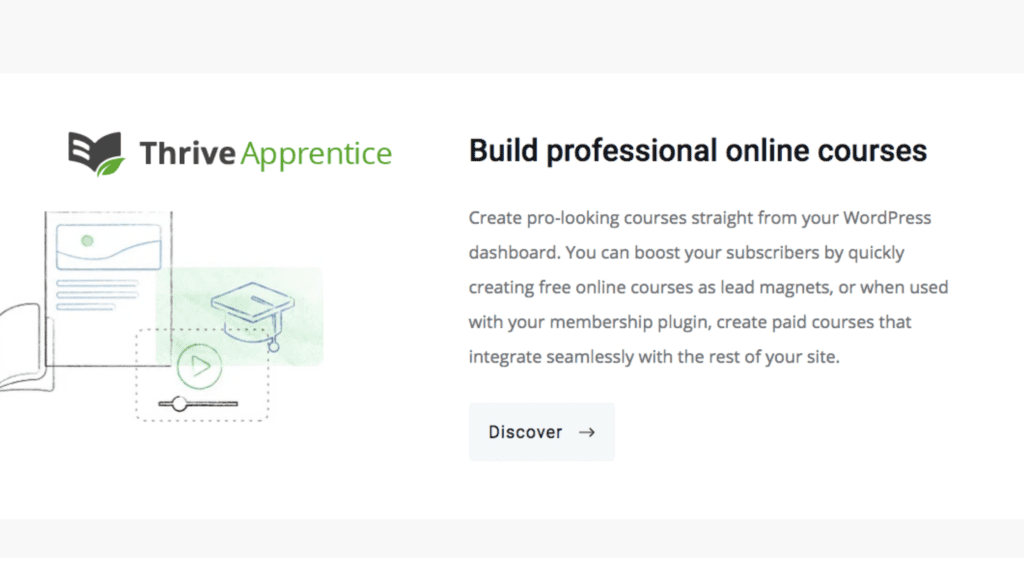 If you want to start any online free or paid course for your website visitors, thrive apprentice will be a helpful one for you. To present your course in a more organized way Thrive Apprentice plugin is the best for your WordPress website.
You can organize your course as per different modules. Also, you can track your students through this plugin. This is really easy to use for beginners and the best thing is you can manage your course content, marketing, and student progress in one place.
Thrive Optimize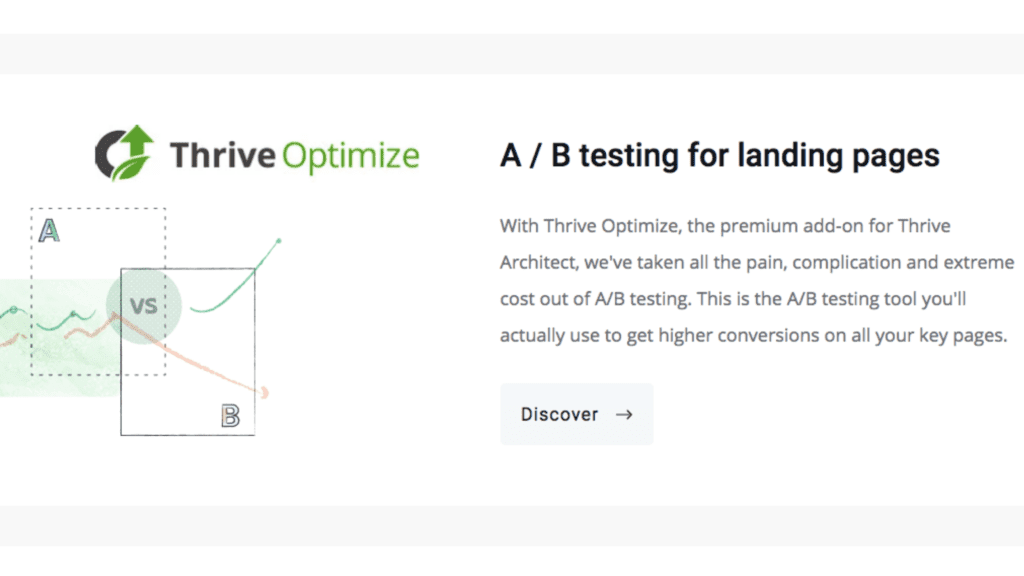 This will allow you to optimize your website pages by performing A/B split testing. This process of optimization of your Thrive WordPress themes website pages will make your pages high converting. While doing A/B split testing you can track which page performing better, and choose the winning one.
This split testing is not the one-time method, you have to do different testing with different variations of pages. This is a continuous procedure until your webpage becomes highly converting.
I have been using Thrive for over five years now, this is the greatest investment that I have made ever for my business. Just don't listen to my word, try it today!
Thrive Ovation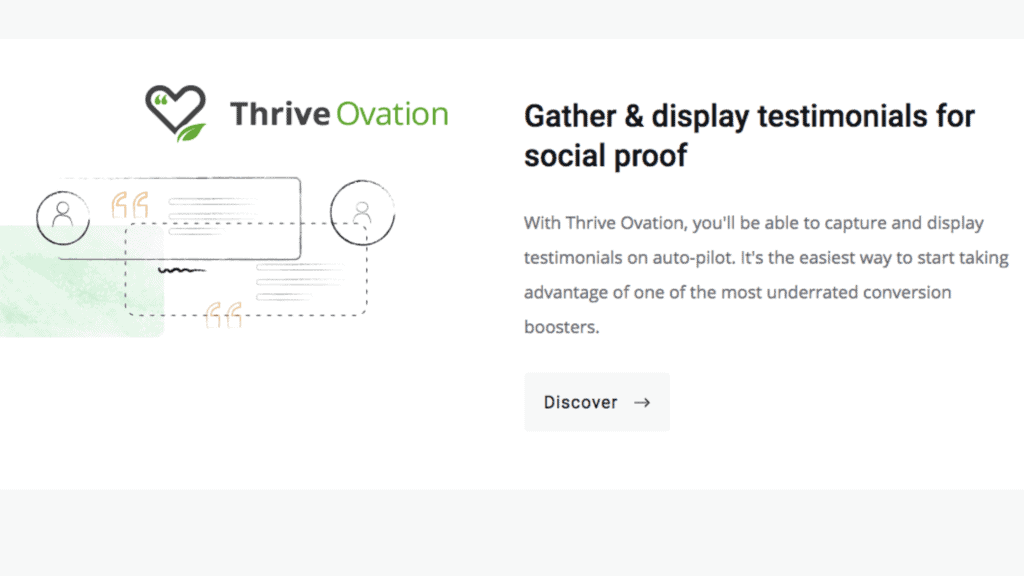 If you want to collect some good customer testimonials, Thrive Ovation is going to help you. This is an automatic procedure of collecting the testimonials of your visitor in Thrive WordPress themes. Social evidence or social proof is an essential part of your marketing process.
If you can collect some excellent real testimonials of your customers, those are going to help you with our future promotion. By using this plugin you can organize your testimonials in your WordPress dashboard.
You can show the testimonials by using the drag and drop option anywhere on the website. There are different options available to display your testimonials to look better.
Thrive Headline optimizer
This plugin is normally used for high-traffic blogs. The headline of your article is the main criteria to increase your click-through rate. Thrive Headline optimizer allow you to do split A/B testing for the headlines of your blog article. Choose the winning one.
Thrive comments
In Thrive comments there are various features like upvoting, downvoting, commenting, etc. These will engage people more in your content in Thrive WordPress themes.
Pricing: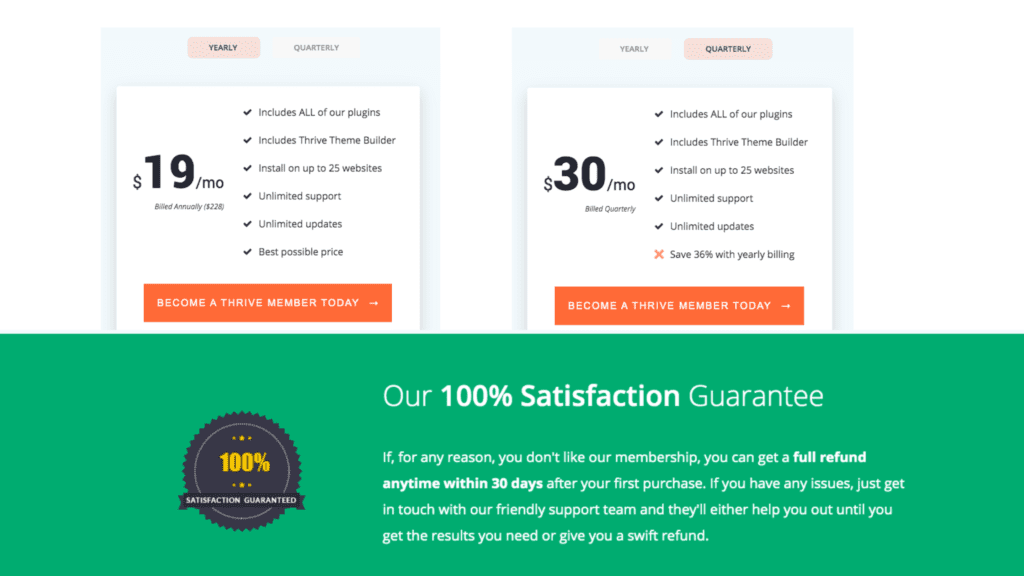 There are basically two types of pricing plans to Thrive WordPress themes. It cost $19 per month if you bill it annually. Thus it comes to the value of $228 yearly. It cost $30 if you are billed quarterly. Thus it comes to $90 for 3 months.
In both cases, you will get all the plugins with the Thrive Theme builder. You can install it on 25 websites. Also, you will get unlimited updates and unlimited support.
Support:
Thrive WordPress themes has an amazing support team. You have to raise a ticket to solve any of your problems. The support team will resolve the problem within 24 hours. Support persons are highly experienced and able to solve any of your related issues.
There is no live chat option available. But for instant problem solving there is a large forum available, where you can share your question.
Refund policy:
For all thrive products there is a 30-day money-back guarantee.
Integration:
Thrive Themes can be integrated with many other services, email marketing tools, etc. examples are convert kit, AWeber, drip, etc.
OptimizePress is very similar to Thrive Themes. The basic difference is Thrive has different plugins, whereas OptimizePress has only one.
OptimizePress focused on building an exclusively awesome-looking website. Whereas Thrive Themes' main goal is to convert visitors to a subscriber or a paid customer.
The price of the Thrive Theme is quite reasonable, it cost $19 per month ($228 per year) and can use for 25 websites. Whereas OptimizePress costs $99 yearly and this is for one website only.
If we comparing on the basis of the website speed. Thrive page builder is a little faster than OptimizePress.
In the advanced module possible to create sales funnel.
There are more than 300 templates available to choose from.
To collect more leads and getting more conversions there is an opt-in form available which is highly customized.
This is possible to sell everything on one platform, like any digital products, e-books, course, etc.
Drag & drop editor, which is easy and flexible to use.
Integration with different third-party tools and plugins is easy.
Thrive WordPress themes pros:
10 Thrive plugins and 10 premium WordPress themes are available.
Plugins Thrive Architect and Thrive leads are very much powerful.
Loading time is very less, which is really great for any new website builder.
Most template designs are of high quality from Thrive Themes. There are not at all negative points and the consistency is really high.
Plugins, page builder, and templates are works together to create a marketing-oriented website.
Conclusion or bottom line:
So, Thrive Themes is an awesome tool that gives you all the resources you're ever going to need to create a great-looking, highly conversion-oriented website.
Without any coding knowledge, you can create a great website, with a catchy look and user-friendly interface.
For bloggers and any small, medium, and large company owners, the Thrive is a perfect choice to build a business-oriented and professional website. The Thrive plugins will help you increase conversion and create catchy sales pages and opt-in pages for your website.
Related articles: