Introduction:
You can visually build every component of your website with a Generatepress WordPress theme without touching a line of code. You have complete design flexibility by using Dynamic Block Elements to design anything you need.
I personally use the Generatepress premium theme for three of my websites. I love this theme because this is lightweight and I can design my website as per my requirements with ease.
So, if you want efficiency as well as usability, this theme is ideal. GeneratePress WordPress theme has completely transformed the way I build and design WordPress websites. This theme, in my opinion, is ideal for creating any type of website, from e-commerce to blogs.
Generatepress WordPress Theme Features:
Gutenberg is ready.
The theme can be used on up to 500 separate websites.
Over 30 languages can be translated.
There are premium modules available.
Money-back guarantee for 30 days, no questions asked.
An easy multipurpose theme.
The yearly plan includes one year of updates and support, while the lifetime plan provides support and updates for life.
Excellent customer service from a professional team.
Gain access to premium modules as well as the site library.
The WPML plugin and GP are fully compatible.
Generatepress WordPress Theme Premium Modules:
If you want to activate premium modules, just follow the path: Appearance > GeneratePress > Modules > Activate
Backgrounds:
Set different HTML components' background images.
Blog:
Configure blog features like as unlimited scrolling, masonry layouts, and more.
Copyright:
In your website footer, add personalized copyright.
Disable Elements:
On individual pages or within a Layout Element, disable default theme elements.
Elements:
Use the theme builder to create complex HTML hooks and gain greater layout flexibility.
Menu Plus:
Create a mobile header, sticky navigation, or a panel that is off-canvas.
Secondary navigation:
Enhance your website with a fully functional secondary navigation.
Site library:
Choose from a large collection of professionally designed startup sites.
Spacing:
Set your theme components' padding and overall spacing.
Typography:
This module is no longer available. Shift to the dynamic.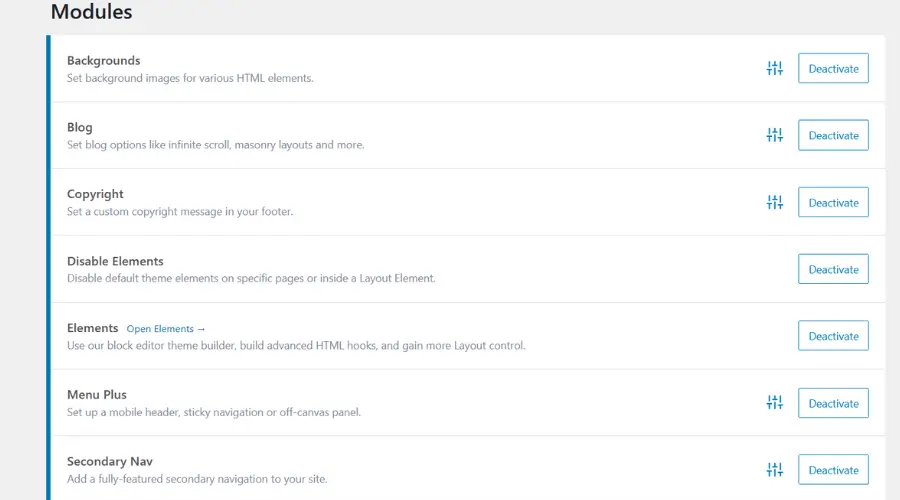 The reasons behind I pick Generatepress:
Excellent loading speed:
GeneratePress continually focuses on speed and clean coding in all of its features. The full Generatepress WordPress theme is just about 30 kB in size, which is fantastic.
In the GTmetrix speed test, I found the performance grade A for my website. I am pleased with the result of 96% performance and the core web vitals score (LCP 872ms, TBT – 136ms, CLS – 0.01).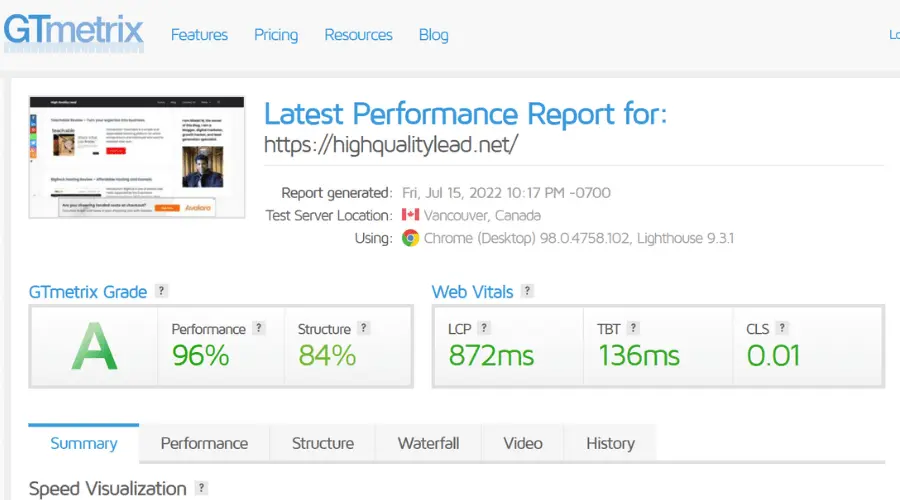 Customization options:
Apart from speed, another advantage of GeneratePress is customization. GeneratePress WordPress Customizer allows you to see all of your changes in real-time.
You will be able to change almost every aspect of your website if you have GeneratePress WordPress theme Premium.
In the Layout section, you can modify the container, Header, Primary navigation, Secondary navigation, Sidebar, and more.
In the Typography section, you can modify the Body, header, Widgets, Buttons, Headings, and more.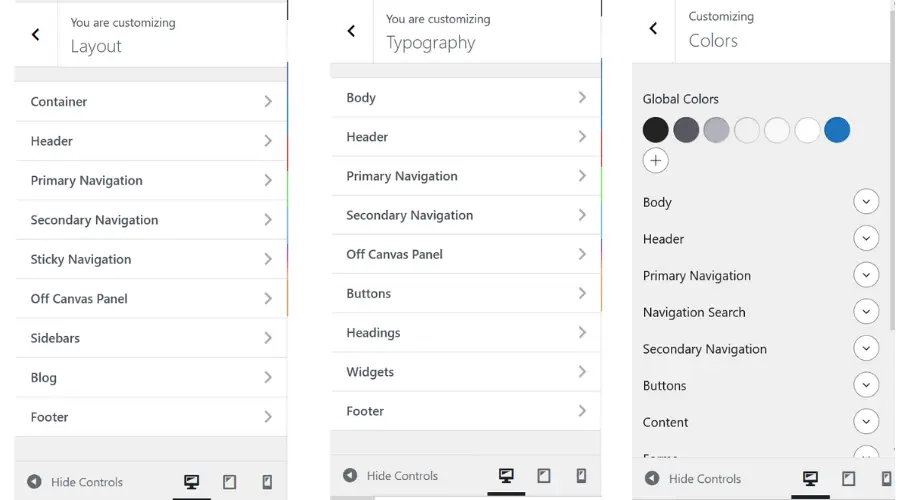 Change the setting in each post and page:
Themes generally use the same settings for each post and page. There are some unique patterns or formats accessible, but you don't have much flexibility over the rest. GeneratePress resolves this by introducing a new Design meta field with each post and page. As a result, you can easily customize each and every post and page.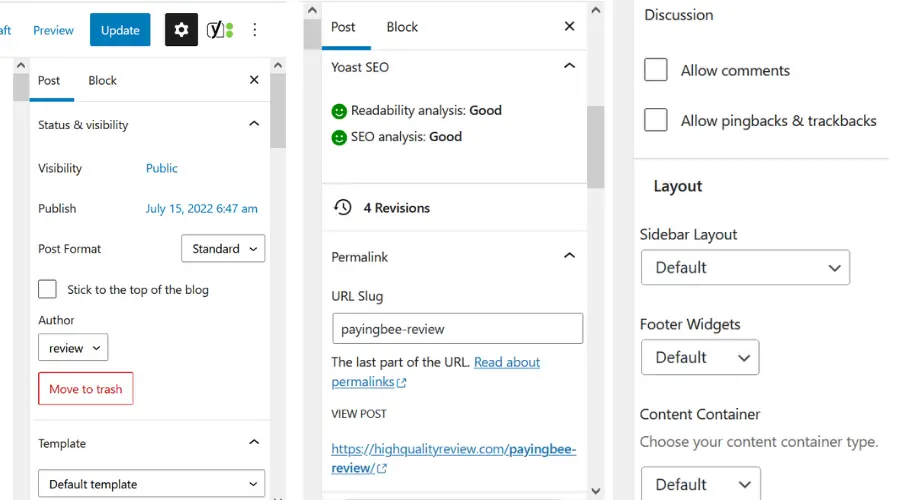 Additional CSS:
The Customizer in Generatepress has a new CSS-adding option, which can be found under Customize > Additional CSS.
If you know how to code, you may use the CSS code to change the theme to your preference.
Page builder compatibility:
GeneratePress is fully compatible with Elementor, Thrive Architect, and other major page builder plugins. Even without using a page builder plugin, you can use the templates created for the default Gutenberg visual editor.
Mobile responsiveness:
Google may not index and rank sites if a theme is not entirely mobile-friendly. Configure the customizer, and GeneratePress will modify for mobile devices quickly. GeneratePress will dynamically scale to full width on mobile for any container width.
Elements:
Element is a dynamic feature in Generatepress. Create the elements Blocks, Header, Hooks, and Layout. You have complete control over each page and post settings, and you can choose to display the element as per your requirement.
For example, if you don't want a header, footer, and sidebar in a particular post. You only want the content to be displayed in middle with a container width of 1200, you do it by using Elements.
Price details:
There are two types of pricing plans in Generatepress: Yearly and Lifetime.
The yearly plan costs $59 per year:
All of the premium features.
Unrestricted access to the Site Library.
One year of updates
Premium assistance for one year.
Use on up to 500 different websites.
Money-back guarantee for 30 days.
The Lifetime plan costs $249 one-time payment:
All of the premium features.
unrestricted access to the Site Library.
Updates for life.
Premium assistance for life.
Use on up to 500 different websites.
Money-back guarantee for 30 days.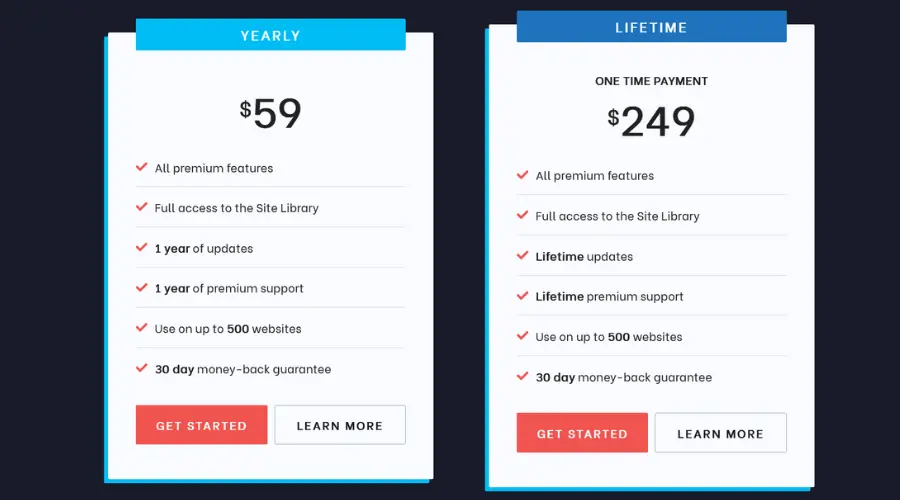 Pros:
Quick loading time.
There are several customization features.
Mobile-friendly.
Pre-Made Templates.
Theme with several functions.
SEO optimized.
There are various customization options.
Woocommerce Compatible
Excellent customer service.
Cons:
You need an additional page builder like Elementor to create a professional home page for your website.
The verdict:
The free edition of GeneratePress is highly feature-rich. Even if you do not purchase the Generatepress premium theme, it is one of the best themes available. GeneratePress is an excellent choice for a quick and lightweight theme.
My opinion is to start with the free version of GeneratePress and then upgrade to GP Premium if you like it. Because of the hook system, site library, and theme builder, it becomes an excellent theme for your online journey.
Related articles: