Introduction:
If you are thinking of creating online courses, you can consider the Thinkific online course creation platform. This is an excellent platform for creating, advertising and selling online courses.
For the past 1 year, I've been utilizing Thinkific to build online courses to explore my expertise. It has shown to be an exceptionally effective tool for my courses.
In this article, I will go over some of Thinkific's most outstanding features, its dashboard, price plans, customer service, and good & bad. So, keep reading the article till the end before you purchase this tool.
What is Thinkific?
Thinkific online course creation platform was created in 2012. Its main goal is to provide course developers and learners with a rich and easily accessible teaching and learning environment.
It is an effective solution for effortlessly developing, managing, advertising, and selling your lessons online. You don't need any technical knowledge, expertise, or abilities to get started with Thinkific.
Do you want to start your online course on "bonsai"?, You don't have any technical knowledge? Don't worry! You can start your course on Thinkific with ease.
With the Thinkific online course creation platform, you don't have to worry about anything other than developing your course material. Because it is a cloud-based app, all of your content is saved on their servers. Thinkific also offers free website hosting, so you can get started right away.
Lesson Types:
The Course Builder offers a choice of lesson types suitable for any topic. You will save a lot of time with drag and drop upload.
Video Lessons
Text Lessons
Quiz Lessons
Survey Lessons
Downloadable Lessons
PDF Lessons
Presentation Lessons
How to create a course on Thinkific?
If you are a total newbie, you may begin with the Thinkific online course creation platform. This offers a comprehensive set of features and tools to help you create a clean and beautiful website. This is quite simple to use.
Now, we will walk you through every stage of the Thinkific course design process to ensure that your first-course creation goes as easily as possible.
Create your account first:
It is really simple to create a new account on Thinkific. You may join up for a free trial of premium membership or establish a new free account.
After creating your account, you can change the name of your school or course. When you purchase a Thinkific online course creation paid plan, you can also use a custom domain.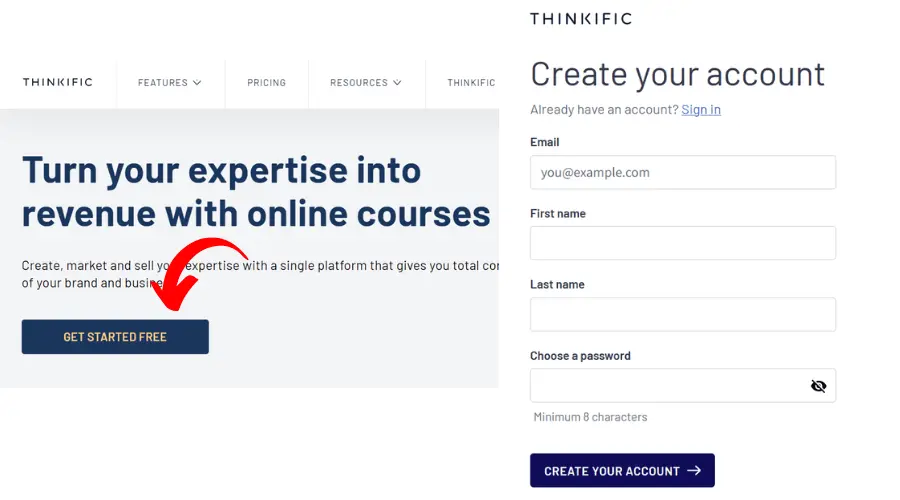 Manage your account:
Thinkific assists you with managing your courses, tracking your students, managing your video library, and sharing revenues. You may create courses, and select themes, under the "Design Your Site" section.
Discounts, purchases, and advertising interfaces will all be managed under "Market & Sell."
Income, student enrollment, and student interactions may all be tracked. In the "Support Your Students" area, you may assist your learners by monitoring their tasks and overall growth.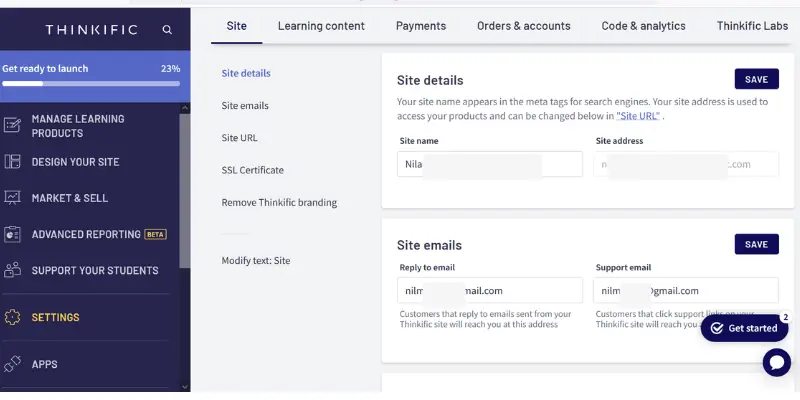 Choose a theme from the theme library:
Thinkific has a theme library from which you may choose the best one and customize it using the Site Builder. I propose that you start by updating your banner under Home Page and select a picture to use as the banner.
Fill in the title you choose on the site builder's custom page. To add advanced sections, select the section type. You'll discover everything you need for a landing page, such as templates for CTAs, logos, and testimonials, social proof sections, and so on.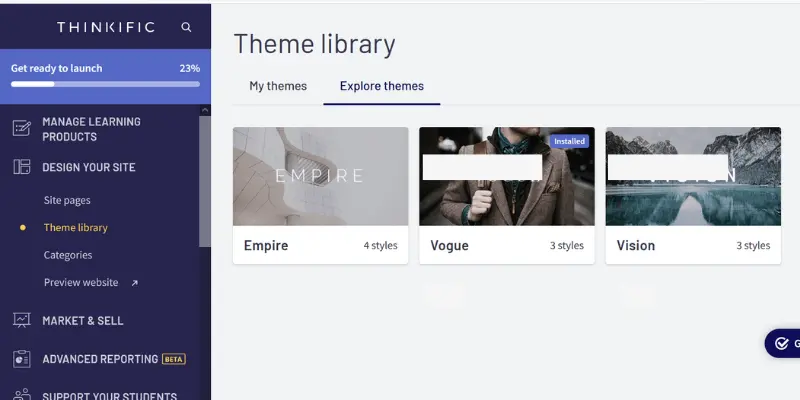 Create courses by Thinkific online course creation platform:
You can now get started on creating courses. To begin designing a course, first, choose a course template. There are numerous templates available depending on your needs. You may also start from scratch by selecting blank. Give your course a name and begin adding chapters.
Incorporate a lesson into each chapter. You may have created these courses in another software and then uploaded or dragged them into Thinkific. You may make an instructional video, or audio, import PDFs, or simply write an informative text article. You may also create quizzes by entering your own questions and answers.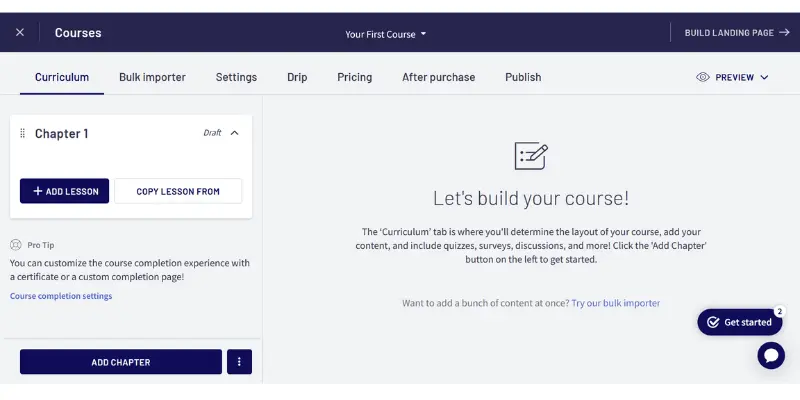 Create an attractive landing page or sales page:
To sell your Thinkific course, you'll need a compelling landing page. The more enticing your landing page, the more likely you are to sell the course. So, begin developing landing pages with Thinkific right away.
Begin by producing an awesome banner that includes the course description and presentation. Include client testimonials and a proper bio of the instructor. Don't forget to add a FAQ section as well as an appealing call to action button.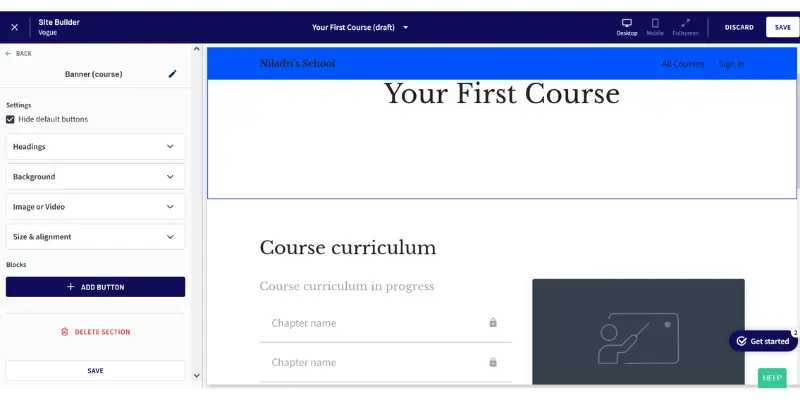 Publish the course:
You may publish your content when you've created an excellent landing page. After you've double-checked your content, press the Publish button.
Promote the course:
Finally, begin marketing your courses. Simply enter the course URL into your social network. If you have a premium account, you can also construct an email list containing information for each person that registers for your course.
Pros:
Thinkific's free option is excellent since there are no transaction fees. However, you are only permitted to take one free course.
Thinkific offers phone customer service.
There are several customization possibilities available.
With Thinkific's free hosting, you may use your own domain.
Video creation is made easier using voice-over. PowerPoint presentation software.
Give students payment options such as monthly and annual payment plans.
Cons:
There are fewer options to promote your courses inside Thinkific.
Inside, there is no email marketing or sales funnel builder. Third-party software must be integrated.
There is no option for live chat help. It may be difficult for non-native English speakers.
Price: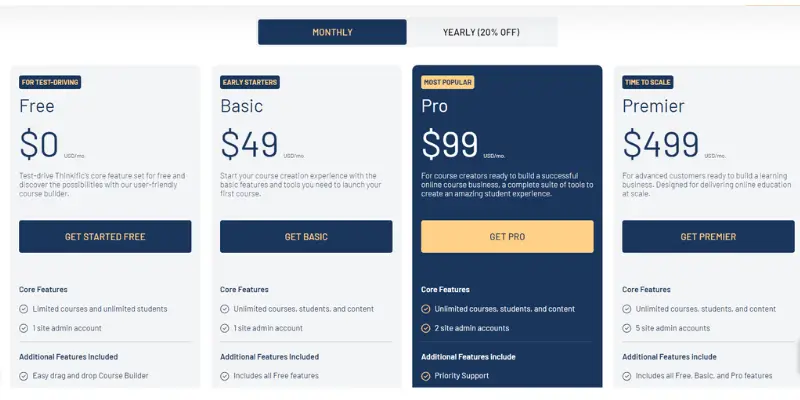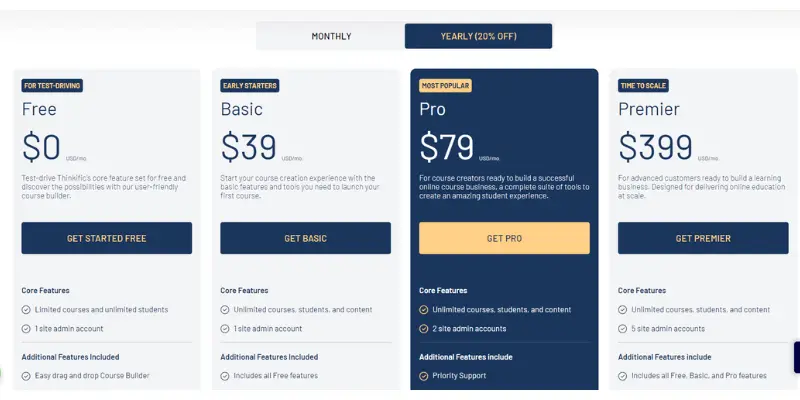 There are four price plans for the Thinkific online course creation platform: Free, Basic, Pro, and Premier.
Free plan:
Get basic features for free and see the power of the easy-to-use course creator.
There are just a few courses offered.
There is just one account for the site admin.
An easy drag-and-drop experience.
E-commerce is available.
Website templates.
Email and phone help.
Basic plan:
$39 per month invoiced annually, $49 per month billed monthly.
Begin with the basic tools and features you'll need to develop your first course.
Every free feature is included.
There is no limit on the number of courses, students, or content.
There is just one account for the site admin.
There is live chat support provided.
Custom domain.
Coupons and special deals are available.
Thinkific App Store.
Content planning.
Personalize student emails.
Thinkific Academy's Basic Courses.
Pro plan:
$79/month when paid annually, $99/month when paid monthly.
A complete collection of tools for course makers looking to construct a lucrative online course business.
There is no limit on the number of courses, and student enrollment.
There are two site admins.
Priority Assistance.
Variable Pricing and Membership
Certificates are awarded upon completion of the course.
Advanced Course Design.
Thinkific Academy's Pro Courses.
Premier plan:
$399 per month billed yearly, $499 per month billed monthly.
For skilled individuals who are ready to launch their own training business.
There is no limit on the number of courses, students, or content.
5 accounts for site admins.
All features from the Free, Basic, and Pro packages are included.
Onboarding package.
There are 15 analysts.
Unlimited Communities
Brillium exam integration
White labeling.
API access is provided.
Best alternatives of Thinkific:
There are various platforms available to create online courses. But, here I want to mention the two best alternatives of Thinkific. Those are Teachable and Udemy.
Teachable:
Teachable courses will look excellent, and anyone may use the application with ease. It makes a huge difference if you can educate your internet learner precisely on how you learned it. Teachable will help you to do exactly the same.
The Teachable platform stands out in the online market for creating online courses due to its easy customizing and user-friendly functionality. You don't need any coding knowledge, you can create a great sales page from the start using the teachable platform.
>> Create a Free account on Teachable!
Udemy:
Udemy will help you to create the courses you want, in the style you decide, with complete control over your own content. Assist students in identifying their passions, and learning new skills. You may construct your own course in three simple steps…
Create a curriculum.
Make a video course.
Publish the course.
>> Create a Free account on Udemy!
Is Thinkific legit?
Thinkific online course creation platform is 100% legit. It has more than 100 employees and serves over 36,000-course creators.
Thinkific is a secure platform for publishing and selling your courses and content. Unauthorized users are unable to access courses.
Students are also prohibited from downloading videos or other content from Thinkific's course platform due to content permission constraints. Thinkific does not own any of the data you create and share on its site.
Conclusion:
According to my own experience, the Thinkific online course creation platform is really easy to use. When compared to Teachable or other course-building services, the user interface is simple. Thinkific provides an excellent support system and documentation to assist you in getting started quickly.
Related articles: