Introduction:
Teachable is a simple and dependable teaching platform for online entrepreneurs and individuals who want to establish their own digital training and course service. In this Teachable review, we will look at why Teachable is one of the greatest platforms for creating online courses. We will also go over the tool's positives and negatives to clear up any confusion.
Because the user interface is simple, your students will have no problems accessing and exploring your content. Teachable is not a classroom system, that is specially built for business education. Teachable is moderately priced and provides course design and marketing features. If you are planning to create online courses of any kind, you must consider this platform.
Teachable Review; Features: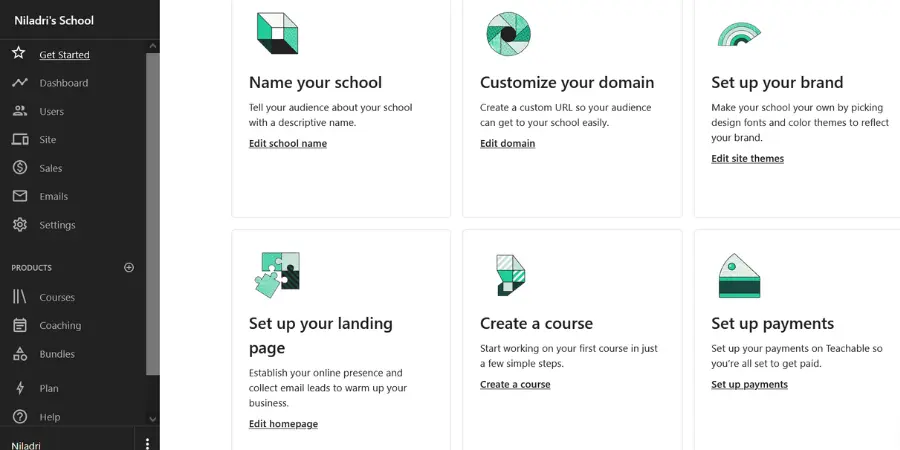 Create courses:
Teachable allows you to create recorded video courses, and live coaching. With its simple drag-and-drop builder, you can immediately begin developing your course or training business.
Start selling:
Using its built-in, completely customized landing page builder, you can begin selling straight away. Next, create a checkout page with complete e-commerce functionality, and get paid instantly without relying on a 3rd party payment network.
Integrate with existing tools:
Integrate the tools you already purchased and like to use. Direct connections are available with MailChimp, Zapier, ConvertKit, and more products. Utilize the public API to further streamline your process.
Improve engagement:
Add custom academic elements like feedback, quizzes, and completion certificates to improve students' achievement and satisfaction.
Payment options:
Buyers from all across the world can pay you. You can receive payment through Apple Pay, Google Pay, PayPal, and other payment methods in almost all currencies. Also set up free trials, installments, and other features.
Increase earning:
You will get more options to promote with order bumps, combos, subscriptions, upgrades, and discounts.
Recruit affiliates:
Find affiliates to promote your courses using affiliate marketing tools. You may also reward existing customers for promoting your course through the recommendation system.
Scale your business:
To help you grow rapidly, create several courses by reusing your lectures. Their bulk upload tool makes importing student data and courses from other platforms easy.
Tax management:
You don't have to be concerned about taxes. Teachable will handle your taxes, whether they are banking services or tax forms.
Get the analytics:
With sophisticated data analysis, you may gain a better understanding of your company's performance and adapt tactics more effectively. They give simple information on conversions and customer engagement to assist you in making data-driven actions.
Keep your data protected:
They offer cutting-edge fraud protection, encryption, and backup solutions to keep your data secure. With a 99.99% uptime guarantee, they ensure that you are always up and running.
Maintain customer relations:
Business management technologies such as automatic payments and specialized user roles make collaboration simpler. Student features such as simple comment moderation let you interact with your customers.
Get high-end support:
Their professional helpdesk is available to assist you with anything from course setup to strategic planning. They provide live group training sessions three times a week.
Get help from the community:
Teachable:hq, their unique membership community, allows us to communicate with peers. This community establishes a beneficial network and access to special resources to help you succeed.
Flagship training program:
Learn more about its distinctive programs, such as free live events, the Teachable blog, and its flagship training program, and get in-depth expertise. Their customer service staff is there to help you with any problems you may be having. Contact the customer service team by email or live chat.
Get help from professionals:
Teachable's unique team of seasoned professionals can assist you with anything from advertising to site design to course development.
Course completion certificate:
Teachable gives you the ability to provide course completion certificates. As a result, you may provide your students with something valuable, and they can show it to their employer.
Teachable Review; Benefits:
Teachable is a cloud-based learning management system platform. This is a trustworthy hosting service, so you didn't have to think about finding a host.
You can try out the platform right now by signing up for the free plan.
You may use Teachable's domain to connect to your own. It is simple to add a custom domain to your current site.
Teachable allows you to create appealing sales pages that boost visits while also keeping track of transactions and student data.
Teachable employs some of the most advanced safety and security mechanisms to protect the data you save. You don't need to worry about security because the company is monitored 24×7.
Types of courses:
Artistic works:
Showcase your artistic abilities and start a company just do what you prefer, whether it's painting, graphics, cake decorating, or whatever you can think of.
Health and fitness:
Start the health clinic online so your customers may exercise, get dietary guidance, and do other things whenever and wherever they choose.
Any micro niche:
If your course topic is too narrow, Teachable has thousands of creators that make money with narrow topics. You may use Teachable to demonstrate and earn your specific skills in any area.
Academics:
Provide one-on-one instruction to your students so they may study from the comfort of their homes.
Teachable Review; Pros:
Simple Course Builder:
One of the most significant benefits of using Teachable is its ease. When it comes to using some of the programs, there are only a few things to learn. Get everything uploaded and arranged exactly however you want it.
Start your own blog inside:
You may create your own blog if you like. You may create a blog from your admin panel, you don't need to purchase hosting for the same. Also, you can register your own domain.
Boost sales through affiliates:
Using its affiliate features, you may recruit affiliates. Its built-in payment method simplifies working with partners.
There are also special tax options that eliminate difficulties.
Other Marketing Resources:
Teachable provides additional revenue-generating features, such as the ability to upsell your course when you send a personalized thank you page. You may even incorporate videos to greet students on their decision to enroll.
Discussion section in the course:
Add conversation and comment sections to your Teachable courses. Interacting with students during courses helps the course look more professional.
Cons:
Long waiting to get paid:
In its free plan, you may need to wait for around 30 days to get paid.
Expensive transaction fees:
If you pick a small or free Teachable plan, you'll have to pay hefty transaction costs.
Teachable Review; Price:
There is a free plan for Teachable with restricted functionalities. In the free plan, you have to pay more ($1+10%)
Transaction fees on sales. Also, in the free plan, you can't include your custom domain.
There are three types of pricing plans: Basic, Pro, and Business.
The Basic plan costs $39 per month on a month-on-month basis. Its cost is reduced to $29 per month ($348/year) when billed annually.
Courses are unlimited.
Payment processing is integrated.
Features:
Basic quizzes.
Hosting is unlimited.
Comments.
value-added tax.
student reporting.
Student management
Unlimited students.
Coupons.
Additional owner/author.
Drip content.
Custom domains.
Integrations with third-party services.
Uploads of lecture videos are unlimited.
Uploading files in bulk.
The Pro plan costs $119 per month on a month-on-month basis. Its cost is reduced to $99 per month ($1188/year) when billed annually.
Features:
Basic plan features plus:
The website with no branding.
There are 5 authors/owners.
Affiliate program.
Advanced reports.
Graded quizzes.
Priority assistance.    
Native Certificates.
Course compliance. 
Group coaching calls.
API accessibility.
The Business plan costs $299 per month on a month-on-month basis. Its cost is reduced to $249 per month ($2988/year) when billed annually.
Features:
Basic and Professional Features Plus:
Bulk student imports and management
Advanced theme customization.
20 authors/owners
Customized Roles.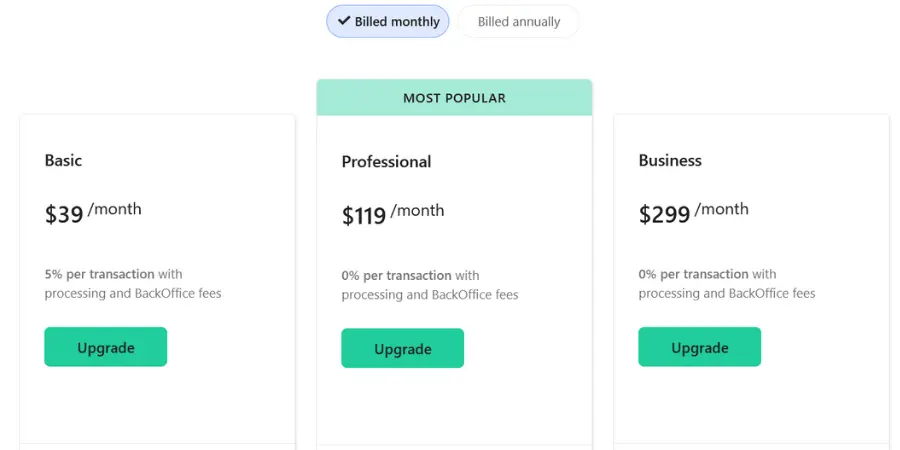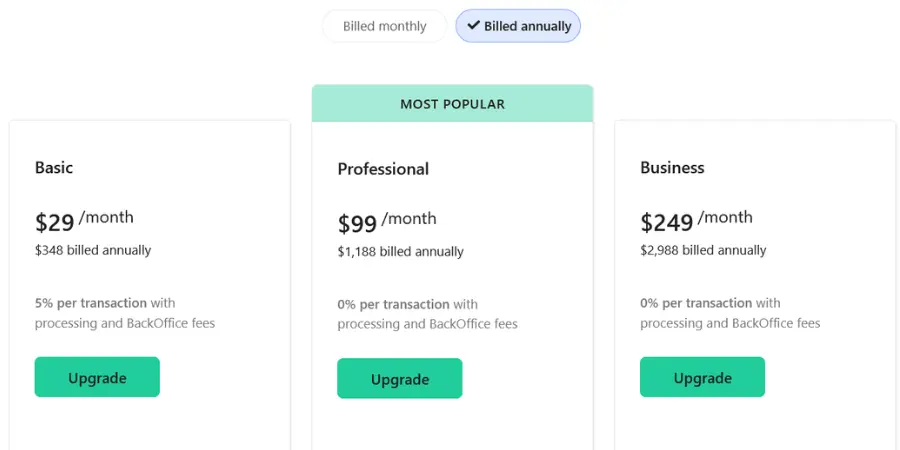 Teachable Review; Conclusion:
Teachable is perfect for those with minimal technological expertise who want to start creating their own online courses. There are no technological or website hosting needs to get your website and course up and running. 
You may have to experiment with the framework a little to get it precisely where you want it. I hope this Teachable review article was useful in making the proper decision to purchase this wonderful course development tool.
Few related articles you may like to read: