Blogging is one of the most effective ways to make money online. In this article, we will discuss the 11 most important blogging tips for beginners to grow a new blog.
Important blogging tips for beginners
1. Choose proper domain and hosting:
A domain name is the identification of your website. It is very important to choose a proper domain name before starting a blog. Include related keywords in your domain name. For example, if you want to start a blog on weight loss, include keywords like weight loss, flat belly, etc. This is the first important blogging tip for beginners.
Stick with top-level domain extensions like .com, .net, .org etc. Do not use any lower-level domain extension. With any lower-level domain extension, you can face SEO difficulty and you may not get quick approval for Google Adsense. 
The first and most important thing to starting your blog is your hosting. Choosing a reputed and good hosting is essential because your website speed and uptime mostly depend on your hosting. 
A few good hosting to start your new blog are Hostinger, Hostgator, Bluehost, Dreamhost, and Greengeeks. To know detail about the top 5 hosting providers, check my blog post "Top 5 best WordPress hosting 2021"
2. Make your blog professional with a responsive and good theme:
The theme is an important factor to make your blog professional and beautiful. An SEO-friendly and responsive theme helps you to get quick Google Adsense approval.
I will suggest you choose WordPress instead of blogger for creating your new blog. There are various plugins available in WordPress to solve your specific requirements inside your website.
There are various good themes available inside WordPress to make your website professional, like Generatepress, Newspaper, Astra, etc. Before choosing any theme, do proper research about the theme. The theme should be lite, responsive, and professional-looking.
3. Find a micro-niche or a sub-niche first:
This is one of the most important blogging tips for beginners. Your niche should be your first thing to understand if you are a newbie blogger. There have already been thousands of websites operating on the internet in every popular niche.
Whatever topic you select to discuss in your blog, there are big websites that provide thousands of valuable content for that topic for years.
To stand outside the crowd this is better to start with a micro-niche or sub-niche instead of a broad niche.
For example, if you want to start your blog in a broad digital marketing niche, it is better to start with sub-niche email marketing. Another example is if you want to start a blog on broad niche health and fitness, it is better to start with a specific topic like "how to reduce belly fat". You must follow this important blogging tip for beginners.
In the initial days of your blog, Google likes websites that are written on some specific topic. People will also like to come back to your blog when they want to learn anything on that particular topic.
Writing a few posts on a very specific topic with more than 2500 words, there are more chances to rank your article on Google. But if you write a few posts on different topics Google will not rank your posts if your blog is new.
So, start writing posts on micro-niche first and of course, jump into your broad niche when you start getting traffic slowly. 
4. Learn simple SEO to write your blog post:
SEO is a key factor to grow your blogs. Each new blogger must understand certain SEO fundamentals. No advanced SEO training is necessary. All the SEO factors must be known. You will get detailed information on Google and YouTube.
Two types of SEO are there, On-page SEO and Off-page.
For proper On-page SEO, your blog post should be written to ensure it is SEO-friendly. Do some proper keyword research before writing your blog post. New bloggers always suggested choosing long-tail keywords.
Focusing on keywords that are long-tail is an excellent SEO technique. Long-tail keywords are more specific and generally longer keywords or key phrases that popular short keywords. Long-tail keywords generate lower search volume but generally have a more conversion value.
For proper on-page SEO read my other blog post "SEMrush competitor analysis".
There are various other tools available for keyword research like Mangools, Long-Tail Pro, etc. Check my recent blog post "Mangools vs. Long-Tail Pro"
If you don't want to invest in a keyword research tool you can try "Google keyword planner".
Off-page SEO covers all the activities to perform outside the website to improve SERP (Search Engine Results Page) position. Building links, forums, and guest posting are the few things to improve your off-page SEO.
Off-page SEO enables search engines to understand what visitors are thinking about your website.
5. Be consistent in your blog:
This is also one of the most important blogging tips for beginners. You need to be consistent in your blog. This is important for any new blogger.
Maybe until you write a bunch of blog entries, you may not receive any traffic. You still have to write consistently.
When I started posting blog articles once a week, I saw huge changes in traffic. So, being consistent is one of the important blogging tips for beginners.
Always remember not to write blindly every day. Give your time to study and do proper keyword research.
6. Start growing knowledge in your niche:
Continuous learning is important to writing valuable content. So, grow your knowledge every moment. Read the other's blog posts and watch youtube videos on a regular basis in your niche. 
Don't try to do a lot of things in a short span. Grow your knowledge and writing skills slowly. Your knowledge will reflect in your blog post and it will start growing with time.
First and foremost, write for yourself. Ignore that anybody else will read what you write. Concentrate on your ideas, and opinions and understand how you can put them into words. Slowly your thought, knowledge, and writing skills will improve. Try to follow this important blogging tip for beginners.
You should definitely give time to learn new techniques and thoughts to increase your blogs if you have a passion for blogging. Understand SEO, learn marketing, and find out where to invest money.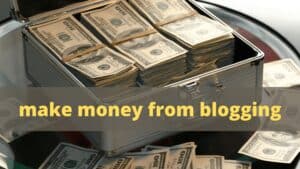 7. Write an attractive heading for any new post:
An attractive headline for your blog post is like an eye catchy youtube thumbnail. People click on youtube videos by attracting a good thumbnail. In the same way, people will click on your blog post after seeing your attractive headline.  
Irrespective of how excellent your content is, unless you have an amazing title, it will be irrelevant. People have a matter of seconds to consider whether they will click your blog post or not. The headline is very important for people to make a first impression and engage with your content effectively and easily. Keep your content simple, powerful, effective, and bold to make it excellent.
8. Start building an email list from day one:
An email list is the most important thing for your blog or any online business. Start from day one by growing your email list even if you don't plan to sell anything. So, email marketing is one of the most important blogging tips for beginners.
The email list allows you to market your new content to your audience directly without bothering about the search ranks.
To collect an email list of your visitors use a lead magnet. People will not provide their email addresses without any strong reason.
You can offer free giveaways in exchange for the email address. For free giveaways, you can give free valuable e-books, a video course, etc. Make sure these free gifts must be valuable, this will build trust in you. So, collecting emails is an important blogging tip for beginners.
A few good email marketing tools are Sendinblue, Aweber, Getresponse, etc.
9. Do not hold back your knowledge:
Don't be hesitant to express what you know. Too many bloggers discard the awesome thing because they don't want to reveal a special secret.
I personally feel, that in this world with high-speed Internet access at all times, there's no real secret. If someone wants to gather knowledge, that person can easily do it. 
So, this is always better to give away complete information that you know. Holding back any information is meaningless.
10. Update your old blog post:
Everything is changing in this world. New technologies are coming every single day. This is the reason you need to update your old blog post.
For example, if you have a blog post on "email marketing" in 2020, you must add something new about email marketing in the year 2021. The reason is email marketing strategy is changing day by day.
Always keep updated on your niche and also update your old blog post with new information.
If you do not update or add anything new to your old blog post, your blog post can slip its position on Google ranking. So, keep in mind this important blogging tips for beginners.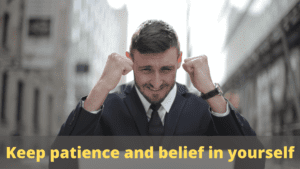 11. Keep patience and belief in yourself:
This is one of the most important blogging tips for beginners. Plan to spend a long time blogging before you see a result. The web is a vast, crowded area and you will find success almost difficult if you're not ready to provide a long period of time. 
Blogging is the incorrect way if you're looking for a quick return or fast exposure path. But you can achieve something amazing if you can stick it out without results for years and continuously learn, train, and improve yourself.
So, the theory is to keep patience and belief in yourself, learn continuously in your area and improve your writing skill. Also grow knowledge in technical aspects like SEO, SEM, etc.
Blogging is a long-time game, success will come with time. So, follow the above 11 important blogging tips for beginners and grow your blog with confidence. I hope this article will help you a lot to grow your blog consistently. Thanks for reading the article.
Related articles: