Introduction:
Ezoic is a fantastic platform for authors to monetize their websites without affecting their site quality. Ezoic controls the ads on your website. Rather than just manually determining size, style, and ad placement Ezoic's AI-based system does it all for you. In this Ezoic review, we will compare Ezoic with Adsense and understand which ad network is the best.
This technique is known as Ad Tester. This will test several patterns and finally, it will implement the most successful arrangement of ads on your websites. You can also connect your existing ad networks, such as AdSense.
Ezoic will help you generate more money as compared to Adsense on your website ads. One of my website ad revenue increased 30% after I moved from AdSense to Ezoic.
How exactly does Ezoic work?
Ezoic loads the content in the test layouts if a person comes to your website. For each configuration, the algorithm will evaluate data like times, page views of each visitor, bounce rate, and ad revenue to determine the best layouts for your website.
Ezoic's artificial intelligence can test various layouts and locations that are almost impossible to do manually. Finally, the best performance layouts will be promoted. So your viewers will see the best layout and your advertising income will improve.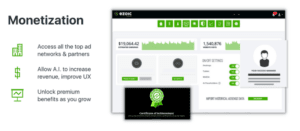 Ezoic Review; Benefits:
This will increase earnings through ad testing:
Instead of manually doing A/B testing, Ezoic will do the same for you in a more effective way. The Ad Tester tests many patterns and implements the best profitable Ad arrangement for your websites.
Excellent reporting and analysis:
The user dashboard has great statistics and data to provide more details about your visitors. You can review various different indicators such as earnings, page views, bounce rate, engagement time, social shares, earnings per thousand visitors, etc.
Sticky Ads can be placed:
Ezoic enables advertising to be placed on the sticky sidebar. You can also activate mobile and desktop anchor advertising at the bottom of the screen. These sticky ads will increase your earnings.
Take full control:
You can 100% control your Ezoic ads. The total number of advertisements per page can be set. Specify the ad color and layout. For desktop, tablet, and mobile, you can activate or deactivate each anchor advertising, disable some ads to display on your website, and many more things.
Excellent customer support:
Ezoic has absolutely outstanding customer service and support. You can raise a ticket for any issue, immediately they will revert back and solve your problem.
Ezoic protects you against violations of AdSense rules:
If you face any problem with Ezoic the support team will help you immediately to protect you from any violations. Sometimes I find it difficult to detect the exact problem in Google Adsense as transparency is less there.
Low threshold for payment:
The minimum payment requirement with Ezoic is $20, whereas AdSense has a minimum of $100.
Rejects awful contents:
Ezoic lists your pages, in which the content for advertising may not be suitable. Ezoic disables the display of advertisements on objectionable pages.
Ezoic Review; Features:
Ad Tester:
Ezoic will create the perfect arrangement of ads for your website to maximize ad revenue.
Boost Site Speed:
Google PageSpeed Insights ensures a high score for your website when Ezoic Speed Accelerator works on your website.
Chrome Extension:
Ezoic Chrome Extension is an excellent tool, so you can add, delete or edit ad placeholders on your website simply and efficiently.
Header bidding:
On your dashboard, you can easily apply header bids. Ezoic will develop a competitive advertising space server auction that increases website revenue.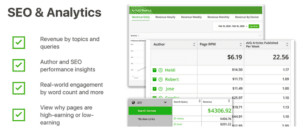 Ezoic Review;

Ezoic Vs. AdSense:
| | | |
| --- | --- | --- |
| Criteria | AdSense | Ezoic |
| Threshold | $100 | $20 |
| Website speed | May slowdown. | Accelerate site speed. |
| Account Ban | Without warning | With written notice |
| Ad Testing | Manual with Ad inserter plugin | Automated |
| Earnings | Less | More |
| Control in the Ad display | More options to control. | Fewer options to control. |
| Build Audience | No | Build audiences using video |
| Core Web Vitals | No effect | Improve |
| SEO & Analytics | Fewer | More |
| Closed Guard Secure | No | DDOS protection and advanced site security |
| Bot protection | Outside plugin to be used | Inbuilt bot protection |
| Customer support | Not very active | Excellent |
| Allow A.I. to increase revenue and improve UX | No | Yes |
How to get started with Ezoic?
Create and link your Ezoic account with your website first. Simply put JavaScript code into your website header and turn on the ad tester. Finally, the Ezoic Chrome extension can be installed to control your ads.
Ezoic Review; Conclusion:
From my personal experience, I noticed that, if the website traffic is mostly from the tier 1 countries Ezoic performs far better than AdSense. If the website traffic is from tier 2 countries, I don't find any such differences in ad revenue between Ezoic and Adsense.
If you have mixed traffic all over the world, Ezoic can give you 20% to 30% more earnings compared to Adsense. Finally, this is my personal statistics only, it may vary in your case. Google AdSense is also a robust ad platform and we can't ignore it.