Introduction:
Launch jacking affiliate marketing is a method to start promoting a product before its launch to the internet marketplace. In this method, affiliate marketers can make money on a new product launch by creating a review video or writing a review blog post about the product.
Confused! How can anyone provide information in a video or a review post if the product is not yet launched? Don't worry, vendors will provide you with all the information about the product before its launch. Here I want to mention that the launch jacking method mostly works on software and info products. For physical products, the launch jacking method is not so popular.
Why launch jacking affiliate marketing?
This is an excellent way of affiliate marketing for newbie affiliate marketers. As a beginner affiliate marketer if you create a YouTube video or a blog post, there is a higher chance of ranking your content as there are no articles on that particular product keyword. 
So, getting traffic is easy compared to conventional methods of affiliate marketing. But, I want to mention here, launch jacking method is becoming popular day by day. So, if you want the maximum benefit, you must start the launch jacking affiliate marketing method right from today.
How to pick the unreleased products?
Choosing the right product is a very crucial step in launch jacking affiliate marketing. There are various websites where you will find many unreleased products. Name of a few websites is Muncheye, CBengine, JVnotifyPro, etc. The most popular website to find out unreleased products is muncheye.com. 
Big launches, All launches, and newly released are the three categories available on Muncheye. A list of forthcoming new products will be included in any of these categories, along with their date of release.
There are certain things to consider while selecting a product from those three categories. Pick products from the Big Launches category if possible. These products are developed by successful vendors who have achieved previous success. 
Also, you can pick products from all launches. But a few things you need to keep in mind before choosing a product. 
The vendor profile:
See the vendor profile and their previous releases. I always choose a vendor who previously release some successful products online.
Product sales page:
Choose a product that has an attractive sales page. I always choose the product with a VSL(video sales letter) page. A video sales page always converts better than a text-only sales page.
Type of product:
Check what kind of product it is. Always pick a product with trending software. For example, Cryptocurrency, Video marketing, and affiliate marketing is trending topics now. So, if you find a tool on these subjects, pick the product to promote.
Release date:
I always choose a product on the release date of within the next 7 days.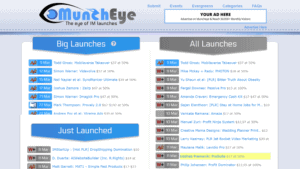 Create an account on JVzoo, and Warrior Plus:
Muncheye.com is basically the product launch calendar. The products are mainly listed on JVzoo and Warrior Plus affiliate networks. So, create a free account on these two platforms. 
Request approval of products:
Once you pick the product, click on it and go to the JV page of the product. JV page is for affiliates, here you will find various information related to the product like launch date and time, sales page preview, demo video, a sales video, price details, and a lot more things. 
Click the "request your affiliate link button". Here you write a few words about yourself, like how many years of experience you have, mention your review website and Youtube channel URL, etc. Simply give them a reason why should they provide you the approval to promote their product.  
If you are a complete newbie in JVzoo and Warrior Plus network, few product creators may not give you the approval to promote their products. Don't be demotivated, few vendors will definitely give you the approval even if you are a complete beginner. After a few days when you will start getting conversions, all vendors will give you the approval.
How to get traffic to your affiliate links?
There are various methods you can start promoting the products. The two best ways I want to mention here: One is creating a review article in your review blog, and another one is creating a review video in your review YouTube channel. 
Review website:
Create a WordPress website first to kickstart your affiliate journey. Creating a WordPress website is really simple. You need a domain and hosting for the same. Purchase a domain name from NameCheap or Godaddy platform. Don't know which hosting service will be the best? You can start with Bluehost, Hostinger, or Hostgator. Best theme for your website? I like Generatepress for a review blog. To customize the Generatepress premium theme in your WordPress website watch the below video…

YouTube channel:
YouTube is a robust platform for launch jacking affiliate marketing. Create a review YouTube channel and upload review videos to promote products. To create a product review video, you need review access to the product. Vendors will give you access to the member's area of the product without purchasing it. Inside the JV page, you will get the review access user name and password. If you don't find review access on the JV page, you can contact the product creator to provide you with the details. Create an in-depth video describing how it works inside the member's area, features, benefits, pros, and cons. 
Give extra bonuses:
The same product promotes various affiliates, why people will purchase from your affiliate link? Give a reason to purchase products from your affiliate link. Provide some extra bonuses from your end to your visitors. Bonuses can be an e-book, a video course, a plugin, or anything valuable related to the product. Do not forget to mention your bonuses in the review article and the review video.
Conclusion:
That's all about launch jacking affiliate marketing. You may not get the results in the beginning, because growing a YouTube channel and a blog takes time. Your videos and blog article may not come in front of search results in the beginning. Upload videos and review posts consistently on your YouTube channel and review website. Keep some patience, I am pretty sure you can make money through this proven method of affiliate marketing.  
Few related reviews you may like to read: