What is Pictory?
Pictory is a powerful text-to-video AI software that enables you to create and modify professional videos using text without any technical skills. This Pictory Review will go over each of the software's functionality, benefits, and pricing. Pictory allows you to save time, increase your visibility, and raise brand recognition.
This is a cloud-based video creation technology that employs artificial intelligence to immediately convert long text into short movies. This platform offers white labeling, which allows users to modify videos with their own logos, colors, and fonts in order to establish their brand identity.
Pictory's integration with Hootsuite enables users to schedule automated publications across several social channels. There is also bulk uploading, voice-overs, subtitle control, and other options accessible.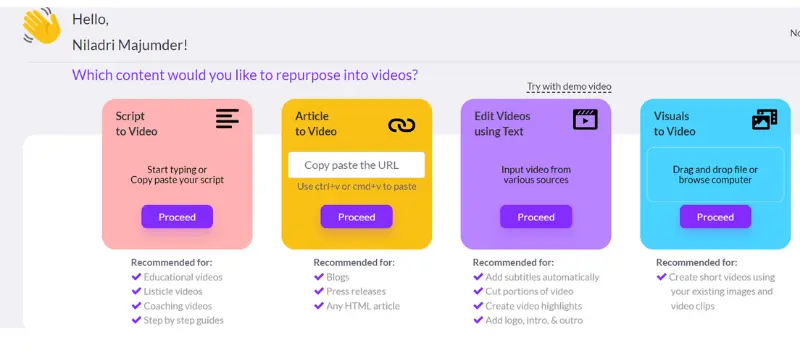 Pictory Review; Features:
Create videos from the text:
Pictory uses cutting-edge Artificial Intelligence to generate videos from the text.
Pictory's revolutionary ReelFast system, designed from scratch to perform at rapid speed, allows you to transform your texts into amazing videos in seconds.
Pictory's sophisticated artificial intelligence handles the heavy lifting for you. Produce your own video with no prior video creation expertise or technical understanding.
Millions of small video clips and photos, as well as audio tracks, are automatically selected. All copyright free forever, which means you'll not face a copyright issue.
You may record your own voice or can upload a saved voiceover file.
Pictory is cloud-based, which means there is no application to download.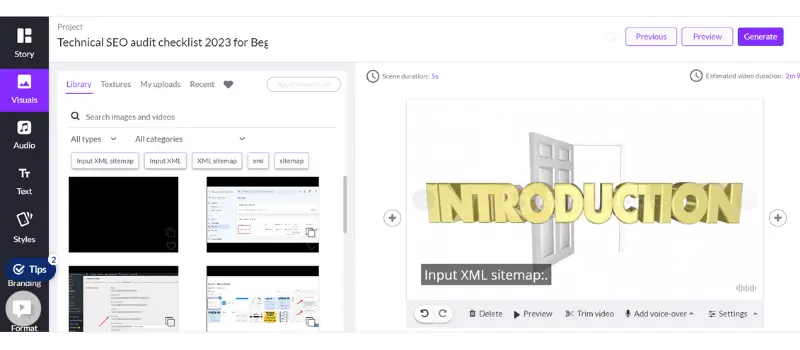 Create video highlight:
Make Shareable Video clips that are excellent for creating promotions and sharing short videos on social media.
Generate brief highlight videos that you can display to customers and prospects instantly.
Short video pieces always boost audience engagement.
Short introductory videos were automatically generated and published on the landing page and social media, resulting in more sales.
Be visible on social media and elsewhere. Pictory clips are ideal for use on all social media platforms like YouTube, Facebook, and Instagram.
Summarize large videos:
Pictory will Summarize any long-form videos Automatically.
Artificial Intelligence generates short clips from large videos that convey the summary in order to quickly capture your viewer's attention.
Boost your interaction and opt-in rate by creating captivating short videos that lead to increased engagement and get more leads to your marketing funnel.
Long webinars transform into 2-minute small tidbits that you can quickly spread.
Automatic Subtitles, which instantly insert captions into videos, can assist people at work or in busy surroundings.
It operates in the cloud on every computer, Mac, or PC, there is nothing to download.
Video editing using text:
Edit all sorts of videos utilizing text as easily as updating a word document. This is ideal for webinar videos, demo videos, Zoom recordings, and more.
Even lengthy videos are generated in minutes. Strong AI effortlessly eliminates filler words and pauses.
Boost your exposure by automatically adding subtitles.
Create your branding by adding your logo, colors, and fonts, as well as a personalized start and end clip.
Auto caption videos:
Captions attract more viewers and significantly enhance engagement and watching duration in social media videos.
Captions allow those who are hard of hearing can see your videos, resulting in a larger number of viewers.
With subtitles, your videos are much more likely to be seen by new viewers.
Captions are included automatically in minutes in your subscription at no additional cost.
Pictory employs specifically built cutting-edge AI to produce extremely accurate captions, providing maximum visibility for your speech.
Transcribe your videos:
Convert webinars and Zoom calls to text. This is ideal for generating blog content, ebooks, and training resources.
Pictory instantly converts the video to text, so you no longer need to write anything.
Make written recordings of your Zoom meetings so that you can readily find essential points.
Generate auto-summaries with the click of a button.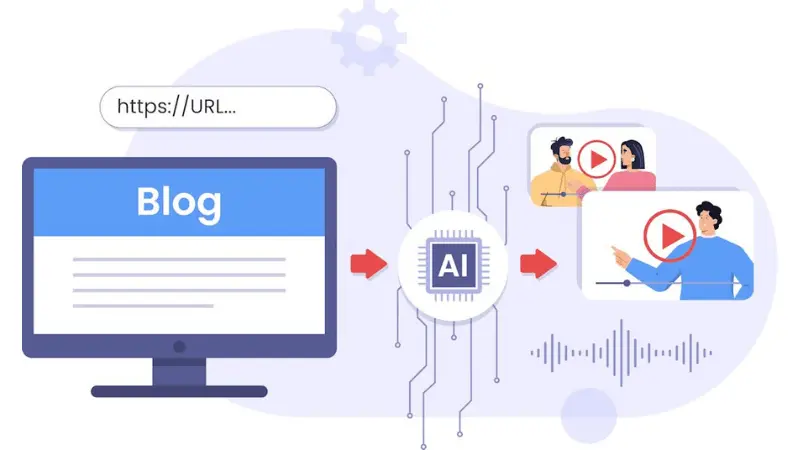 Pictory Review; Benefits:
Boost your YouTube channel:
Pictory is a fantastic tool both for beginners and experienced YouTube channel owners. Pictory uses AI to assist you in creating videos for your YouTube channels in a timely, easy, and cost-effective manner.
Expand your blog:
You can turn your blog posts into captivating videos in moments. Pictory's smart AI translates your content into amazing videos, increasing your blog's engagement and visibility.
Promote your brand:
Pictory's sophisticated artificial intelligence (AI) automates video advertising, allowing you enough time to concentrate on your advertising.
Make courses:
It can assist you in developing engaging courses. Explain using video, which is perfect for course creators. Pictory's advanced AI helps you to create engaging courses quickly and affordably.
Perfect for coaches:
It creates videos, allowing you to concentrate on teaching. Pictory's sophisticated AI readily executes tasks that almost all coaches assign to freelancers.
Make social media videos:
Create a video appropriate for all social sites. Its AI does the heavy lifting for you, and there is no complex software to understand.
Increase agency earnings:
Pictory assists agencies in boosting earnings by dramatically reducing expenditures and enhancing productivity. Pictory integrates AI with its library of video clips, pictures, and audio to enable you to create great dynamic videos for any industry.
Vidnami's best substitute:
Pictory uses AI to give all in Vidnami and much more for a one-time cost.
Ways to repurpose text content into videos:
Script to the video:
You need to follow the simple process to use the Script to Video block. This is a method of entering your script and converting it into a video. You can add images from the extensive stock picture library. Also include artificial intelligence voiceovers.
With a single click, you can add your own voice-over and auto-sync it with the script. Make use of designs and branding, and save the template for future reference. Do not forget to change your video's aspect ratio as per your requirement.
Article to the video:
Follow the below simple steps to convert any blog post into a video:
Copy and paste your post URL to get a video as an outcome.
Allow AI to sum up your content and generate the video.
Upload your own voice-over or you can use Pictory to generate the voice-over for you.
Use visuals from your PC or choose from the stock library.
Change the designs of the subtitles
Modify branding as your wish and save it for future use.
Edit videos into text:
Here are some examples of video editing on Pictory:
Without a timeline, you can edit videos only using text.
With a single click, you can clean your videos.
Allow artificial intelligence to sum up your video.
Produce multiple short video clips.
Change the look of your subtitles.
Visuals to the video:
Upload and arrange all of the visuals to make a video.
Also, add text and voiceover.
By purchasing the Premium Plan add any voiceover and sync it.
Pictory Facebook group:
Join Pictory's free group of users for video-making advice, updates for new features, offers, and much more. It's a free community for Pictory users, creators, and those looking to get started. The community's mission is to assist one another at various stages of their paths. Everything that you publish inside the community may be used for marketing reasons by the Pictory staff to help others.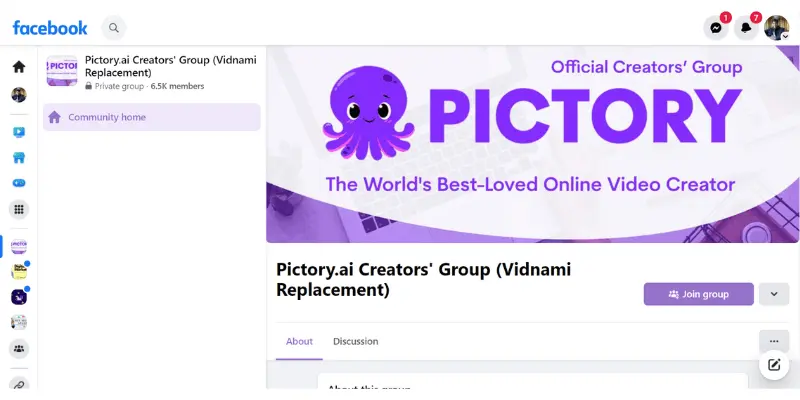 Edit videos that are already generated:
After you've created the video, you can edit it. Select "My Projects," and you'll be taken to the created project page, where you can see your previous work and folders. Click on a specific project to edit and download it again.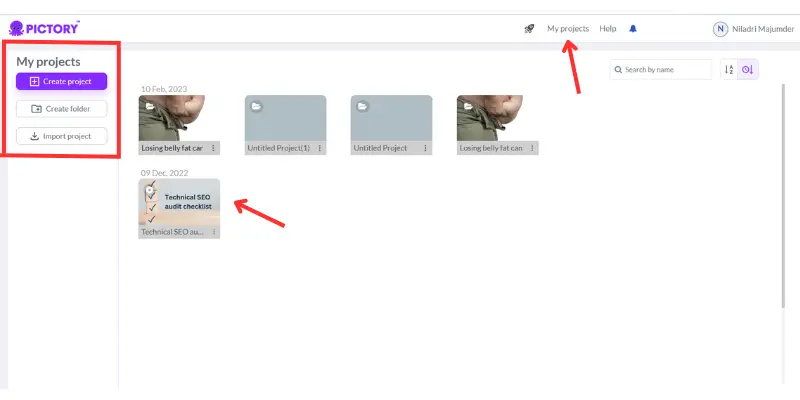 Pictory Review; Pricing:
Pictory offers a free trial. In the free trial, you can produce three videos up to 10 minutes each video length. Pictory has three price options: Standard, Premium, and Enterprise.
Standard plan:
On a monthly basis, the Standard plan costs $29 per user per month. When invoiced annually, the costs were decreased to $19 per user each month. This bundle is ideal for beginner video makers.
Unlimited text to video, 10 min length for each video.
Monthly video transcript of ten hours.
The video duration is restricted to one hr per upload.
The aspect ratio of text-to-video is 16:9.
720p video output quality.
5,000 music tracks.
There are 25 AI text-to-speech voice options.
Premium plan:
On a monthly basis, the Premium plan costs $59 per user each month. When invoiced annually, the prices were reduced to $39 per user each month. This bundle is ideal for design experts and small to moderate organizations.
Convert text to video for a maximum of 20 minutes.
50-hour monthly video transcription.
The video duration is restricted to 3 hours for each upload.
Text-to-video ratios can range from 16:9 to 1:1 or 9:16.
The video quality is either 720p or 1080p (HD).
15,000 music tracks.
There are 42 AI text-to-speech voice options.
The voice-over synchronization is done automatically.
Customized branding for the intro and outro.
Auto-produced highlights.
Hootsuite integration.
Download videos in bulk to CSV.
Enterprise plan:
The Enterprise plan features customized pricing that is appropriate for big enterprises.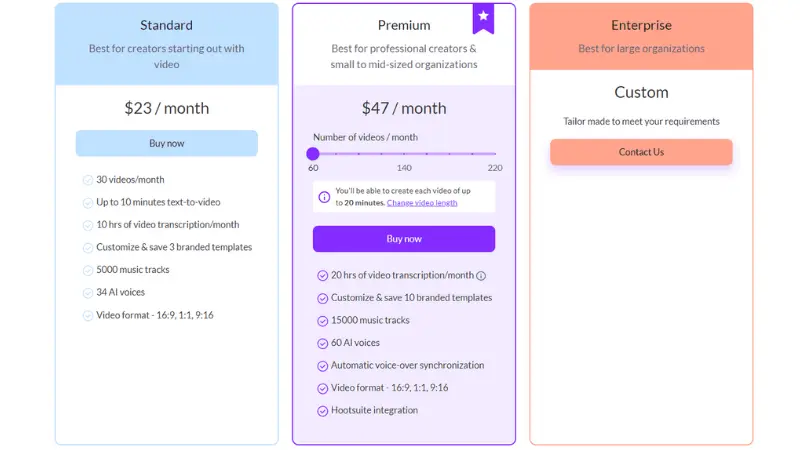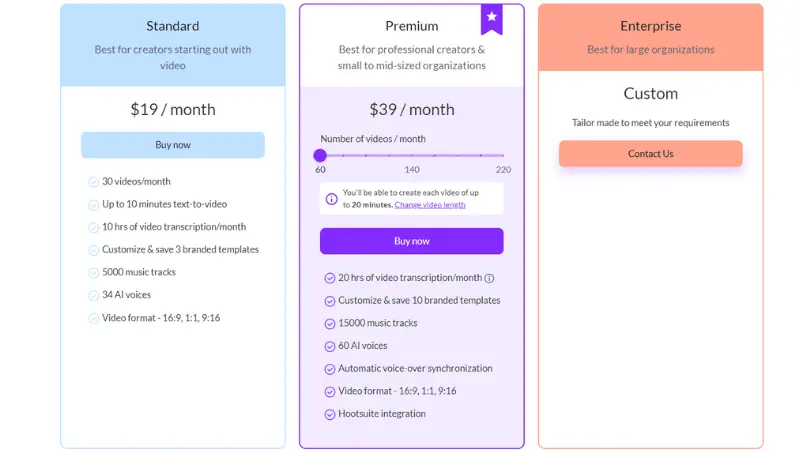 FAQs:
What is the average time it takes to generate a Pictory video?
10 to 15 minutes is enough time to create a video even if you are a complete beginner. The majority of your time will be taken up attempting to identify the ideal picture for a particular scene.
Pictory is suitable for what types of videos?
Pictory is ideal for creating social media videos or YouTube. This can also be used to generate explainer videos and short videos.
Is it necessary to pay royalties in order to utilize the images or music from the Pictory library?
Not at all, There are over 3 million images and a large number of music for your videos.
What different types of writing can be used to produce a video?
Articles that are in HTML format are acceptable. PDF, Word, and Google Docs are not permitted.
Is the content on the storyboard page editable?
Yes, the text in the storyboard can be changed by clicking on the textbox in the scene.
Is it possible to reposition the text in a scene?
Yes, simply move the text box to the chosen place by dragging it. Some themes prohibit the use of specific text box places.
Can you record and upload your own voiceovers?
Yes, you can record your own voice by clicking the Add Audio button. Add a voice-over to your audio uploads and pick a full video to utilize for the entire video.
What happens if the voice-over misspells some words?
Send them an email at support@pictory.ai with the term and its accurate phonetic pronunciation, and they will fix it as soon as possible.
Is it possible to share Pictory videos straight to social media?
Yes, posting to social media is possible through its Hootsuite integration.
Is it possible to include a CTA button in the videos?
Because CTA buttons are still not supported in the MP4, users cannot be added directly in Pictory.
Pictory Review; Conclusion:
That's all about Pictory Review. This is extensively used by many video creators throughout different industries. So, this is a video marketing software with a quite good market reputation.

Also, they provide a 15-day, no-questions-asked money-back guarantee. If you feel Pictory is not the perfect tool for you, simply let them know and they'll gladly return your purchase without asking any questions. I believe my Pictory Review has helped you make an informed decision about acquiring this fantastic video-making software.
Related articles: