What is a Solid Affiliate?
Solid Affiliate is a WordPress plugin that includes everything you require to start, operate, and expand your affiliate program directly from your WordPress website. ​Do you want to learn more about solid affiliates? This is a thorough solid affiliate review that you can go through to have a better understanding of the solid affiliate plugin and its functionality.
If you want to develop an affiliate program for your Woocommerce store, a Solid Affiliate is the best choice. This is a perfectly working and user-friendly Woocommerce Affiliate Plugin that enables you to establish an affiliate network and enhance sales. ​
Solid Affiliate allows you to integrate an affiliate network into any WooCommerce site. Anyone may join up as an affiliate for your company, so you'll be able to track any purchases generated. You can also change the commission arrangement. Also, you may focus on product enhancement, creation, analysis, assistance, and promotion to affiliates. 

Solid Affiliate Review; Features:
Setup wizard:
The plugin includes a four-step setup wizard that will get your affiliate network up and operating in minutes.
User-friendly interface:
Designed and built to match WordPress's working procedures.
WooCommerce Integration:
Integrates to WooCommerce and its Subscriptions add-on instantly.
Easy tutorials:
In each stage of the plugin, there is a specific support tab with tips and explanations.
Approval of the affiliate application:
To ensure high-quality affiliates, affiliate applications are put to waiting unless authorized by an authority.
Affiliate page:
Each affiliate has its own site to handle leads, promotional assets, and payouts.
Create affiliate links:
Generate unique affiliate links to applicants.
Affiliate discount coupons:
Synchronize your WooCommerce coupons to Affiliates so that each time a coupon is used, the money is paid to the associated Affiliate.
Form builder with drag-and-drop functionality:
It has a form builder that allows you to personalize the affiliate application form to meet your specific requirements.
Creatives:
Deliver promotional materials with affiliates, such as banner advertising and promo videos.
Customizable Emails:
Customizable automatic alert emails for affiliate registrants, introduction emails, and fresh referrals.
The affiliate user role:
To facilitate and manage permissions, all WordPress members who join to be affiliates will be allocated an affiliate user account.
Flexible commission rates:
Solid Affiliate accepts basic and advanced commission rates.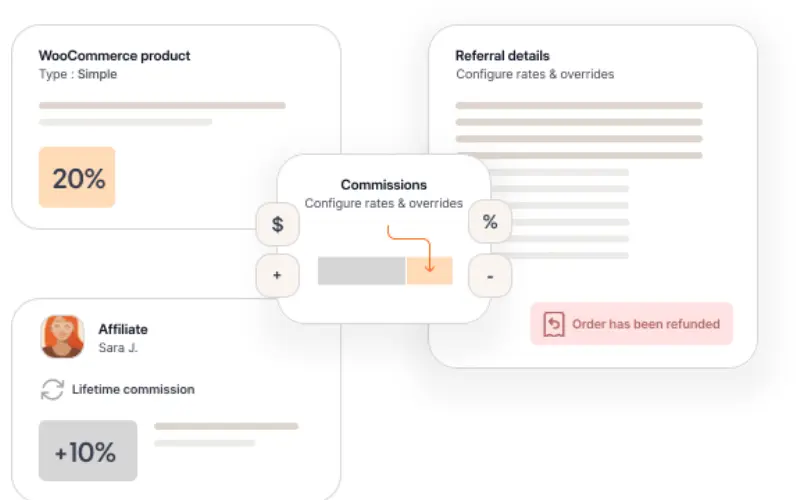 Commission overrides:
With a sophisticated overrides system, you may have really well flexibility over your commission structure.
Lifetime commissions:
Connect a buyer to an affiliate in order for the affiliate can earn commissions on all subsequent products purchased by the client they introduced.
Recurring commissions:
Manage recurring affiliate commissions whenever any referred customer pays monthly, quarterly, or yearly.
Exclusions:
Eliminate tax and/or transport expenses from referral estimates and deactivate commission on certain purchases.
Refund protection:
This will safeguard you and your affiliates against refund mistakes by paying money on returned sales.
Automatic payouts:
It includes a PayPal connection. Link your PayPal account and set up automatic payments. ​
Reporting in real-time:
Its data is constantly being updated. You'll know the moment things happen.
Filters for advanced users:
Provides both high-level overviews and detailed information. Filter Results by an affiliate, range of dates, referral, and other criteria.
Intuitive graphs:
Analyze statistics in your affiliate program to understand what is performing and what needs to be improved.
Historical data:
The pay affiliate tool includes a history of payouts. Transaction information can be exported at any time.
Solid Affiliate Review; Benefits:
In less than two minutes, you can have your affiliate program up and running.
Welcome affiliates to your program with ease.
You have complete control over the affiliate commission rates.
Pay your affiliates effortlessly using your WordPress dashboard.
Analyze your affiliate program effectiveness and developments all in one location.
Who is this for? ​
Solid Affiliate is ideal for organizations that use WooCommerce. This is the appropriate solution if you want to implement an affiliate program in your online WooCommerce business. ​
Solid Affiliate Review; Pricing:
There are two types of pricing plans for Solid Affiliate: Store owner and Agency.
The Store owner plan can be used in a single WooCommerce store. It costs $99/ year.
The Agency plan can be used in 10 WooCommerce stores. It costs $499/ year.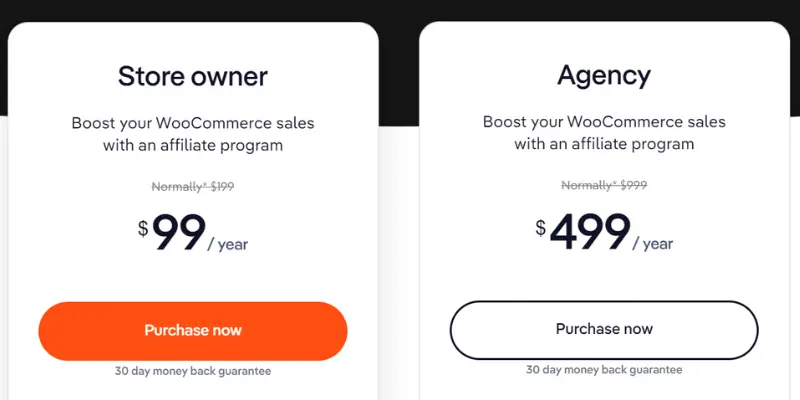 Money back guarantee:
They provide a money-back guarantee for 30 days. If you are dissatisfied with Solid Affiliate for any reason, contact them at team@solidaffiliate.com and they will offer you a refund without asking any questions. ​
Solid Affiliate Review; Conclusion:
Solid Affiliate is a feature-rich, easy, well-assisted, and comprehensive program that allows you to precisely manage your affiliates without spending a lot of money. 
Search no further than Solid Affiliate if you're seeking the greatest Woocommerce Affiliate Plugin. It is simple to set up and use when set up. 
Related articles: