What is AAWP Plugin?
AAWP plugin can assist you in making a lot of money with affiliate marketing. Use it for the Amazon affiliate program to boost CTRs and conversion rates. This is quite simple to set up, and there are several customization options. Simply said, this is the best plugin for Amazon affiliates.
There are various methods for monetizing a blog and earning money. The Amazon Associate Program is one such method that has recently gained popularity. This AAWP plugin makes it easy to create a lucrative Amazon affiliate site. Whether you currently have an Amazon affiliate website or are just getting started, the AAWP plugin will undoubtedly enhance your affiliate earnings.
Why do you need an Amazon affiliate plugin?
An Amazon affiliate plugin can enable you to effortlessly place affiliate links on various pages.
This allows you to simply manage and analyze the affiliate links on your affiliate website.
It enhances sales and exposure by allowing you to build custom lists such as best and fresh products.
The plugin can fetch product descriptions and details from Amazon.
Create data on the number of sales you've made, and the amount clicks on each product.
Features:
There is no theme dependency:
The plugin is compatible with any theme because of its versatile shortcodes and layouts. Automated Data Updates:
Product details will be continually updated using Amazon's Product Ads API.
Single link for different countries:
With the AAWP plugin, you can generate a single link for products from different countries. Create one link for Brazil, Italy, Canada, Germany, China, France, India, Japan, Mexico, United Arab Emirates, Netherlands, Spain, United Kingdom, and the United States.
Tracking id:
The plugin produces affiliate links with your unique tracking id for you.
Mobile-Friendly and Responsive:
Designed for desktop computers as well as mobile devices.
Caching:
To decrease the number of API queries, product data will be saved locally.
Ready to use Templates:
AAWP plugin includes a number of well-designed templates, including horizontal and vertical boxes, checklists, and columns.
Styles and designs range:
Select from a variety of styles or use CSS to modify the plugin's results.
Geotargeting:
Refer by directing your overseas visitors to a local Amazon shop.

Tables of Comparison:
Create a comparison table using our easy table builder to review different products.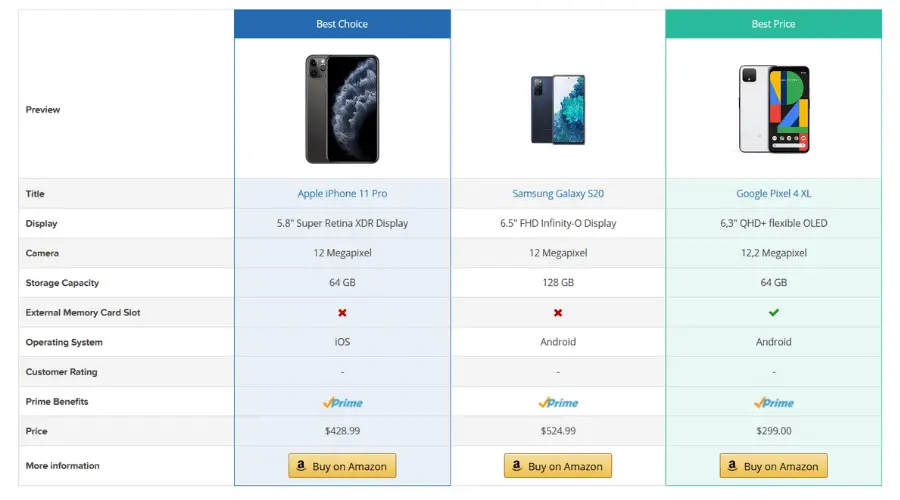 Text links:
Using the shortcodes, you may include customizable text links into your running text.
Product Boxes:
Product boxes that are stunning and conversion-optimized can be used to promote certain products.
Bestseller Lists:
Make automatic bestselling lists and customize the number of goods, such as top 5, top 7, and like that.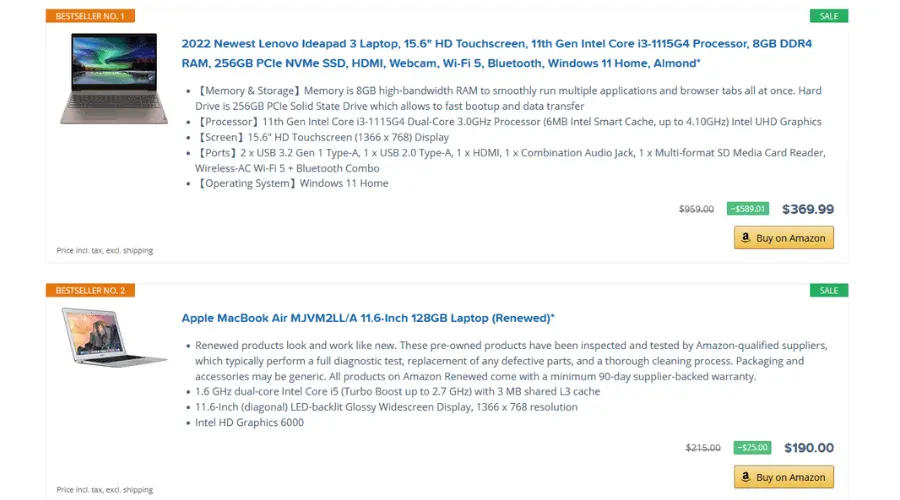 New Arrivals:
Draw the traffic attention to the latest products in a certain product category.
Data Fields:
Specific product details can be shown anywhere within your articles.
Widgets:
Get advantage of the ready-made widgets to display items in your website sidebar.
The Gutenberg block:
Just go to shortcodes by using the handy Gutenberg block.
Link shortening tool:
Transform all Amazon product URLs into good-looking links instantly.
Browser Extension for AAWP plugin:
AAWP shortcodes can be created simply from your browser's tools menu.
HTTPS/SSL:
Assistance for transmitting data via an HTTPS/SSL safe connection.
Google Mobile Pages:
Support for Google's Accelerated Mobile Pages.
Click Tracking:
Using Google Analytics, Google Tag Manager, or Piwik, Event Tracking is now supported.
Custom Templates:
Use the template engine to modify current templates as well as create whole new ones.
Amazon Prime and Additional Commissions:
While referring to new Prime subscriptions, you may increase your earning commissions by highlighting Amazon Prime content.
Filtering and sorting:
AAWP allows you to sort and filter created lists based on product headlines, prices, and other criteria.
A well-organized admin area:
You establish the most critical parameters and change the output of the products within the admin area.
Translations:
The plugin is available in English, German, Spanish, Italian, and French.
Developer Friendly:
Providing unique functions, PHP templating, and WordPress hooks to assist developers.
Pros:
Successfully promote Amazon products.
Increase your affiliate sales and click-through rate.
No programming knowledge is required.
High levels of consumer satisfaction.
Money-back guarantee for 30 days.
Installation is easy.
Simple to set up.
Simple to use.
There are various amazing features.
Available in a variety of languages.
It makes it simpler and quicker to target your visitors.
Cons:
There are no search features. Users need to open Amazon to search for products.
The user interface is a little tricky.
Pricing:
There are four types of pricing plans for the AAWP plugin: Personal, Plus, Pro, and Unlimited.
The personal plan cost €49, you can use the license for one website only. Plus plan costs €129, and you can use the license for 3 websites only. The Pro plan cost €249, you can use the license for 10 websites only. The unlimited plan cost €399, you can use the license for unlimited websites.
They don't provide a trial, but they do provide a 30-day money-back guarantee that allows you to look into the plugin, test it out on your website, and observe how it functions for you.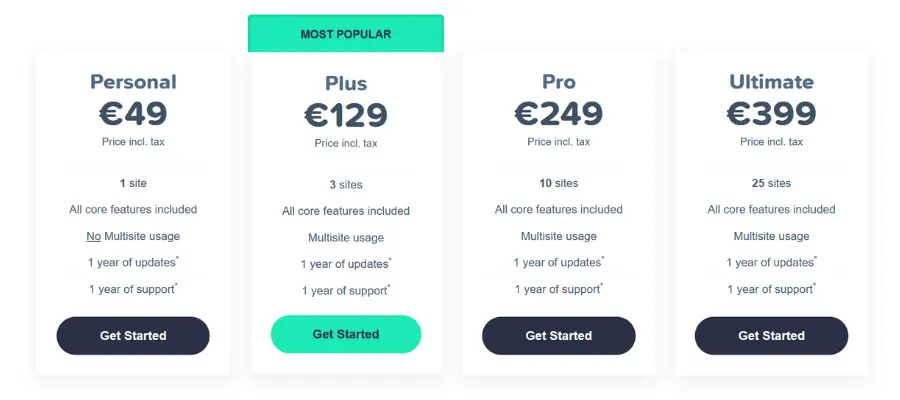 Conclusion:
I've been using AAWP for 6 months and find it very easy to use. New features are updated on a regular basis. AAWP is a genuine asset to the WordPress plugin directory for those who wish to enhance their money through affiliate marketing and Amazon associate. Final thought? It's a no-brainer.
Related articles: