Introduction:
Sprout Social is a powerful social media management solution. Your social media profiles may be handled through a single, easy user interface. In this Sprout Social Customer Review, we will go through all of the Sprout Social advantages and amazing features.
This is the finest method for gaining true business effects from social media. Sprout Social excels in performance, client service, and customer experience. This platform allows you to schedule content, analyze social data, and connect with people. 
Sprout Social is trusted by over 30,000 leading brands and organizations. If you wish to interact with your customers on a personal level, this tool is a market leader.
Sprout Social Customer Review (2023)
The Dashboard:
Sprout Social has a simple and clean dashboard. Inside the dashboard, you will find a performance overview, brand sentiment, connect more profiles, content leads, and an inbox activity report.
Performance overview: In one place, you can see how all of your social profiles are performing.
Brand sentiment: To find out what people are saying regarding your business, use personalized keywords.
Connect more profiles: Include all of your social accounts to get a complete picture of your social network performance.
Content leads: Start tagging your posts to see what works and what doesn't for your visitors.
Inbox activity report: Monitor received message volume to observe how fast you're actively working.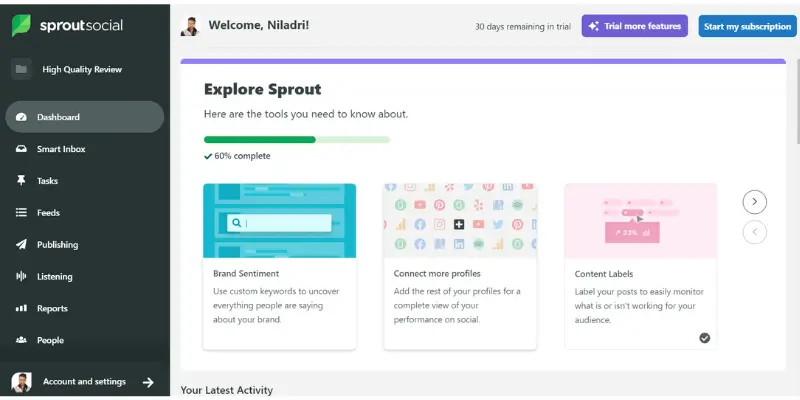 Sprout Social Customer Review;

Smart inbox:
Inside the smart inbox, you can see all your received messages, and you can filter them as per your social platform, tag, and languages. Also, you can see segmented messages like private, completed, saved messages, reply approvals, etc. 
Inside the custom view, you can create views by selecting specific Sources, Message Types, or Tags. Moreover, you can see the inbox activity report and inbox team report.
Tasks:
As you include more persons in your account, Sprout becomes much more effective. Tasks assist you in coordinating, prioritizing, and assigning appropriate measures to inbound Smart Inbox messages.
Feeds:
Inside the feed section, you can see Twitter feeds, Instagram hashtags, and RSS readers. You can combine RSS and social content. Using Feedly, organize incoming RSS content by topic or industry and view these feeds directly from Sprout. You can view your feeds by connecting with Feedly.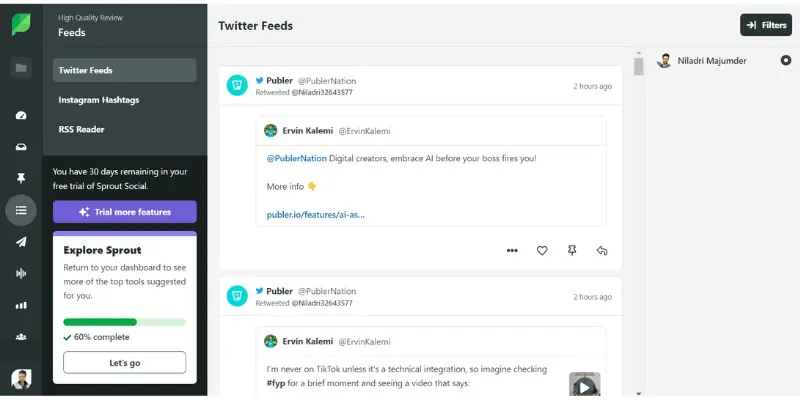 Publishing:
You can access an infinite source of content within the publishing segment with a single click. You can access the content by simply typing a few keywords. You will also find a calendar where you can filter all of your previous posts and schedule future posts.
You can draught messages and posts in the draught section to publish later. Before publishing, you can create a workflow in the needs approval section. You can also skip the workflow before publishing it.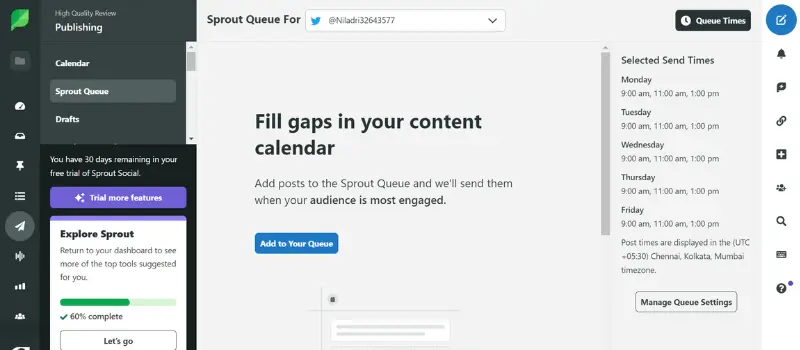 Listening:
Investigate a Topic to learn how you can use social listening data to become your greatest strategic partner. Now you can pay attention to what your target audience says on social media.
Sprout's Listening features allow you to determine what matters most important to your viewer and convert social information into useful business data.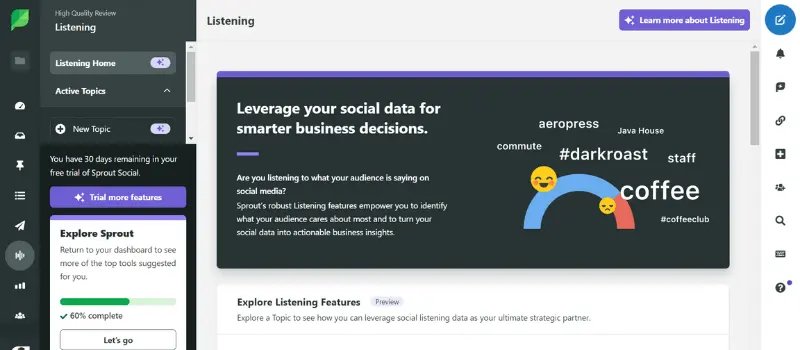 Reports:
See and analyze all your social marketing data here. Analyze all the posts you released during a certain period. Know the growth and overall health of the social profiles. 
Track trends and assess the effectiveness of the tagged messages. Analyze the way people interact with your content to increase efficiencies, developments, and topics for improving your plan. Monitor and make a comparison of your profiles to your competitors to see how you can improve. 
Examine how your previous content was done across different networks. Extract and distribute performance to your group. Evaluate your response times to the messages that are most important to your company. 
Peoples:
In the people's section, you can see all the peoples you are connected with on different social networks. 
Compose:
The compose section makes it simple to create new posts and schedule them. Simply create your posts, select your connected social networks, choose your workflow, add tags, and you're done. You can schedule your posts for a specific date and time, auto-schedule them with the sprout queue, or post them immediately.
Sprout Social Customer Review; Features:
The Asset Library:
Create, organize, edit, and share assets from a single location to simplify asset management and allow extremely appealing social posts.
Sending Time:
Use robust control strategies to post content on autopilot at ideal interaction times.
Scheduling:
Upload and plan a large amount of social content across several profiles and channels. You can save time by queueing different postings in advance.
Content Suggestions:
Find relevant and fascinating articles from social media to enhance your work and maximize your Sprout Social Benefits.
Message Approval Workflows:
To establish brand standards, create workflows that control the submission, appraisal, and permission of content.
Adding a message tag:
To simplify content management and accelerate performance, gather and categorize communications based on business goals and marketing techniques.
Share Content Calendar:
Organize each article and campaign in a shared content calendar to maximize exposure and interaction.
Social Business:
You may add engaging and powerful sales opportunities to your blogs by designing posts linked to your services.
URL Tracking:
You can track data from any links in order to discover and evaluate social traffic.
SproutLink:
Direct people from your Instagram bio, and create a visual landing page with clickable links to your post.
Campaign Manager:
Campaigns Manager enables you to create, organize, implement, and evaluate the effectiveness of your campaigns.
Integration of media:
To create visually appealing content, including videos and photos from tools such as Google Drive, Dropbox, and Canva into your process.

Sprout Social Customer Review; Benefits:
Enhance customer interaction:
Improving engagement will assist you in developing a brand. User engagement tools from Sprout Social allow you to contact customers quickly and efficiently. Sprout Social will help you successfully meet your needs and build client loyalty.
It is simple to join and get started:
You can learn how to use this program with customized lessons and outstanding assistance. Set up quickly and get the benefits of useful features right now.
Maintain control of all social media accounts:
You can save time and keep one step ahead of your competitors by utilizing automation features and customizable procedures. Analyze social gatherings and keep track of all conversations in one spot.
Improve team performance:
Use the most advanced technology to boost team efficiency. Utilize team-specific processes, assign roles, eliminate repetition, review content, and schedule messages.
Improve your strategy:
Begin proactively interacting with customers to create future plans within your firm. You may exchange information, measure ROI, and do a lot more with smooth integration tools.
Publish and schedule:
You may obtain high commercial benefits by creating excellent social content. Sprout Social's easy posting and scheduling features help you create social content quickly. This will save you time and help to focus on preparing and engaging with customers more effectively.
analytics:
You can make smarter, more informed business decisions by using social media analytics. Sprout Analytics solutions expedite data collection and distribution, allowing businesses to focus on the key performance indicators (KPIs) that are important. Also, suggest strategies to increase ROI.
The goal of advanced analytics services is to make your work easier. Get a simple solution that allows users to easily examine the data that is most relevant to them.
Boost your performance:
Utilizing scheduling tools can help you boost your performance. Get operating performance updates and immediately upload content that is most likely to be seen by visitors.
Enhance your social strategies:
You may attract attention and enhance your plan using an interactive UI.
Pros:
An easy-to-use, feature-rich interface.

A diverse set of intelligent reporting possibilities is available.

Tools for active collaboration and management.

A streamlined procedure for writing, scheduling, and posting social media updates saves a lot of time.

The ability to reply to all client messages from a single interface.

Analytics assist you in monitoring key performance indicators (KPIs) and maintaining consistency in your social media operations.
Cons:
Powerful features are only available with more costly subscriptions.

YouTube integration is minimal.

Little costly than other social media management tools.
Sprout Social Customer Review; Price:
All plans have a 30-day free trial, so take advantage of it to get the most out of your Sprout Benefits. The best thing is that you don't need a credit card to register for the free trial. Use it for 30 days and then upgrade if necessary.
Sprout Social offers three price plans: Standard, Professional, Advanced, and Enterprise.
Standard Plan:
The Standard plan costs $249 per month, and for each additional user +$199/mo.
5 social media accounts

Posts can be planned, queued, and published.

Social content calendar.

Review management.

Profiles, keywords, and geolocations can all be tracked.

CRM applications for project management and social networking.

Group, profile, and post-level reporting

Paid marketing for boosting the reach of Fb posts.

There are iOS and Android apps available.
Professional Plan:
The Professional plan costs $399 per month, and for each additional user +$299/mo.
Unlimited social media accounts.

Reports from Instagram, Facebook, and Twitter.

Adding tags to incoming and outgoing messages.

Scheduling for optimal transmit times.

A number of responders and time analysis reports.

Market data for Twitter keywords and hashtags.

Social media reporting for Facebook, Instagram, Twitter, and LinkedIn.

Helpdesk, CRM, and social commerce integrations.
Advanced Plan:
The Advanced plan costs $499 per month and for each additional user +$349/mo.
Unlimited social media accounts

Everything gets in the Professional plan.

Digital asset and content library

Chatbots that work with automation technologies.

Replies saved and recommended.

The inbox rule builder was used to automate activities.

Automation of link tracking
Enterprise Plan:
The Enterprise plan is a custom build plan, and you need to talk with them for pricing.

Sprout Social Customer Review; Conclusion:
Sprout Social is a powerful tool for organizations and influencers that take their social presence seriously. You get more value for your money here than other social media management solutions. This is a one-stop solution for all of your social media management requirements. CRM features are valuable to small organizations looking for a way to record information about their leads.
Sprout Social is a massive social networking platform that is best suitable for high-end organizations and also to small businesses. It is extremely user-friendly, with a simple UI and extensive help instructions.
Few related articles you may like to read: