Introduction:
Vultr host offers high-performance SSD cloud servers with a worldwide reach. Its goal is to provide the most dependable and effective solution for building a lightning-fast cloud server.
Vultr provides 100% SSD with the most recent generation Intel CPUs and a feature-rich control interface.
Vultr Host Features:
Large worldwide network:
With 25 global locations, Vultr is the largest global network. Vultr hosting enables you to rapidly and efficiently construct a low-latency infrastructure solution regardless of where you or your clients are based.
Install an SSD VPS on the worldwide KVM-based infrastructure and experience the same exceptional performance in India or the United Kingdom.
Flexible operating system:
In seconds, you may launch a new instance with your desired operating system. You may also create an endless number of operating system variations in any of the 25 global regions.
Compatible operating systems are Alma Linux, Arch Linux, CentOS, Debian, FedoraLearn, Fedora CoreOS, FreeBSD, OpenBSD, Rocky Linux, Ubuntu, VzLinux, Windows, etc.
Advanced network:
Enterprises may construct highly customized and scalable cloud infrastructure thanks to the powerful networking features of the Vultr host. 
The Vultr network team is constantly optimizing its routing and peering contracts in all the areas to provide minimal latency for IPv4 and IPv6 traffic globally.
Flexible Virtual Private Clouds enable you to partition instances in one or more independent VPCs at each geographical point of presence. VPC peering connects VPCs in the same place without using the public network.
Upload Custom ISO:
Build an endless number of operating system combinations in any of their 25 global locations.
Uploading your own ISO is possible in any region where the Vultr platform is accessible. Your unique ISO upload may be placed in any of its 25 locations across five continents, including Australia, Asia, Europe, and America.
ISO library:
You will have complete access to the ISO library as well as the ability to submit your personal. The professional staff of system administrators selects the offering, which includes major server operating systems.
You don't always have to go through the setup procedure of your operating system when utilizing the Custom ISO functionality to deploy multiple servers. Use the snapshot tool to make an image of your hosted server and instantly launch multiple instances with the same configuration in any of the global locations.
Powerful control panel:
With its robust control panel, you can spend less time handling your system. Vultr's user-friendly UI enables you to install strong servers globally from any device. You may access servers, settings control, support, and much more through a single portal.
Check the server's health:
Identify when your application's highest activity occurs. Their server health graphs give you complete information.
Configurable settings management:
Most of their services may be customized to match your specific needs. Simple, easy management panels may be found inside the control panel.
Excellent customer support:
Using their simple ticketing system, you may get a quick response from our 24/7 technical support team.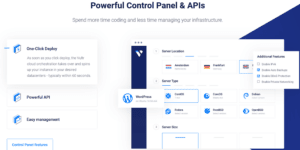 Vultr Host Products:
Optimized Cloud Computing:
Optimized cloud computing instances without noisy neighbors.
Bare metal:
No virtualization on dedicated servers.
Block Storage:
Storage with SSD performance.
Cloud computing:
Instances of computing power.
Kubernetes:
Containerized apps are completely controlled.
Object Storage:
Flexible and scalable storage.
Cloud GPU:
VMs using fractional NVIDIA GPUs.
Load Balancers:
Horizontal scaling is used.
Databases:
Databases that 'simply work' straight away.
Vultr Host Benefits:
A global network.

Customized control panel.

Excellent speed.

Dedicated IP addresses

Intel Core processor.

Excellent value for money.

A wide range of data centers is available.

Security at its best.
Pros:
A wide range of data centers is available.

Control panel with several features. 

Hourly billing.

Dependable hosting services.

The interface and design are incredibly user-friendly.

There are eight public cloud servers and four specialized cloud server options.

Fast account setup.
Cons:
There is no live chat or phone assistance.
Vultr Host Price: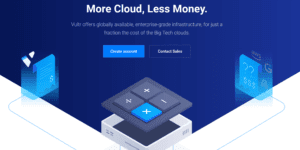 Intel and AMD Price start from $6.00 /month for 1 vCPU, 1 GB Memory, and 25 GB Storage.
High-Frequency Price starts from $6.00 /month for 1 vCPU, 1 GB Memory, and 32 GB Storage.
The regular Performance price starts from $2.50 /month for 1 vCPU, 0.5 GB Memory, and 10 GB Storage.
General Purpose price starts from $30.00 /month for 1 vCPU, 4 GB Memory, and 30 GB Storage.
CPU Optimized price starts from $28.00 /month for 1 vCPU, 2 GB Memory, and 25 GB Storage.
Conclusion:
Vultr host is a fantastic hosting service provider with affordable beginning pricing and a lot of potential. The ease of usage is also amazing. Vultr provides a good user interface for newbies with outstanding customer service.
Vultr is wonderful if you're comfortable with the cloud. Block storage allows clients to get the most out of the cloud without spending too much. And, for such low cost and flexibility, you get top-tier servers with 100% assured uptime.
>> Visit Vultr Official Website Now!
Few related articles you may like to read:
Namecheap Review – Cheap Domain Registration, Right Hosting For Your Domain, Professional Emails, and More.