Introduction:
You need a web hosting service that appreciates the importance of beginning small and growing. InMotion Web Hosting Plans and Services will assist you in doing the same. In this Inmotionhosting Review, we will go over every feature of this tool to help you decide whether it is the correct hosting service for you.
InMotion Hosting is a well-established company with over 20 years of market presence. InMotion Hosting has always been more of a business solution, with several VPS and dedicated hosting alternatives. The hosting is a little costly, but people preferred it because of its dependability. The hosting provider has its own-operated data centers.
Inmotionhosting Review; Features and benefits:
Hosting is extremely fast:
With a global average hosting response time of 110 ms, InMotion Hosting receives an A+ in GTmatrix. They serve a diverse worldwide audience, so you won't have to think about server response times.
A few of our websites are hosted on the "Launch" plan of InMotion Hosting, and we tested the speed to establish InMotion Hosting's response times when pinged from various locations across the world, and the results are simply mind-blowing. The result comes in between 75ms to 175ms, and that is excellent for any hosting service provider. 
Excellent uptime:
InMotion Hosting promises 99.9% uptime, which is the excellent industry standard for hosting businesses. The 99.9% means that your website will be inaccessible just a few times each year. With nearly no predicted monthly downtime, InMotion Hosting excels.
The best customer support:
I am personally very happy with the InMotion customer service. InMotion Hosting's US-based support staff is always prompt, knowledgable, and competent. They have always been gentle in assisting us with whichever issues we had.
High security:
InMotion has taken several precautions to keep the website secure. It contains a Security Suite. Free SSL, Theft, Malware, and DDoS Protection are included in the bundle. But, daily backups are not free.
Free SSL encrypts every visitor-server connection, ensuring that sensitive information is not accessed by a 3rd party. It also provides your website domain with a security lock.
InMotion provides high-level Hack and malware protection, but it can't be controlled through the cPanel.
You may activate and deactivate the ModSecurity functionality from the cPanel. It's a firewall that filters traffic as well as detects and prevents malicious website activity.
Corero provides DDoS prevention. This is a real-time automated DDoS attack security system that detects and stops fraudulent queries.
There is two-factor authentication to login into cPanel. It will give a second layer of protection to your hosting account.
There is automated backup available, but it comes at a fee.
Money-back guarantee:
InMotion Hosting offers a full refund within 90 days of your purchase, this is absolutely amazing. Most of the hosting service providers provide a money-back for 30 or sometimes 60 days. So, if you purchase InMotion, you have full 90 days to decide whether it is the right choice for you or not. 
Free website migration:
They will also manage your site migration for free and with no downtime. So, you will not have to worry about losing your site data.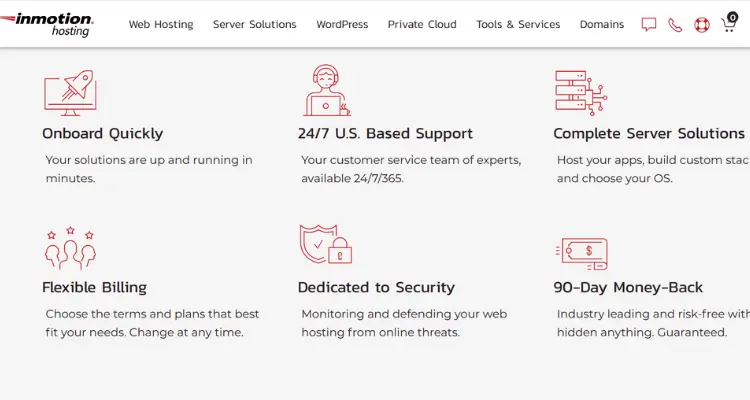 Inmotionhosting Review; Types:
Shared Web Hosting:
If you want to try low-cost hosting services, consider InMotion shared hosting. With shared hosting, your website shares a server with many other websites, so the hosting cost is less. If your website is new and has less traffic, you can go with shared hosting.
WordPress Hosting:
This shared hosting is designed specifically for WordPress-powered websites and provides extra tools and features to improve security and speed.
VPS Hosting:
VPS hosting is a combination of shared and dedicated hosting. A single physical server is split into multiple little virtual servers.
Dedicated Server Hosting:
Perfect for professional and large websites. The Dedicated Server hosting plan provides you with a whole server to manage your websites.
Managed Hosting:
A more robust hosting solution that can manage greater traffic without requiring technical knowledge. The hosting provider will handle software upgrades, safety, and maintenance work on your behalf.
Inmotionhosting Review; Price:
There are four types of pricing plans for all kings of InMotion hosting: Core, Launch, Power, and Pro.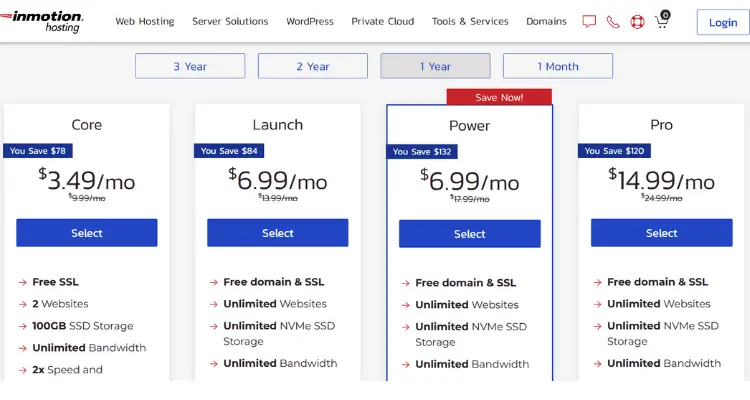 When you choose the shared hosting, the core plan costs $3.49/month, where you can manage 2 websites with 100GB SSD Storage.
For the Launch plan, it costs $6.99/month, here you can manage unlimited websites with a free domain and Unlimited NVMe SSD Storage. 
For the Power plan it costs $6.99/month, here you can manage unlimited websites with a free domain, Unlimited NVMe SSD Storage, and 12x UltraStack Speed & Performance. 
For the Pro plan, it costs $14.99/month, here you can manage unlimited websites with a free domain, Unlimited NVMe SSD Storage, and 20x UltraStack Speed & Performance. 
>> Click here for the detailed price of InMotion Shared hosting.
>> Click here for the detailed price of InMotion WordPress Hosting.
>> Click here for the detailed price of InMotion VPS Hosting.
>> Click here for the detailed price of InMotion Dedicated Hosting.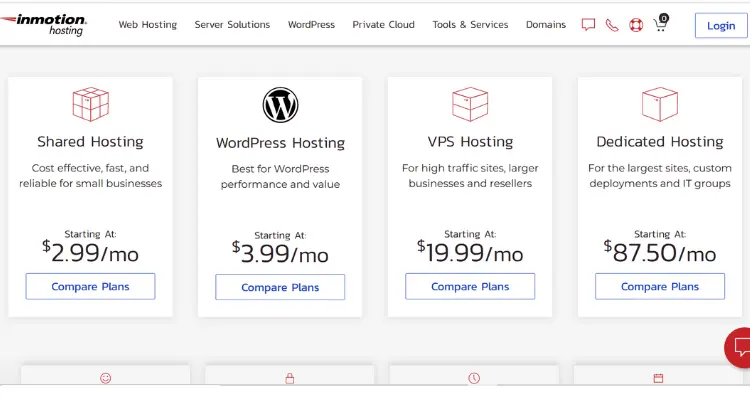 Pros:
InMotion Hosting provides a comprehensive 90-day money-back guarantee.
If your site is hosted on another hosting server, InMotion Hosting will migrate it for free.
It has data centers on the East and West sides of the US. You can select a data center that is more convenient for your target demographic.
All InMotion Hosting servers employ SSD discs rather than traditional rotating storage devices.
SSL is necessary for the development of an eCommerce website, and it is included in all InMotion Hosting services.
Cons:
They do not take monthly payments for their starter plans. You have the option of paying for one or two years.
InMotion Hosting plans are somewhat more expensive than competitive hosting providers.
Inmotionhosting Review; Conclusion:
With fast servers, high uptime, and outstanding customer support, InMotion web hosting is trustworthy. Their many plans are appropriate for all budgets, and shared plans are especially appropriate for new blogs and small company websites.
You may grow your business without having to worry about changing hosts. If you want further assistance, you may easily upgrade your hosting plan. I hope this Inmotionhosting Review will be helpful for you to pick this hosting provider.
This is an excellent choice for basic conventional web hosting. Because of its efficiency, performance, and durability, it is suitable for hosting small to medium-sized business websites. Even if you're new to website design, the user-friendly BoldGrid website builder makes it an excellent choice.
---
Few related articles you may like to read: