What is Cartflows?
CartFlows is a robust, user-friendly WordPress sales funnel builder that can help you create leads and convert visitors into buyers. Do you want to know more about this sales funnel builder? In this Cartflows Review, we will go through all its features and benefits. So, before you buy it, make sure you read this review article carefully.
CartFlows is one of the best Sales Funnel builders in the internet marketplace for Increasing Conversions and Profits. The CartFlows sales funnel builder transforms your WordPress website into a highly effective selling engine.
More than 200K experienced customers are using CartFlows. By purchasing it, you can join this thriving community. CartFlows was started in November 2018 and has achieved fast development while helping users in increasing their profits. Since its beginning, they have steadily developed new and robust features.
This is essentially an all-in-one WordPress funnel builder plugin. With upsells, order bumps, and other powerful features, you can design a comprehensive sales funnel with everything that you need to create leads and boost revenue.
Cartflows Review; Features:
Single click upsell:
Encourage customers to purchase further. One-Click Upsell enables increasing average order value and income through an eCommerce business.
Order bump:
Your clients must first fill out the checkout form. CartFlows then allow to effectively present the most appropriate one-click WooCommerce upsells or down sells just prior to the purchase. Clients just click to add a WooCommerce upsell, and the updated cart amount is presented on the checkout page.
CartFlows comes with amazingly high-converting upsell templates for selling a wide range of items, both digital and physical. Also, Display the best appropriate products to your clients. 
Customers will see even more relevant offers. Robust Offers for order bumps to provide suitable offers according to client records. Several Order Bumps provide your clients with alternatives, enhancing your chances of improving the invoice amount.
A/B split testing:
Remove the risk from funnel design. Using CartFlows A/B Testing, test different variants of landing pages and offerings inside your sales funnels and select the one which performed the best for the business client. A/B testing may be enabled for a certain phase or sales funnel. 
Modify the headings, CTAs, and basic components like cost, deals, discounts, and packages, as well as the traffic split. The A/B test opens to the public and begins collecting data, allowing you to select the best webpage.
It is simple to create advanced A/B testing. Simply copy a page, make the necessary modifications, choose the traffic to divide, and publish.
Directly from the CartFlows dashboard, you can see real-time statistics regarding your A/B tests and identify methods to boost sales. Effectively make the best option for your major revenue funnel.
Funnel templates:
Experimentation is necessary for funnel conversion optimization. You can grow your business with their proven sales funnel designs. Install WooCommerce checkout designs and go online. CartFlows enables you to develop effective landing pages without coding.
CartFlows provides numerous WordPress sales funnel themes to assist you to boost your income if you operate an internet store or a B2B agency.
Canvas Mode:
Using Canvas Mode, you may view the sales funnels that create interactive visualizations that help you understand complicated workflows.
CartFlows converts complex sales funnels to graphical flow diagrams, allowing you to visualize the full customer experience on a single page. In Canvas Mode, you can see precisely what you made with an engaging graphic.
CartFlows Canvas Mode makes it simple for anybody on your team to learn how each funnel functions and make the necessary adjustments depending on advanced analytics.
Customize checkout pages:
CartFlows may assist you in optimizing your checkout page. Enhance the customer experience by customizing the WooCommerce checkout process. Make it simple for clients to finish the checkout process so that you can increase your online shop earnings. 
Encourage your shoppers to add additional items to their carts. Straight from your dashboard, you can build and show attractive dynamic deals on the payment page.
Easy lead generation:
CartFlows is the greatest WordPress lead-generating plugin. It enables you to create engaging lead magnets using simple templates and begin turning visitors immediately.
Quickly create high-quality lead-generating pages. You may convert viewers without any expertise by using a large range of premade opt-in templates.
Dynamic offers:
Increase average purchase value by including dynamic offers. Establish parameters to provide the most suitable deals to your consumers with CartFlows dynamic Offers. 
Powerful insights:
With important insights, you can make smart decisions. With your funnel improvement needs, get reliable, actual data. Use funnel data to boost sales, provide a positive customer experience, and increase your income.
Modern Checkout:
A robust, conversion-optimized checkout process builder that replaces WooCommerce's standard checkout and assists you in generating more money.
Optimize the checkout pages on a regular basis to maximize sales, minimize cart abandonment, and enhance revenue.
Abandon Cart Recovery:
Cart abandonment begins whenever a customer picks an item and puts it in the cart and ends without a purchase. The cart abandonment process is a recovery procedure that occurs after the consumer abandons the cart. Cartflows will help you to recover the most of lost carts.
Build sales funnels for…
Online courses
Consultation packages
eBooks and physical books
Software subscriptions
And much more.
Cartflows Review; Pricing:
There are three types of pricing plans for CartFlows: CartFlows Starter, CartFlows Plus, CartFlows Pro. 
CartFlows Starter is ideal for online stores looking to improve their checkout page. It costs $79 per year. You can use it inside one website only. You will find all the checkout features inside this plan.
CartFlows Plus is ideal for online shops looking to enhance their average order value. It costs $149 per year. You can use up to 10 websites. Get all CartFlows Starter features with additional all-order bump features, one-click upsells and down sells, and other benefits in this plan.
CartFlows Pro is ideal for stores looking to increase income and automate their operations. It costs $269 per year. You can use up to 30 websites. Get all CartFlows Plus features with additional Advanced Funnel Features and Automation Features.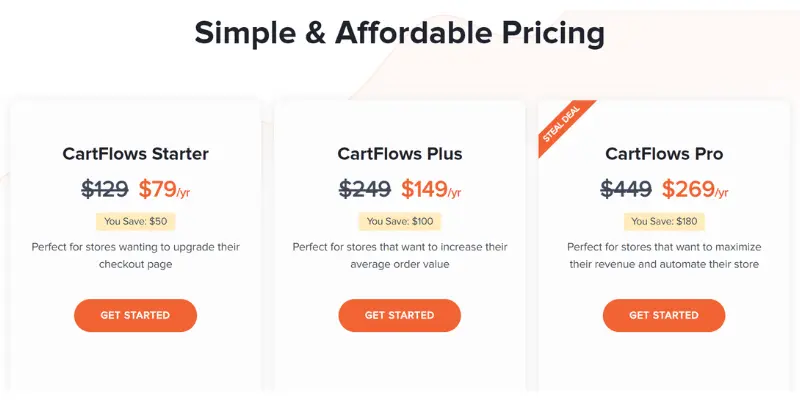 Cartflows Review; Pros:
Templates with good design.
Lifetime plans at reasonable prices.
Fast funnel page creation.
When compared to other funnel makers, it is really cheap.
WooCommerce Extension Integration is easy.
A/B testing.
Order bumps and one-click upsells are also available.
Favorite page builder.
Quick template import.
Integration with WooCommerce.
Upsells down sells, and order bumps are unlimited.
Conversion-focused thank you page.
High-performance funnels.
Support for many payment gateways.
Money-back guarantee for 30 days.
Cons:
There are no monthly plans available.
Cartflows Review; Conclusion:
If you operate a WooCommerce store, you should test out CartFlows to see how it works. There are several features that you can start utilizing right now.
That's all about Cartflows Review. If you're looking for a WordPress sales funnel builder and hosting it by yourself, CartFlows is a terrific solution because it's simple to utilize and also quite effective.
Related articles: