What is Carrd?
Carrd is an interesting online tool that I recently discovered. It can assist you in designing and launching your one-page website in minutes. Single-page websites are a popular way for freelancers, enterprises, and businesses to promote their works. Do you want to know more about this website builder? Read this Carrd Review till the end before purchasing it.
One of the primary benefits of one-page design is that the webpages often translate well to mobile devices and are easy to use. Most significant element in engaging people is designing the user interface. A one-page website divides content into tiny pieces and make the design clean and professional. It also makes your business easier to explain to customers because it is a simple user route representation.
Carrd is ideal for those who needs to create a single-page website, a landing page or sales page in a short period of time. It has amazing designs; you can create and launch your website quickly. Carrd was created with the goal of making the creation of web pages easier. It includes a wide variety of interesting features as well as an attractive free plan.
The user interface:
Carrd's user interface is simple, advanced, and flexible. For newbies, it is nice and simple to use. It has a stylish dark theme that is visually appealing. After logging in to your account, you can view your created websites. Also, you can find some amazing templates to start a new site. 
All of the essential tabs for managing your webpages, are located in the left panel. Get your questions answered via a contact form by clicking on the help button.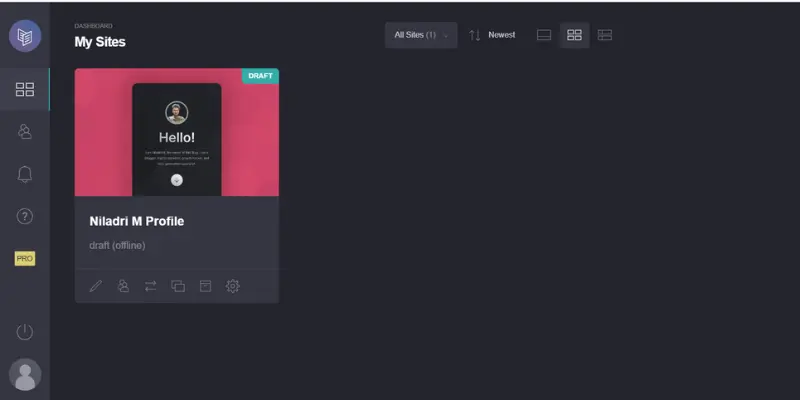 Carrd Review; Features:
The editor:
A simple drag-and-drop editor makes it easy to organize website components. Carrd gives excellent instructions for positioning various Editor choices while editing. Undo and redo are also available. Overall, the Carrd editor is easy to use and learn.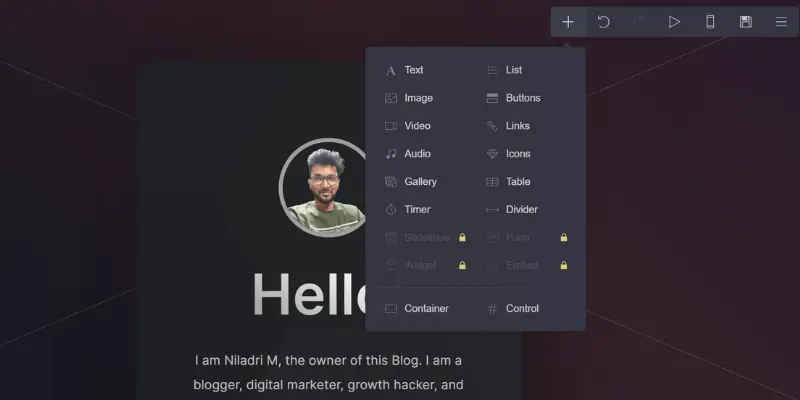 Various templates:
Carrd's template library is very amazing. There are various  templates divided into five categories: profile, landing, form, portfolio, and sectioned. In its free plan, you'll have access to 65+ free templates. 
Once you've decided what kind of website you want to create, you can choose a template from the library. You can view a demo of each template before picking it. You can also design it from scratch.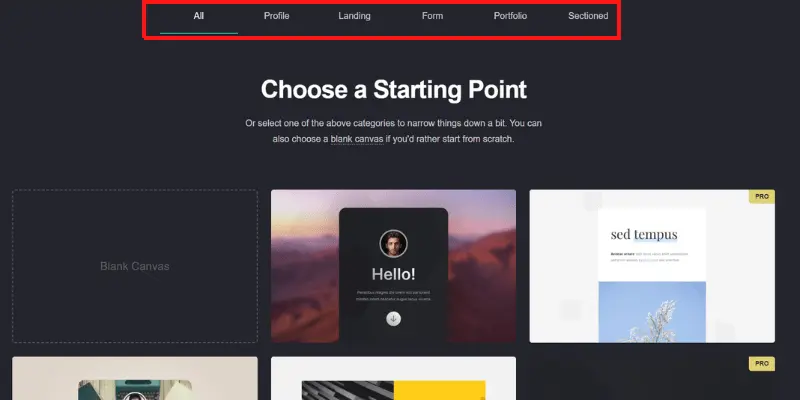 Background:
Your website's design and background have a big effect on the visitors. Carrd provides changing options in various settings on your website.
The Style button allows you to change the design of your page, such as its place, layout, width, orientation, and so on. The Background allows you to choose the kinds of background to be used on your webpage.
Color, Gradient, Image, Video, and Slideshow are among the five options available in the background option. Carrd integrates with the Unsplash catalogue to provide you thousands of free pics for Picture Backgrounds.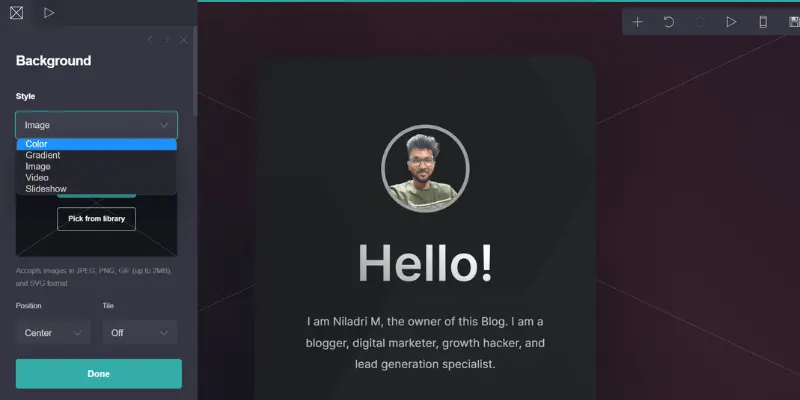 Elements:
Carrd comes with 16 elements. Which include both basic and sophisticated elements. Basic elements such as text, audio, video, image, and so on. Some advanced elements are timer, form, gallery, widgets, etc.
Change text:
You can click on the left panel and format the text. Also, you can create a table. On the left panel, enter the titles and message body.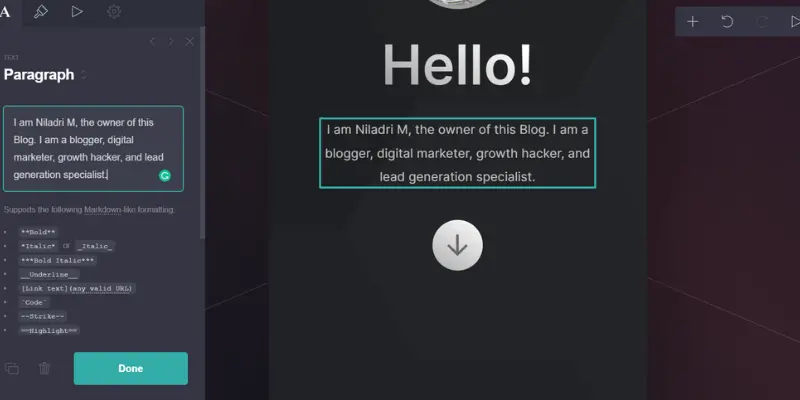 Animation:
The use of animations makes your site more dynamic and attractive to visitors. Carrd includes basic animations such as Fade, Blur, Tilt, Flip, etc. After selecting an animation, you could even adjust its timeframe, sharpness, and more.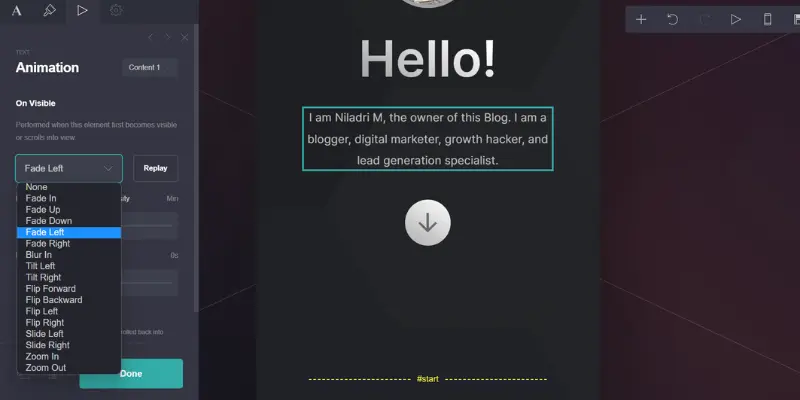 Audio:
To put an audio on your webpage, simply enter its URL in the audio area. Use audio from SoundCloud, Bandcamp, and other services.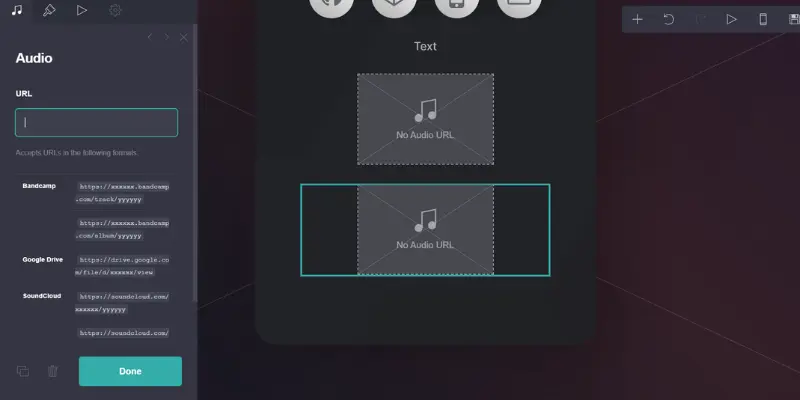 Embed code:
Carrd also provides the Embed feature if you wish to include some third-party components on your website. You could add a block of HTML code to the web page using this component. This is useful if you need to include posts from social media, videos, audios, etc.
Custom domain:
The created webpage will be published as a subdomain under Carrd if you don't connect a custom domain. This is not a professional approach to publish a website. Of course, you can connect your custom domain on Carrd's Pro Standard and Pro Plus plans.
Switch between mobile and desktop editor:
Carrd allows you to create a webpage that is responsive and editable on both desktop and mobile devices. Edit your website in both desktop and mobile mode. Carrd allows you to customize your mobile design, which is very convenient.
Excellent customer support:
Carrd offers excellent customer support. You will receive a knowledge base containing useful information.
They have Troubleshooting Documentation that addresses 10+ basic problems and their quick solve.
Contact Carrd for more personalised assistance by sending your questions via a contact form. They will try their best to solve your issue within 24 hrs. One downside is, they don't have any livechat option.
Deck of Carrd:
Carrd has helped thousands of people create both personal and professional web pages. They have a gallery called Deck of Carrd where they display their popular web layouts. Social profiles, portfolios, resumes, landing pages, and other pages can be created using Carrd.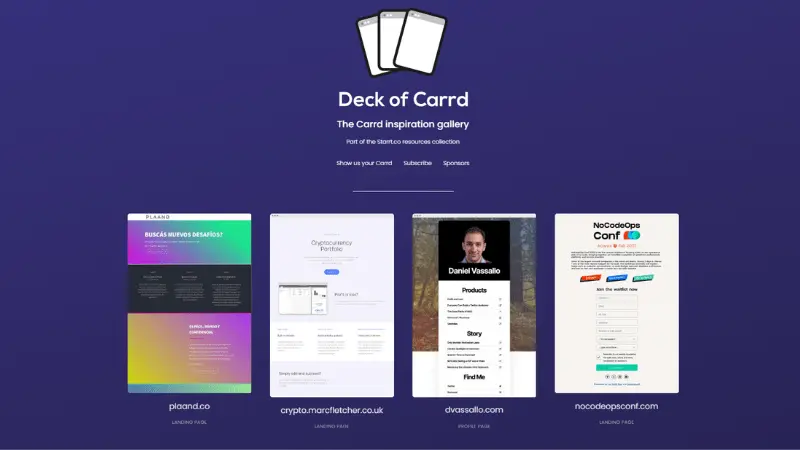 SEO-features (Carrd Review):
SEO is now an important reason for the growth of any website. Carrd includes some built-in SEO features that will enable you easily optimize the website.
It allows you to customize your website's headline, summary, and meta tags. Link your Google Analytics ID to monitor traffic and sales.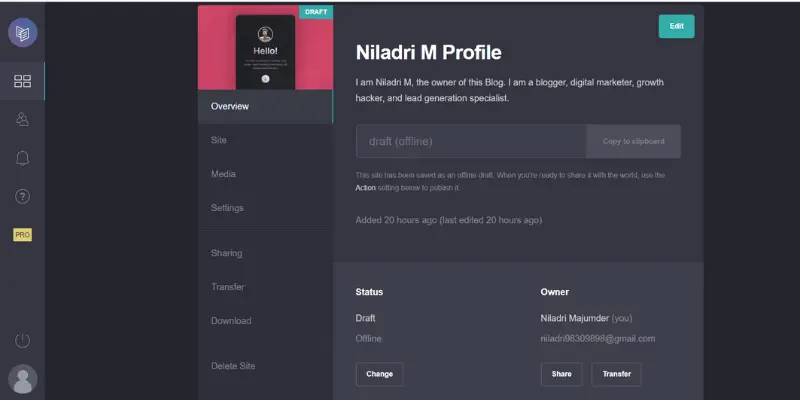 Who this is for?
Carrd is for anyone who wants to build a one-page website in the shortest amount of time and using the least amount of effort. Individuals seeking a simple and easy answer for web design can now begin with Carrd.
It can be used by small and medium size businesses and corporations to build landing pages for their operations.
This can be used by freelancers and creators to create resume and portfolio.
It can be used to produce social profiles and writing attractive bio.
Carrd Review; Uptime and speed:
If the website uptime is poor, it implies the website goes down frequently and you may possibly lose traffic. I found a very good speed and uptime of my one-page website build with Carrd.
I built a simple website, published it, stayed several months, and afterwards tested the uptime. Obviously, the findings were excellent, with a 99.98% uptime.
Carrd Review; Pros:
Carrd is a user-friendly website-building platform for beginners with fresh and well-organized functionality. It does not require any graphics or coding understanding to use.
Make your website more dynamic and engaging by incorporating the visual effects provided.
Carrd allows you to make changes in the mobile option.
The free version allows you to create a total of three websites. In comparison to other tools, this is a very good option.
Pricing plans start at $9/year, that is pretty cheap! Each of its plans include a good number of features.
Carrd Review; Cons:
This appropriate for big websites with multiple pages. As a result, it cannot be used for enhanced websites such as blogs, company websites, e-commerce, and so on.
Carrd provides a good knowledge base of useful tips. But, there is no live chat support available.
Carrd Review; Pricing:
Carrd provides a free life plan in which you will be able to build three websites with a maximum of 100 elements. This strategy is ideal for newbies to start with fewer options.
Carrd provides three different pricing plans: Pro Lite, Pro Standard and Pro plus.
Pro Lite costs $9/year, and you can build 3 websites.
Pro Standred plan costs $19/year, and you can build 10 websites. Pro Plus plan costs $49/year, and you can build 25 websites.
Best alternatives of Carrd:
Lead pages:
Leadpages is a tool that helps small businesses interact with their potential customers, lead generation, and make sales. With Leadpages, you can build websites, landing pages, sales pages, and more.
In just a few minutes, you can produce your website quickly and easily. Start with a high-converting interactive layouts, use Drag & Drop Builder, customize it to create a sophisticated landing page.
Weebly:
Weebly is a website builder that allows you to create websites that scale  your business. Weebly provides you with templates and the tools you need to create and design an appealing website.
You can build a fantastic website that will help you find and expand your customer base on a regular basis.
There is instruction and resources available to assist you in developing and building a website.
FAQs:
Is it possible to start a Blog on Carrd?
No, Carrd's websites do not include blogs. You can't write frequent blog content.
Is it free?
Yes, Carrd is truly free, and you can get three websites without purchasing it. But, you won't get all of the features in their free plan. you can build an attractive looking one-page webpage for free. Connecting a subdomain is not possible in its free version.
Is there an option for e-commerce?
Carrd enables you to build one-page websites, it does not support eCommerce.
Is it a portfolio builder?
Yes, you can create a simple portfolio on Carrd. Using their provided templates will allow you to quickly create your one-page portfolio.
Carrd Review; Conclusion:
Carrd is worth considering if you need a simple guidebook website or a portfolio. It has a simple user interface and an easy navigation. This is not for bloggers or affiliate marketers.
I hope you found this Carrd review article informative. This is a low-cost option for creating single-page websites. To get started, newbies can try its free plan. Advanced users should consider purchasing the paid version, which includes more features.
Related articles: