In today's article, I will discuss a secret strategy of six-figure affiliate marketing. This is as easy as 1, 2 & 3. Just find out a winning affiliate marketing campaign, duplicate it and start gaining commission. 
Let me explain in detail. This is a super simple method, any beginner can start without any experience. But we will use a paid method to start with. Anyway, you can start affiliate marketing organically. The only difference is the organic method takes time to get the result, whereas the paid method is quick and fast.
If you want to know the secret strategy of a six-figure affiliate marketer, read this article till the end. You don't have a website? No matter, this strategy doesn't require a website. 
There are only three simple steps involved: 
Find out a good affiliate program and get approval to promote:
You choose an affiliate program related to your niche. The hot, trending and evergreen niches are, make money online, health and fitness, relationship, etc. You can choose any good product from ClickBank, digistore24, Warrior plus, etc.
Find out a winning campaign for the same affiliate program.
There are various ad platforms you can start with. But today I will take an example of a special one, that is a native ad. There are different native ad platforms, examples are MGID, Outbrain, Revcontent, etc. 
This is possible to visit all these platforms and find out a campaign that is performing the best. In short, we need a successful campaign. We can do this manually of course. Finding out a successful campaign manually is a little time-consuming. 
Today I want to mention an ad spy tool, called Adplexity. By using Adplexity you can spy on any kind of ad like push ad, native ad, mobile ad, desktop ad, etc. Inside Adplexity, there is an option to sort ads from most to less popular. 
If we take the example of Clickbank, we have to choose Clickbank as an affiliate network. Clickbank is the most popular affiliate network. Now you can start spying inside Clickbank to find out the most successful ad campaign. 
It is possible to see the total number of traffic and the start date of any particular campaign. Also, you will notice similar kinds of ads only with small changes. These ads are basically duplicated by someone. You will notice that these duplicated ads are also getting huge traffic like the original one. 
I also noticed that one successful ad duplicated several times. That is because of the high popularity of the original campaign.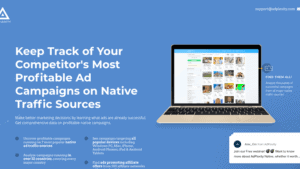 Just duplicate the campaign with your personalized touch:
I will never recommend just exactly copy and paste. You can definitely use your own idea while copying. From the spy tool Adplexity, you will find all the required information to create a duplicate ad campaign. 
The most important information is the landing page. Adplexity will provide you the link to the landing page from where you can get all the information. The targeted country location also can find out by using this ad spy tool.
You can find a winning campaign from an ad platform and can duplicate it to other platforms. For example, if you find a successful ad campaign on MGID, you can duplicate this on other platforms like Outbrain, Revcontent, etc.
Conclusion:
Thank you for reading this article. Finally, I want to mention that proper tracking of your campaign is important. The tracking data will help you to optimize your campaign in the future. I personally use tracking tools like Voluum and Thrivetracker to track my campaigns. 
Simply use this trick to duplicate the ad campaign, and this will definitely drive more and more traffic to your affiliate links. The most important thing this trick will drive more sales in a short span.