If you want a complete return on investment (ROI) for your marketing expenses, you have to understand the importance of email marketing and the best method to start with. If we talk about email marketing in the United States only, the data is mind-blowing. In the United States, email marketing gives a 4300% return on investment for an online business. 
Email marketing is effective for small, medium to large businesses. Email marketing provides direct interaction with the customer, the marketing system can be easily managed. In today's article, we will discuss the importance of email marketing.
Why as a business owner you must build your email list?
In the initial stage of my online business, I used to redirect visitors to my sales page without collecting their email addresses. Later on, I understand, that was my biggest mistake. My full advertisement cost drains out if the visitor leaves my sales page without a purchase. 
The real truth is most of the visitors will not purchase on their first visit. This is the reason, the importance of email marketing needs to understand. 
Now I always collect an email before sending visitors to my sales page. I use a lead magnet strategy or an opt-in page to collect emails. 
I use an email autoresponder to retarget visitors. Setting an email autoresponder and retargeting visitors is the most powerful strategy for any online business. Most of the sales come through this strategy only. 
I always set up 10 to 15 series of emails. The email was delivered every single day. This series of emails convert sales. I use the same email list to sell different products. Keep in mind, always stick to a particular niche. Do not try to sell any kinds of products from different niches.
What is the importance of email marketing?
If any person comes to your website and subscribes to your email list and confirms it to their inbox (double opt-in), that means the person is highly interested in your product or services. 
You can easily convert the lead into a paid customer. An email autoresponder is the most powerful way to convert a lead into a paid client. My email list converts 12 times higher than a campaign in social media and this is the importance of email marketing.
Here I listed few reasons why emails are so powerful:
Email is the most personal information:
You don't have to rank on search engines. Just send an email and it will be directly in the customer's inbox. So, this is the most personal information, you can reach easily.
Email is most driven:
The person subscribed to your email list is obvious that that person wants to hear from you. Also, you can repeat your message several times to worm up the subscriber. Providing values through emails builds trust.
Emails can be segmented:
As you know that the subscribers are interested in which niche, you can easily segment your list. By sending an email with proper and attractive headlines, you can increase the open rate and conversion.
You can be an owner of the email list:
You can run an ad on Facebook, google, youtube, or other platforms, but you don't own it there. Any kind of policy change may waste your efforts. Your email list is an asset, and your efforts will never go to waste.
Emails can be personalized:
Emails are one-to-one interaction, you can personalize every email. Only you need to collect some personal information while collecting emails. Personalized emails build trust, confidence, and connection. That results in more conversion, and this is the importance of email marketing.
Email address is permanent personal information:
Most people never change their email addresses for their entire life. People can change their phone number, physical location, but the email addresses will remain the same. 
People check their email address several times a day:
Survey says, there are around 3.9 billion active emails exist all over the world. Many people check emails several times a day. This is the reason online marketers spend money to collect emails every single day.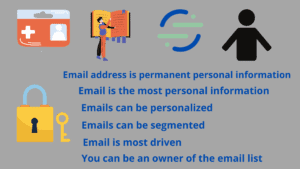 Social media marketing or email marketing, which one is the best?
Many times people ask questions that are email marketing dead? Definitely, social media is hopeful in recent times, but from my personal experience, I can say that email marketing is more effective in the present day.
Whenever we are going to create any social media account it is asking for the email address. For example, if you want to create a new account on Facebook, this will ask for an email address. 
Why is it so? Because these companies know that email is the most direct way to communicate. You can say that a Facebook account can be created without an email address by providing only a phone number. 
Yes, this is possible, but after creating your account Facebook will keep on asking your email address several times for different reasons.
Experts say if you are not building an email list then you are not building a business.
Basic requirements for building an email list:
A blog or website

A good email marketing tool

A lead magnet or an opt-in form
Here I want to mention only 4 email marketing tools that are best in my opinion:
Conclusion:
Finally, this is no matter what kind of business you have and how small or big it is. If you don't have a website, create a new one. Start collecting emails of your website visitors. Start email marketing with any email marketing tool. 
You can see the magic in a very short span. Yes, your website visitors will become your paid customer, if you can follow the proper email marketing strategy. That's all for today. I hope that now it is clear to you the importance of email marketing. Thanks for reading this article.