Introduction:
Affiliate marketing is promoting and selling someone's products and earning a commission. If you are a beginner in affiliate marketing and struggling to earn money, then follow these 7 simple steps in affiliate marketing strategy to grow your affiliate marketing business fast. 
Even if you are started monetizing in affiliate marketing, this article can help you a lot to grow. In this small article, you will learn a few simple affiliate marketing strategies.
Have you ever thought, most the affiliate marketer why not get desired results? Because they are not following the basic rules of affiliate marketing.
To skyrocket your affiliate marketing business you just need to follow some step-by-step procedures in a structured way.
Follow these 7 simple steps from the basic advance below:
Select your niche:
Before selecting any niche, ask yourself do you have any knowledge related to that particular niche! If you have knowledge of that niche, this is easy to create content for you. Because content is the king in affiliate marketing. 
Anyway, you need to create content in the form of articles or videos to become successful in affiliate marketing.
Sometimes knowledge is not required if you have an interest in the niche. If you have an interest, you can easily gather knowledge in a short span. We know in present days there are a lot of platforms available on the internet to grow your knowledge.
So, you need knowledge or interest in that particular niche before jumping into the affiliate marketing business.
Do you have knowledge and interest in both? Wait, there are some other factors to check before starting. You need some product research and availability in that niche.
Find out the answer to a few questions:
Are there products available in the market to solve problems related to that particular niche?

Those products can help you earn enough money in affiliate marketing?

Do those products have a good market reputation?
If the answer is yes to all the above questions, you can jump into affiliate marketing right now in the niche. So, niche selection is the first and most vital step of affiliate marketing strategy.
Start proper research on different affiliate networks:
Once your niche is selected, invest enough time for perfect product research. Because the right product can give you sales and commission. Always choose the product that has a good market reputation. Do not recommend an inferior product, because recommending a substandard product will create a negative impact on your market reputation also as an affiliate. Recommending and selling a good product always build trust in your audiences.
I would always recommend joining some good affiliate networks to choose products. Some reputed affiliate networks are Clickbank, Warrior Plus, Jvzoo, CJ network, impact radius, etc.
Always choose a product with a good percentage of commission. 50% or more than 50% commission is good for any digital product. For Clickbank products choose products with higher gravity. High gravity means the product is in demand.
For CPA (cost per action) programs always choose a product with more than $2 pay in a single action. I always choose physical products to promote more than a $30 commission.
Also, check what kinds of support they are providing. Always choose a product with good customer support. Your audience must be happy with your recommended product. This must be the first priority in your affiliate marketing strategy.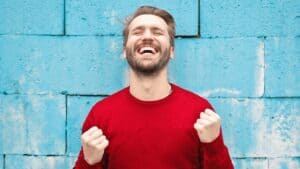 Build a website/Blog:
Few beginners start their affiliate marketing business without a website. This is possible to get few results in your affiliate marketing business without a website. But you can't scale or grow it. So, I strongly recommend creating a website for a successful affiliate business before fixing your all other affiliate marketing strategies.
If you do not have money to invest, you can start your website on blogger.com. But to get better results and a professional-looking website always go for a WordPress website.
To create a WordPress website you need to purchase a good domain and hosting first. Always purchase a reputed and high-speed hosting service for your website.
If you are a beginner I will recommend Hostinger to start with. Hostinger is a low-cost, reliable, and high-speed hosting service provider. Some other good hosting service providers are Bluehost, Hostgator, Greengeeks, Dreamhost, etc. The domain you can buy anywhere like GoDaddy, Namecheap, etc.
Now connect domain and hosting and install WordPress. Now install an easy-to-customize and simple theme. Always choose a theme that is lighter and professional-looking. For blogging, I recommend the Generatepress theme. But there are so many themes available inside WordPress. Do complete research on the theme and choose a good one.
Your website is ready now. Start creating content related to your niche. The content must be unique and engaging. Always give value to your audiences, then people will come back to your website again. Write content on solving problems, product reviews, etc. Also, focus on evergreen and informational content. Do proper keyword research before writing the content.
Finally, do not forget to insert your affiliate link in your post. Choose proper anchor text to insert your affiliate link.
Build a relevant audience:
Start promoting your content on social media like Facebook, Instagram, Twitter, Pinterest, mix, etc. Sharing on social media will build trust in your brand slowly. Once you build the trust, then start promoting affiliate products.
Do not forget to share your articles on high authority websites like medium.com, SlideShare, Quora, Ko-Fi, LinkedIn, tumbler, Reddit, etc. The best practice is to redirect visitors to your website from these high-authority sites.
This will increase your website domain authority and page authority. Also, you will get relevant traffic and finally, you will start getting sales. This affiliate marketing strategy will play a big role in your business in the long run.
Do some guest posting in high authority blogs, this will also increase your traffic and DA PA.
Start building an email list:
Building an email list is the fastest and most great way to grow your affiliate marketing business. Email marketing is the great and best affiliate marketing strategy so far. Experts say if you are not building your email list then you are not building your business. You can build your list with the lead magnet system.
Visitors will come to your website and give their email addresses in exchange for some valuable giveaways like an ebook, a checklist, etc.
Start providing values to your email subscriber through emails. Do not try to sell affiliate products first. Start building trust through your valuable emails. Once you build trust, then you can start selling products through emails.
Promote products through paid advertisements:
For beginners, this is good to start with free methods for affiliate marketing. But free methods are always time taking. To get proper results you need to keep patience with free methods of affiliate marketing.
So, It is better to start paid advertisements simultaneously to get quick results. Solo ads, Google ads, Youtube ads, Bing ads, and Facebook ads are the best platforms for paid advertisements. So, you can grow your business through paid affiliate marketing strategies also.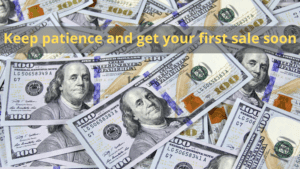 The last and final step is to continue work with the above strategies:
Keep patience, in the initial days of affiliate marketing, you may not get consistent results. There is no fixed time frame that when you will start getting results.
But is true that if you work consistently with following the above strategies you will definitely get positive results soon. At some points, you may feel frustrated, but try to overcome it.
A quick recap is given below
Select your niche.

Start proper research on different affiliate networks.

Build a website/Blog.

Build a relevant audience.

Promote products through paid advertisements.

Follow all steps and keep on working toward the result.
So, start affiliate marketing today, keep patience and get your first sale soon by following the above simple steps of affiliate marketing strategies.
Related articles: