What is affiliate marketing?
Yes, I know that you are very much aware of affiliate marketing. For newbies only, in short, affiliate marketing is nothing but promoting and selling someone's products or services and getting a commission for the same. The best thing about affiliate marketing is you don't need any product or services to earn money online. If you want to know details step by step procedure of affiliate marketing, you can check my other article "7 steps of affiliate marketing for beginners".
The main pain point of any affiliate marketer is to drive traffic to the affiliate links to promote any products or services. In this article, I will describe the few best methods to drive more and more traffic to your affiliate links organically. Today I will not discuss any paid method of driving traffic to your affiliate links.
1. Create your own blog or website: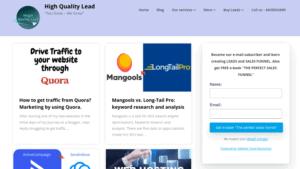 Creating a blog or website is the most effective method to drive traffic to your affiliate links. Making a blog website is very important to start an online business. Various reputable affiliate networks and programs are there, those will not give you approval without a good website. So, my recommendation is to start a blog before starting your affiliate business. 
You can simply buy a domain and can start a blog in blogger dot com if you don't want to buy a hosting service. In blogger, you don't need to purchase a hosting service. But if you are really serious about your affiliate business, I always suggest starting a website in WordPress instead of a blogger. Because WordPress will provide you various plugins and tools to make your website a professional one.
Now come to the point, how we can drive traffic. I usually write a review post for my affiliate product in my blog and I insert my affiliate link there in various places. 
For example, I recently joined the new affiliate program "Thrive Theme". This is a premium WordPress theme to build high-converting sales funnels. I write a detailed blog post on my website about "Thrive Theme". There I describe all the features, pros, and cons of it.
If you can write good and valuable articles with proper keyword research, within a few months you will start getting organic traffic from Google to your website post. My suggestion is to publish at least one article in a week. When you will start getting traffic to your website post, visitors will also start clicking your affiliate links. A few visitors will also purchase products and services from our affiliate link.
I also use banner ads to promote my affiliate product. Most of the affiliate programs provide banners to use for your website. Banner ads are also an effective way to promote an affiliate product.
Another way of promoting affiliate products through your website is to list out resource tools. In my case, I list out some resource tools to start and grow an online business. For example, few resource tools I have listed below.
Best email marketing tools:
Best hosting service providers:
Best SEO tools
This way you can list out various tools on a single website page. Don't forget to insert your affiliate links in all the resource tools. When your website starts ranking in search engines, visitors will come to this particular page and click on your affiliate links. This method will help you to generate more affiliate sales. 
2. Youtube: 
The second method of driving traffic is youtube. Through youtube, you can drive traffic to your affiliate link in a short span. 
You can make video reviews for any physical or digital products. Put the affiliate link in the description. Always mention in your video, that you have given your affiliate link in the description below. You can also create mini-courses through your youtube videos and provide values. In this way, you can build trust with your subscribers and they will like to purchase products or services through your affiliate links.  
In my experience making a video review and ranking it on youtube for a certain keyword is somewhat easier than a blog. Youtube videos rank in a faster way organically. To rank, a blog article in google is a little difficult, because it takes time and needs proper SEO.
3. Email marketing:
The third method of driving traffic to your affiliate link is email marketing. Experts say if you are not building your email lists, then you are not building your business. I personally feel that this is a true fact. Peoples have rarely changed their email addresses in their entire life. So an email list is a real asset for any online business person. 
The question is how you can collect emails of the persons to your related niche. I always use a lead magnet to collect emails. A lead magnet is a procedure of collecting people's contact information like email address, name, phone number, etc. in exchange for some giveaways. I always provide an e-book or email swipe as a giveaway while collecting leads.
To collect emails, you can also use an opt-in form or a newsletter. These are also very popular methods of collecting emails.
Immediately after collecting leads, always send a welcome email to your subscribers. Your welcome email must be a professional one to make your first impression. Do not try to sell any affiliate products in your welcome email. Start giving values in your next emails. Build trust with your subscriber and then you can start promoting affiliate products slowly. 
I use Sendinblue for my email marketing tool. Sendinblue is an excellent email marketing tool for beginners also for experienced professionals. This email marketing tool provides a very good free trial plan, where you can list unlimited emails. But email sending is restricted to 300 emails per day. Start a free trial in Sendinblue now. 
Another market-leading email marketing tool is GetResponse. For a detailed comparison between Sendinblue and GetResponse check another article.
You can also send cold emails to drive traffic to your affiliate links. But keep in mind – Do not spam.
4. Quora:
You can drive traffic to your affiliate link through Quora Q & A website. You can start answering questions on Quora to some questions related to your niche. This is an awesome procedure for driving traffic instantly.
You need to be consistent with Quora. My suggestion is to try to answer at least 3 questions daily. Your answers must give value to your readers. Always give detailed answers to any questions. In your answers, you can insert your website post links. People will come to your website through Quora and click your affiliate links, which you put in your blog post.
To know the detailed procedure and use Quora effectively you can check my other article  "How to get traffic from Quora? Marketing by using Quora."
5. Medium.com: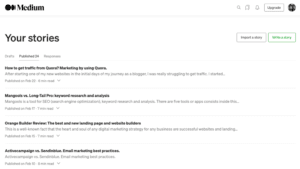 Medium.com is a website for writers. You can write articles there. Medium.com is a high-authority website, your article will rank in Google in a very short span. 
The best thing about Medium.com is you can insert direct affiliate links there. Do not forget to put a disclaimer below of every article about your affiliate links. Without a disclaimer, medium.com will delete your content. As medium.com is a third-party website, always follow their policy. Any violation of policy may ban your account at any time.
6. Pinterest: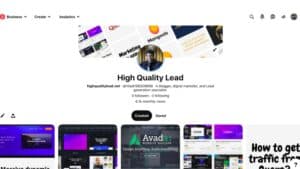 This is an excellent website to drive traffic to your affiliate links. On Pinterest, you need to create a few boards related to your niche. Under these boards, you have to publish pins. On Pinterest, you need to be consistent to get more impressions and pin clicks. Your pin image must be an attractive one. I use "canva" to create good-looking and attractive images. 
7. Sites.google.com:
If you can write valuable articles on google sites, this article will rank very fast in google search results. You can create simple landing pages with a detailed description to rank your google site posts.
8. Few other websites to drive traffic:
Slideshare

Mix.com

Tumbler.com

Redditinc.com
So, that's all about driving traffic to your affiliate links. If you know about any other method of driving traffic, do not forget to comment below.