One of the great methods to drive traffic is to use the Quora website. Quora's question and the answer is a great website to increase traffic for any website with any niche. In this post, we will try to answer of the frequently asked question, how to get traffic from Quora? Here you will get 8 tips for very easy methods to get traffic from Quora. If you can follow these simple tips, you can drive traffic with ease.
After starting one of my new websites in the initial days of my journey as a blogger, I was really struggling to get traffic. I started researching how I can increase traffic to my website. I read a few articles on Google and watch a few youtube videos. I found various methods to increase traffic to any new website. 
Why we will use Quora?
Quora is the world's number one platform for raising questions and also answer questions.
Quora is a question-and-answer site for anyone else to ask questions. Also, anyone can answer any raised question.
Quora has almost 1 billion views every month, this is a huge number. If anyone can drive a small percentage of Quora visitors, that will be a good quantity of traffic for any new website.
How to get traffic from Quora?
In the process of growing anyone's blog visitors from Quora, simply answer questions about topics related to your blog website niche. The second step is to put a link to your blog article on your answer to redirect Quora visitors to your website.
Before starting with Quora, need to keep in mind that spamming on Quora may block Quora's account. So, do not SPAM.
Few tips to grow your website traffic through Quora:
Optimize the Bio of your Quora profile:
The bio for your Quora account is the key factor to starting with Quora's question and answer. To make it professional, use a nice and professional profile picture of your own. Write a small and professional bio to describe yourself. 
Write your areas of expertise and your experience that are related to your niche. With your small bio and a professional profile picture, you will become trustworthy to people. Your knowledge and answering style will do the rest.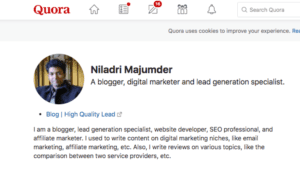 Start answering questions:
First, do a small research on the questions. Choose the questions, which are closely related to your niche. For example, if your niche is email marketing you must choose questions related to email marketing. If you type email marketing in the search bar, Quora will give you various asked questions about email marketing. Choose some questions and save those as a draft. 
Always choose the questions that have higher numbers of followers. I personally follow the strategy to mix up the questions while choosing. I choose questions with more numbers of followers and also new questions. Questions with more numbers of followers will view your answers instantly. New questions will help you to reach new Quora visitors.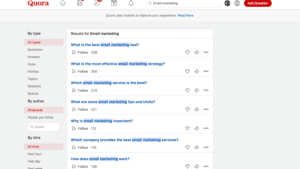 Give answers to similar kinds of questions: 
There you will find different similar kinds of questions on the same topic. You can start answering similar kinds of questions. Instead of writing new answers every time, you can make templates for similar questions.
Make a few changes to the same answer for different similar questions. The strategy of making templates will save you time and also make the answering procedure simple.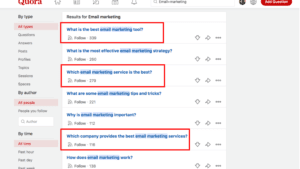 Answer questions, that are ranking on google:
You can search for some questions which are already ranking on Google. So, by answering those questions you will start getting traffic directly from Google search engines. Visitors from google will come to your Quora answers and will redirect to your website.
For example, if you type "one funnel away" in Google, the Quora question "Is one funnel away challenge worth investing?" is ranking on the Google first page. If you give the answer to this question, this is obvious that your answer will start getting traffic from Google.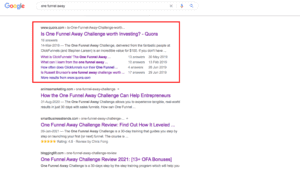 Now the question is how you will get the questions that are ranking in Google. SEMrush is the best tool to find out those questions. You can also use the SEMrush filters, to filter down the particular topic for finding the questions.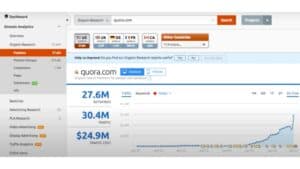 Make proper format of your answers:
The first thing which does matter is a hook. To grab the attention of readers you have to use a proper hook. In my case, I always use an attention-grabbing picture in all of my answers. I use "canva" to create new and unique pictures.
Also, make sure that your answer must be grammatically correct and easy to understand.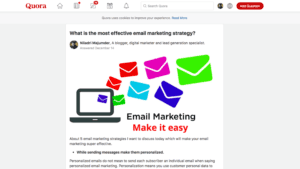 Add your links to your answers:
After creating your Quora account you can immediately start answering questions. But do not insert any link in your answers initially. My suggestion is not to put any links in the first week. You have to build trust with Quora, that you are not a spammer. If you put a link on the very first day, Quora will ban you immediately. 
From the second week, after giving answers to some questions without any link you can start inserting links. But my recommendation is to insert one link out of answering five questions. After one month you can insert links to all your answers.
Some peoples insert direct affiliate links to their Quora answers. This practice of inserting direct affiliate links is not at all recommended. This practice may ban your Quora account. But any policy violation Quora will notify you first. I always insert my website link or landing pages instead of using the direct affiliate link.
Quora spaces:
This is similar to a Facebook page. You can create a Quora space inside your Quora account. The best practice is to regularly publish new articles there. People will start following you just similar to Facebook. Whenever you publish new articles in your Quora space, your followers will be get notified. 
Analyze your statistics:
Start answering in Quora and also check the Quora stat. By using stat analysis you can easily track which answer is getting more views, comments, and upvotes. So, you can answer more similar kinds of questions.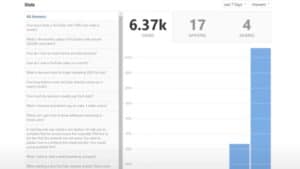 Conclusion:
If you can follow the above eight simple tips on a regular basis, I am more than sure you will start getting traffic to your website within three months. That's all about traffic generation from Quora. I hope now you get the answer to your question, how to get traffic from Quora? If you have any new ideas, don't forget to comment below.
Related articles: