Introduction:
GeneratePress is a simple WordPress theme that prioritizes speed, stability, and usability. If you're an online marketer, freelancer, or agency owner, get your website to a good start. GeneratePress Premium Themes is the ideal starting point for your WordPress website.
It emphasizes the fundamentals for your site's users and search engines to deliver the best results. With GeneratePress Premium Themes, you can speed up your workflow. Premium takes GeneratePress toward the next step with numerous customization features, elegantly designed startup websites, and block-based theme creation.
GeneratePress is a block-based theme builder.  Anyone can visually construct every component of the website without any coding knowledge. By combining GeneratePress Premium and the free GenerateBlocks plugin you can design a dynamic website whatever you want.
Post meta, site footers, page heroes, author boxes, single post templates, 404 pages, custom postcards, and lot more things you can do with ease.
GeneratePress Premium Themes Features:
Theme builder:
Inside the block editor, create and design your theme features. You have complete design freedom with using Dynamic Block Elements to construct whatever you like.
Site Library:
Select from a large collection of beautifully designed websites to quick start your website. You can save hours of the design process.
Additional Styling Options:
More color, typography, spacing, and background image options are available.
WooCommerce:
Give your WooCommerce store greater control.
System of Advanced Hooks:
With its hook system, you may add what you need everywhere in the theme.
Mobile Header:
Make your mobile site a low-profile header.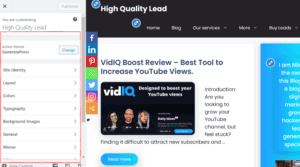 Secondary navigation:
Create secondary navigation of the same choices as primary navigation.
Off-Canvas Panel:
For any device and platform, a lightweight slide-out is available.
Customized Display Rules can be used to update the theme's layout.
Sticky Navigation:
For a great user experience and appearance, make your navigation sticky.
Scroll indefinitely:
Throughout your blog archives, use vanilla Javascript endless scroll.
Masonry:
Use a masonry arrangement to showcase your blog archive entries.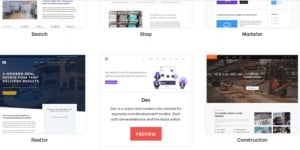 Archive Columns:
Use a column design to display your blog content.
Sections:
Sections: You can use this option to divide your page into sections and make your post more professional. To activate the sections on your page, simply on the button in your post editor.
Import and export:
This is a nice option to have if you're utilizing the GeneratePress theme on numerous sites. You can use the same customization on different sites.
Compatible with other plugins:
GeneratePress is coded to the highest standards to ensure that it works seamlessly with all the best plugins.
There are more features:
Copyright management, seamless scrolling, and more.
GeneratePress Premium Themes Price details:
There are two types of pricing plans for GeneratePress: Yearly plan and Lifetime plan.
Yearly Plan:
Yearly plan costs $59/y.
All premium features are included.

Access to the whole Site Library.

Updates for a year.

Premium support for a year.

You can use it on up to 500 different websites.

Money-back guarantee for 30 days.
Lifetime Plan:
Cost $249 (One-time payment).
All premium features are included.

Access to the entire Site Library.

Updates throughout the rest of your life.

Premium assistance for the rest of your life.

You can use it on up to 500 different websites.

Money-back guarantee for 30 days.
Customer support:
GeneratePress provides a fantastic forum where you may seek support. Premium users get access to premium help forums. If you purchased the pro version, you can contact them through email for help and participate in the forums.
Their assistance is just as quick and versatile as the theme. They respond to almost 98% of all queries the same day, thanks to their global support.
Conclusion:
In my blogging journey, GeneratePress is the greatest theme I've come across. It's just so light, it speeds up the loading of my sites. There is no difficult process because all of the functions are available immediately on the theme editing page.
I hope you like this GeneratePress Premium Themes review. If you are a new blogger, you can definitely choose GeneratePress Premium. Also, if you are an experienced marketer and using some other free themes, you can migrate to GeneratePress Premium Themes. It's absolutely a no-brainer deal for you. Thank you very much for reading the article.
>> Visit GeneratePress Official Website!
Few related articles you may like to read: