Introduction:
Do you need a customized solution to secure all of your websites? Sucuri is a cloud-based platform that provides customizable plans to suit your needs. Websites are cleaned and protected by Sucuri. This Sucuri Review will help you to understand whether it is really worth it or not.
It repairs hacks and protects against future threats. Web Professionals and Enterprises rely on this tool. 
How exactly does

Sucuri

scan the websites?
Malware Detection Based on Research:
Their sophisticated signatures are focused on systematic analysis and code errors. As a result, the website malware scanner can detect many signatures.
Malware Scanner that is powerful and lightweight:
For every situation, its scanning technology is quick and lightweight. To prevent the transmission of harmful content, server-side and remote analyzers are regularly updated.
Reports and alerts:
Email notifications are sent automatically. Set up SMS, Slack, RSS, or custom-post alerts. They also provide cybersecurity email updates on a weekly or monthly basis.
Website Scanner:
Sucuri's monitoring service contains a variety of scanners to protect all elements of online security. 
Systems include everything:
The website security technology provides comprehensive website monitoring, limitless virus, and blocklist removal, and continuing protection. It is compatible with any website platform or CMS.
The security team:
If your site has been hacked, its monitoring system will notify you, and the skilled security experts are ready 24/7/365 to remove the malware.
>> Fix Your Hacked Site Now by Sucuri!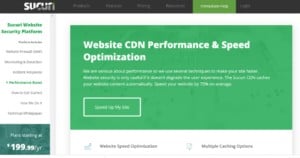 Sucuri

Review; Steps involved to scan malware:
1. Include Your Website with Remote Scanner:
Simply start by entering the URL of your website after registering. If necessary, you can immediately request a malware cleaning. The scanner is activated immediately and begins examining your website from every aspect. 
2. Enable the Backend PHP Scanner:
This strong scanning technology has complete access to the server's PHP files. Backdoors, phishing sites, email, and DDoS scripts are all examples of what it observes. 
3. Set the Monitoring Settings.
They provide malware and blocklist scanning automatically, so you will be notified if we find malicious activities or security alerts on your site. They also look for modifications in your DNS records. You may receive notifications if your site is down for some reason by monitoring the uptime. 
4. Configure Notifications and Email Reports:
Set up email, SMS, Slack, and RSS notifications under your Sucuri profile's global alerts settings. You may also configure general post queries in JSON, CSV, HTML, or plain text forms customized webhooks. 
How does Sucuri work?
Malware Scanning and Detection on Websites:
Examine your website for malware, hacking, and blocklist presence. Get ongoing website monitoring, with alerts and regular updates. You may rely on cutting-edge website malware scanning to gather insight into the protection of your site.
Sucuri

Review; Scanning features:
Malware Scanner for Websites.
Utilizing its website scanning technologies, this scanner looks for traces of site malware and indicators of compromise (IOC).
SSL Certificate Inspection.
Obtain early warnings if any modifications are made to your website's SSL certificate (HTTPS) so you can take the necessary measures.
Scanner for a website's server.
They examine all system files for traces of malware in order to detect backdoors, phishing sites, spam, DDoS scripts, and other threats.
Scanner for SEO Spam.
Spam terms and link floods are negative to your brand. Detect SEO spam before Google does.
Status of the blocklist.
A site that is blocked expects to lose 95% of its visitors. The analyzer keeps an eye out for threats from blocklist providers.
Monitoring of website uptime.
Websites can lose their search engine rankings. You must be aware of when users are unable to access your website so that you can take appropriate action right away.
DNS Tracking.
Modifications to your website's domain name system (DNS) settings are detected by the scanners. If there are any updates, they will notify you.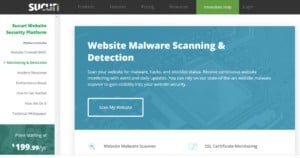 Hack protection:
Hack and Malware Protection:
Using the Web Application Firewall, they secure your website from malicious code.
Preventing Zero-Day Exploits.
Each day, hackers find new loopholes. It safeguards websites and investigates suspicious activity. 
Protection of DDoS Attacks.
Downtime may be the reason for Distributed Denial of Service (DDoS) attacks. DDoS attacks on layers 3, 4, and 7 are blocked.
Protection Against Brute Force Attacks.
To avoid site abuse, they disable brute force attacks and password cracking.
CDN Performance and Speed Improvement:
Optimization of Website Speed.
Utilizing its caching solutions and worldwide content delivery network, you can increase site speed by 70% on average (CDN).
Various Caching Options.
There are several caching methods available for all kinds of websites. Safety and enhancement of speed are included.
Guaranteed website uptime.
Maintain your website 24×7. Faster page load time and consistent website uptime.
Redundancy and availability.
When the network fails, high availability and redundancy are provided. 
Sucuri

Review; Exciting benefits:
Simple and quick.
With the highest level of website security, nobody can say that the website is 100% secure.  There must be a mechanism to restore the website. In the case of a major failure, the technology guarantees that you are protected.
FTP/SFTP backup of the file system.

Auto-detection of MySQL databases.

Excellent customer support.

Backups can be downloaded via the Sucuri portal.
>> Fix Your Hacked Site Now by Sucuri!
Automated Scheduling.
Be comfortable that you can have a thorough backup of your website, and you can also schedule it.
Safe storage.
Maintain a backup of your website on servers managed by the team of website security.
Incremental Backups.
It only saves the most recent changes to the website. This guarantees that you may restore up to 90 days of data in the case of any data loss. 
Sucuri

Review; Pricing:
There are four types of pricing plan in Sucuri: Basic, Pro, Business, and Multi-sites & custom plan. 
Basic Platform ($199.99 per year):
Suitable for bloggers and website owners on a tight budget who need occasional cleanups as well as regular security analyses.
Pro Platform ($299.99 per year):
Perfect for small and medium-sized businesses seeking sophisticated assistance for rapid SSL certificate migrations while reducing downtime.
Business platform($499.99 per year):
The quickest reaction time for site cleanups, with frequent checks to prevent risks.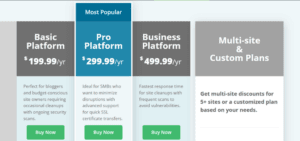 Comparison of features for different plans:
| | | | |
| --- | --- | --- | --- |
| Features | Basic | Pro | Business |
| No of sites covered | 1 | 1 | 1 |
| Malware removals | Unlimited | Unlimited | Unlimited |
| remove malware by SLA | 30 hrs | 12 hrs | 6 hrs |
| Clean up report | Y | Y | Y |
| Security scam | Every 12 hrs | Every 6 hrs | Every 30 mins |
| Website Application Firewall (WAF) | Y | Y | Y |
| Blocklist Monitoring & Removal | Y | Y | Y |
| SSL support & monitoring | Y | Y (Advanced) | Y (Advanced) |
| Stop Hacks (Virtual Patching/Hardening) | Y | Y | Y |
| Firewall Protection | Y | Y | Y |
| Advanced DDoS Mitigation | Y | Y | Y |
| CDN Speed Enhancement | Y | Y | Y |
| High Availability/Load Balancing | Y | Y | Y |
| CMS & hosting compatibility | Agnostic | Agnostic | Agnostic |
| Support requests | Ticket | Ticket | VIP Ticket |
Multi-site & Custom Plans:
Have a multi-site discount rate if you have 5 or more sites or a customized plan based on your requirements.
Sucuri

Review; Conclusion:
In my opinion, this is a reliable platform for website security. Website security that is available 24×7, with no hidden fees. This is designed for small enterprises, online professionals, and corporate organizations.
Also, they are providing a 30-day money-back guarantee. You can claim a refund within 30 days of your purchase, they will refund you the full amount. I hope this in-depth Sucuri Review will be helpful for you to make you understand how useful this software is to protect your website.
>> Fix Your Hacked Site Now by Sucuri!
Few more articles you may like to read: