Introduction:
pCloud is a widely known cloud storage option. It has grown in popularity since its starting in 2013. Its rapid file synchronization, specialized media player, and enhanced security are among the reasons why 14 million users use it. Is this really the best cloud storage for you? We'll find out in this detailed pCloud review.
pCloud is now one of the top cloud storage companies. It provides a variety of low-cost storage solutions as well as a reasonable quantity of free cloud storage. pCloud also allows its customers complete control of their security.
pCloud Review; Features:
Its most important element of every cloud storage provider is file synchronization, where pCloud succeeds. pCloud also includes a variety of extra features which enhance your performance; obviously, a few of these options are superior to other cloud storage.
Rewind pCloud Storage:
If you accidentally delete or destroy your data, the pCloud rewind function enables you to retrieve them from a prior date.
The Premium and Premium Plus plans to allow you to rewind your data for 30 days. It gives you a glimpse of how all folders and files exist. pCloud provides you with the option of downloading or restoring the files and folders you want to recover.
pCloud save:
You may save images directly to a "pCloud save" folder by right-clicking on them. You may also back up any photographs from social media platforms such as Instagram and Facebook.
The pCloud Save Chrome extension allows you to save photos and textual information to your pCloud account. After installing this extension and logging into your pCloud account, you can begin saving data.
PCloud Drive:
When you have a large amount of data and insufficient space on your computer, you can consider acquiring an external hard drive. However, having a hardware device makes it difficult to work.
They discovered the solution in pCloud Drive, a desktop system that lets you save your data online, working as an additional hard drive on your machine, this is available online anywhere at any time and from any location.

pCloud Crypto:
End-to-end encryption of specified types of data is possible using pCloud Crypto. For maximum data security, you can encrypt the files on your device before uploading them to a storage service. This secures the file from public view and ensures that only you have access to it.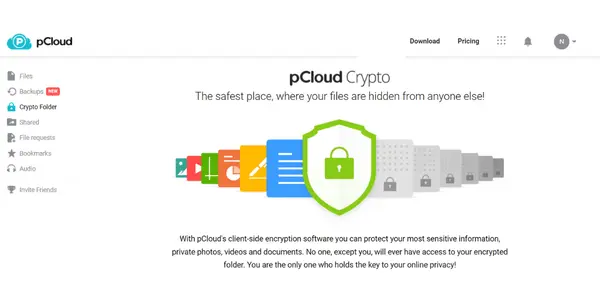 Top Security:
In a time when files containing important data are stored in the cloud, protection is always necessary for the cloud storage client. With its consumer encryption solution known as pCloud Crypto, pCloud gives the best.
The cloud-based storage solution uses Advanced Encryption Standard (AES) TLS/ SSL 256-bit encryption to protect your data as it travels from your PC to the cloud.
Anyone who encrypts this document on its way to data storage will be unable to see your file without the encryption key.
Fair Share:
If you want to work with many pCloud client accounts, you can utilize pCloud's "fair share" feature. The recipient can add anything they want to it without consuming any of its data storage. The shared directory will only consume the storage space of the individual who shared it.
File management is simple:
pCloud's services are accessible for Windows, Mac, and Linux, as well as mobile platforms including as Android, iOS, and Windows Mobile. With the auto-sync function, all data is always updated. That is, the data might be accessed from several devices at no extra expense.
Excellent speed:
pCloud's upload and download speeds are pretty good for a cloud storage service. It always delivers very fast uploading and downloading times. It also provides good speed for pCloud Crypto.
Crypto Pass (pCloud Review):
In recent times, cyber safety is a critical concern. A single mistake may endanger all of your data. This is the reason pCloud Crypto enters the picture.
It has an added Zero Knowledge Encryption that makes your files unavailable to anyone other than you. This is the most secure way of encryption.
Nobody can ever see your important data whenever you safeguard it with the encryption key called Crypto Pass. The master password only can decrypt your data.
Easy user interface:
pCloud's UI is really nice and simple to use. It has a simple drag-and-drop uploading feature, smart file filtering, and file organization choices such as grid view and list view. All of the features are accessible through its online interface, so you do not require a computer program to use it.
Synchronization:
pCloud provides incredibly smooth and fast sync solutions. You may utilize the Certain Sync tool to sync specific files from your device to the cloud. Any changes made in the local folder will be updated on the pCloud drive. Data is tied to your cloud storage, and deleting it will also remove it from the cloud. You may choose which files to sync by selective sync.
Backups:
pCloud makes it simple to back up your data. You may link it to services such as Google Drive, Facebook, Instagram, Dropbox, and OneDrive to back up all your data. This is useful if your account is unavailable for some reason.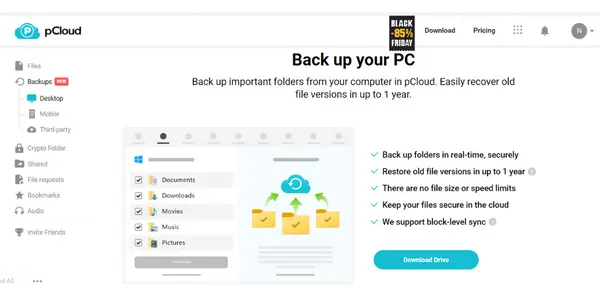 Files can be resized:
You can resize files downloaded from cloud storage by using the 'Download Converted' option. There isn't a file size limitation. Apart from sizing, this functionality aids in the rapid download of photos with small file sizes.
File Request:
This File Request functionality might be quite useful if you want to obtain files from non-pCloud people. Simply establish a folder and ask people to add files to it using an URL. People can easily begin submitting their files.
Branding Page:
Its Branding Page option is ideal for businesses and individuals. When receiving data from customers, you may utilize a customized branding page to include data such as the brand logo, cover picture, and summary. This might make you look very professional.
Public Folder:
This is a truly amazing option to test out if you want to construct your new HTML website. Therefore, For any static HTML website, pCloud allows you to utilize the space as a hosting provider.

pCloud Transfer:
This function allows you to transfer up to 5 GB of data. This service is useful when you need to send huge email attachments. After 7 days, the transfer files will deactivate.
Playback features:
pCloud has media players for both audio and video files, and it is best at playing music files. They have a built-in music player that allows you to manage your files. Also, the pCloud app is among the best image storage alternatives available after Google Drive.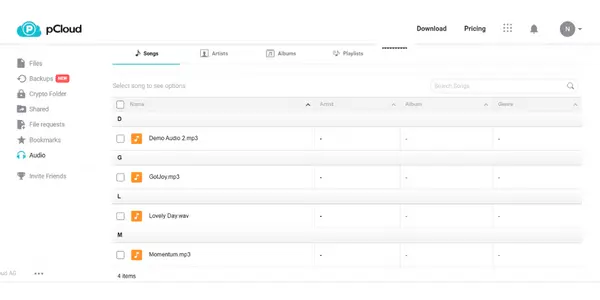 pCloud Review; Is pCloud secure?
pCloud is entirely secure. It not only uses AES 256-bit encryption, but you may additionally utilize pCloud Crypto to ensure that only you have access to your data. Because pCloud is based in Switzerland and must follow rigorous privacy rules, the platform is exceptionally reliable. It also claims not to sell user information to other parties, making it a preferable choice for people worried about user security.
Is pCloud dependable?
Every file stored in pCloud is encrypted with 256-bit AES both before and after transfer. Furthermore, pCloud employs TLS/SSL route security during transmission.
According to pCloud, when your file is transferred to the pCloud network, it stores 5 copies on at least 3 dedicated servers in an extremely safe storage center that is watched 24/7. So, sure, pCloud is safe and dependable.
Pros:
14-day free trial and 10GB free storage
Extended File History (EFH) tracks 360 days of file updates.
GDPR compliance.
End-to-end encryption using pCloud Crypto.
Provides version tracking for 30 days.
The backup file can be dragged and dropped inside pCloud Drive.
Sharing links can be customized.
Media player built-in.
Within the same account, you may store both encrypted and unencrypted data.
Unencrypted data can be synced with Facebook and some other services.
Backup by drag-and-drop.
Switzerland-based company.
Cons:
Additional fees apply for pCloud Crypto and Extended File History (EFH).
Dropbox vs. pCloud:
Dropbox must be picked if you want great team communication and file modification options.
pCloud, on the other hand, is ideal for data sharing and publishing confidential data while maintaining security.
pCloud Review; Price:
There are three types of pricing plans in pCloud: Individual, Family, and Business.
In individual plans, there are annual and lifetime deals.
The Premium 500 GB individual annual plan costs $49.99.
PremiumPlus 2 TB individual annual plan costs $99.99.
The Premium 500 GB individual lifetime plan costs $199.
Premium Plus 2 TB individual lifetime plan costs $399.
Custom Plan 10 TB individual lifetime plan costs $1190.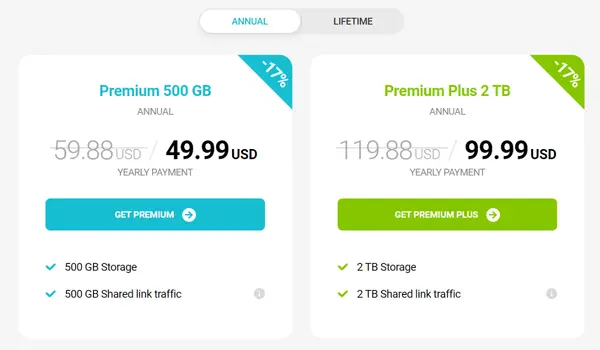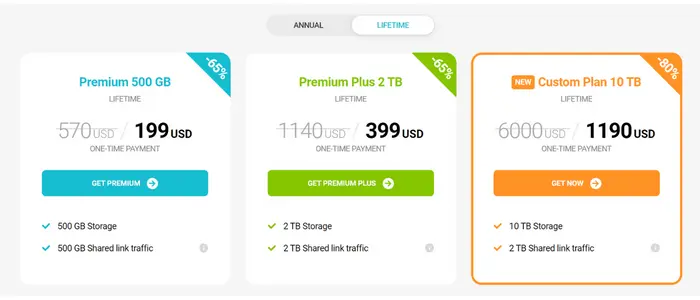 2 TB pCloud for Family lifetime plan costs $595.
10 TB pCloud for Family lifetime plan costs $1499.
Business plan Monthly Subscription (1 TB storage) costs $9.99 per month per user.
A business plan Yearly Subscription (1 TB storage) costs $7.99 per month per user.
Business Pro Monthly Subscription (Unlimited storage) costs $19.98 per month per user.
Business Pro Yearly Subscription (Unlimited storage) costs $15.98 per month per user.
pCloud Review; Conclusion:
That's all about pCloud Review. This is presently the #1 favored storage solution since it provides everything a consumer or corporate customer requires while also providing high security at an attractive price. With the user-friendly interface and the option of a lifetime membership, you truly get your money's worth. I suggest that you sign up for the free trial, test it out, and then upgrade if you find it valuable.
Related articles: