What is FatJoe?
FatJoe simplifies the process for small and medium-sized businesses to be found online by offering a variety of link-building services as well as many content creation solutions. Do you want to know all the necessary details about FatJoe before purchasing backlinks, content, or other SEO services? Read this FatJoe Review to know every aspect of this tool.
FatJoe is an excellent choice for any business or person looking to improve their search engine rankings. As a user, I found it to be a fantastic SEO tool on a budget. In this FatJoe review, I will go into detail regarding the services they offer and my experience with the tool.
FatJoe is a content generation provider that can handle a variety of tasks. This will help you enhance the performance of your website, including link building, and unique content development, and assist you to enhance SEO.
FatJoe Review; Services:
They provide two types of services: link building and content generation.
There are six services inside link building:
Blogger outreach.
Local business citations.
Press release distribution.
Infographic outreach.
Outreach boost.
Media placements.
There are two types of content creation services:
Content writing.
Infographic design.

Blogger outreach:
This is a common sort of SEO service provided by any SEO platform such as FatJoe. Blogger outreach is just writing an article with a link to your website. The content will be published inside an authoritative website or blog, providing you with a backlink to improve your website's SEO. By selecting the DA level to produce backlinks, you may target high-quality sites. You may also shorten or lengthen your articles.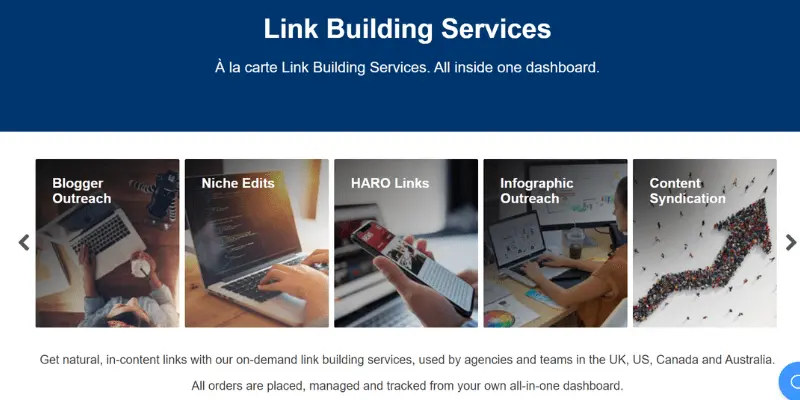 My experience in purchasing backlinks:
I purchased a link from the DA 30+ website for my article titled "Semrush Competitor Analysis" and my goal was to bring that post to page one.
From the FatJoe dashboard, I ordered a link from a DA 30+ website, with a 1500-word article, and I provided them with the anchor text "Semrush". I received the backlink within seven days of placing the order. I also discovered the website name within the FatJoe dashboard, from which I obtained the backlink. When I went through it, I discovered that it is a valid website.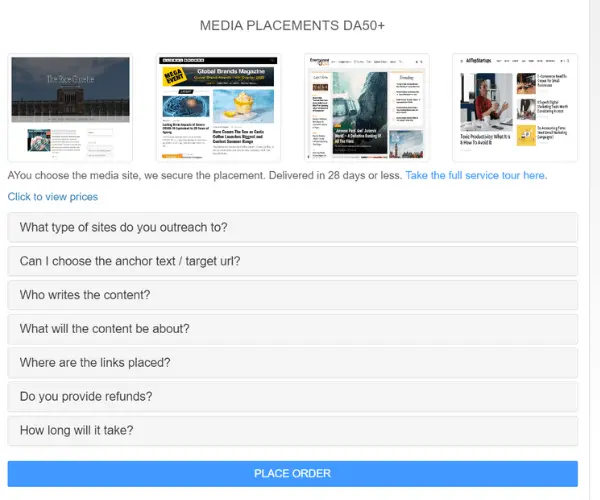 Infographic outreach:
Infographics are still an excellent tool to reach larger customers and acquire connections. A good infographic may be a terrific SEO link generator. The most difficult challenge is having the infographic in the first position.
This is where FatJoe's infographic outreach service comes in handy. It works similarly to the blogger outreach service in that you will only receive a 250-word synopsis of the infographic.
Media Placements:
You may also select a specific site from a list of top-level media sites having media placements. The content for this service is created by the target website, however, you may provide your preferred link and anchor text.
Content writing:
Because the old SEO says content is king, high-authority sites create a large amount of high-quality content. FatJoe has a staff of skilled writers that can produce a large volume of high-quality content in a short span.
Local Business Citations:
Blog commenting and Classifieds are an outdated way of link development. Yet, some sorts of organizations, also play an important part in SEO. FatJoe can help you to build these kinds of links.
Press Release Distribution:
Press releases are still a popular way to get attention on media websites. FatJoe's Press Release Delivery service includes the preparation of the text as well as its distribution to 100,000+ journalists.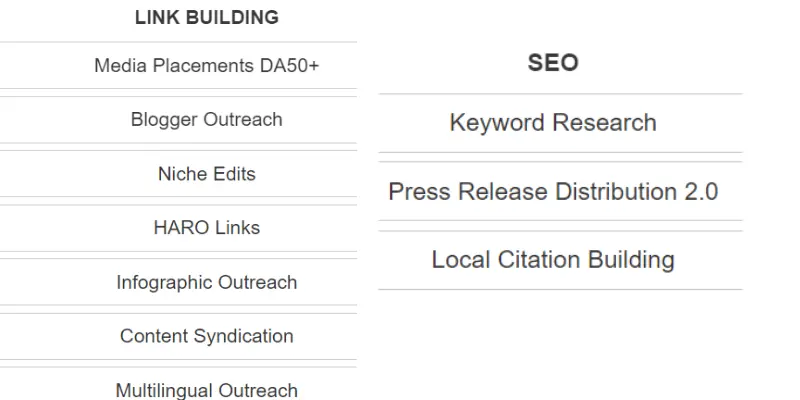 FatJoe Review; Benefits:
Genuine Outreach: They exclusively get placements on sites to which they have honestly reached out.
100% White Label: All of their offerings are white-label, which means your customers will have no idea that established their links.
There is no duplication: They maintain a record of all the purchases in order to avoid repeat postings for each domain.
Domain Authority: They ensure placements on websites with the DA that you choose.
Look at the Placements: Observe each placement as they confirm it in real-time through your dashboard.
Created for Agencies: All of their SEO services are meant to be repeated, trouble-free, and expandable, which is ideal for agencies.
There are no contracts: Users select what and when they require to use it, and there are no contracts.
White Hat SEO: They exclusively employ white hat SEO strategies to increase your chances of ranking better in searches.
Quick turnaround: All of the services may be finished in a matter of days, enabling you to expand your activities efficiently.
Professional Writers: Including over 100 qualified writers, they can provide articles in both UK and US English, and also get unlimited changes.
What I like most:
In my opinion, their customer service is unmatched. They answer promptly phone calls, emails, and live chats.
FatJoe offers the most cost-effective white hat SEO and blogger outreach services. Their pricing is fantastic.
FatJoes provides speedy backlinks following your order, which is value for money.
You can specify the topic to write an article and also you can mention the anchor text.
What I dislike:
I used their link-building service and was dissatisfied with the article quality, but they quickly closed the contract.
FatJoe Review; Pricing:
Link building from DA 10+ websites costs £35,  DA 20+ Links sell for £50, backlinks from DA 30+ website costs £70, DA 40+ costs £180, and DA 50+ price £360.
FatJoe Review; Conclusion:
There are several platforms that provide comparable services. So, why should you opt FatJoe? The reason is that all information is completely white-labeled. Some link-building companies employ stolen material, that may harm your website. FatJoe will provide you with unique and human-written content. 
As I near the conclusion of the FatJoe review, I strongly recommend their services. I've tried a few FatJoe services and have always been pleased with the results. As a consequence, FatJoe remains one of my favorite strategies for generating high-quality content and developing backlinks.
Related articles: