What is UpViral?
UpViral is a cloud-based viral marketing technology that lets businesses conduct profitable and sustainable marketing campaigns in a matter of minutes. UpViral is ideal for advertisers that want to concentrate on certain aspects of a strategy, like boosting lead generation, boosting conversions, and boosting the general performance of a website. In this UpViral Review, we will discuss all its features and benefits to make you understand how effective a referral marketing strategy it is.
Vendor:
Name – Wilco de Kreij.
Wilco de Kreij is a full-time online marketer, developer, researcher, and designer. Wilco de Kreij is a Dutch entrepreneur who mostly focuses on online business. He established my first business online in 2002 and has subsequently launched several more companies. Currently, He mostly focused on SaaS startups.
What exactly you can do with UpViral?
Run viral giveaways with ease: Encourage your visitors to attract additional visitors by engaging customers with a fantastic gift or incentive if they introduce their contacts.
Launch Viral Contests & Sweepstakes with Ease: Create a contest to advertise your website, business, or brand across all social media networks.
Conduct viral product launches with ease: Establish a promotional strategy that will generate a large number of quality leads with minimal or no marketing.
Seamlessly Integrates With Your Present Funnel and software: UpViral interacts with your current autoresponder, landing pages, layouts, and more by inserting a snippet of code.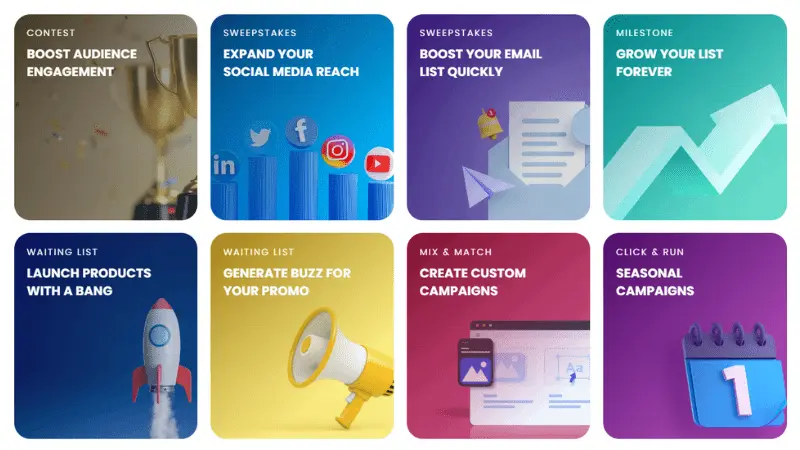 UpViral Review; Features and benefits:
UpViral Sweepstake.
Increase traffic, lead generation, and revenues. It's the most convenient approach to launch your own full-fledged high-level viral referral campaign.
Pre-Optimized Campaigns:
With very small changes, you may have your first sweepstakes ready to market in 5-10 minutes.
Trigger E-mails that are automated:
Personalized e-mail follow-ups assist in keeping track of client conversations.
Fraud detection in real-time:
Maintains your sweepstakes, brand, and subscribers secure.
Unlockable Milestones:
Retain your users engaged by setting referral goals that constantly compensate them for every three, five, or ten recommendations they achieved.
Ready-to-convert templates:
With a variety of proven template designs optimized to succeed in practically any niche, you can ensure consistent sales. Customize your design with the drag-and-drop builder to fit your brand and build a viral campaign tailored to your needs.
Mix sweepstakes and rewards:
UpViral allows you to build the perfect viral campaign by combining both forms of the contest.
Build referrals and make sales:
UpViral subscribers have access to sophisticated sales tools that may assist you in improving your ROI, reducing your ad expenditures, and increasing conversions.
Customizable actions:
UpViral's customized actions are suited to your organization. By providing additional benefits to members for performing actions that will benefit your company. UpViral enables you to continue incentivizing individuals after others have been forced to leave.
Increase the number of shares:
Rich-tweet support and Facebook newsfeed functionality can help you increase the number of shares.
Host UpViral campaigns:
Use your own website to host UpViral campaigns. Self-hosting is made simple by UpViral widget campaigns. They provide you with two code snippets. You insert the code into your website. The tool keeps track of everything.
Rewards Campaign (UpViral Review):
With an UpViral rewards campaign, you can get traffic on the go. If you intend to create a major impression in a digital marketplace quickly, the traffic produced by a reward program is the best. Create an UpViral incentives campaign that corresponds to your item or brand, and you will have the lead machine. By providing a variety of rewards, you can maintain your viral campaigns interesting and business referrals rising. 
Unlimited Rewards:
Provide as many incentives as possible to keep members recommending new customers to your company for far more than normal.
Set and Forget Rewards:
UpViral's automated reward distribution system watches your members for you, and emails customers their rewards whenever a target is reached.
viral waitlists (UpViral Review):
Using viral waitlists and pre-launch promotions, you can secure insignificant results. Increase your competitive advantage by building a large client base in advance. Creating a viral waitlist and utilizing it to generate excitement for your upcoming launch is worth the price.
Make your future business a reality today:
The greater the number of individuals on your waitlist, the greater the excitement when you're ready to launch. And the more the hype, the greater the results on launching time.
Experiment with new concepts:
Try out fresh concepts and thoughts on a ready-made target market. With UpViral's powerful integrations and simple API connections, you're never far from a quick, easy market test.
Watch the official demo video below:
Few more features:
Intuitive visual editor.
Templates that cover the whole funnel.
Closed Campaign Pages.
Customizable social share pages
Mobile-friendly design.
All languages are supported.
The UpViral coupon concept.
Pixel support for retargeting
Add tags to your autoresponder and CRM.
Triple A/B testing.
Pop-Up Campaigns.
Pop Up Text-Links.
HTML and third-party integration
Simple HTML integration.
50+ API integrations are available.
Use Zapier to connect.
Tags are used to segment leads.
Advanced CRM integration.
UpViral Review; Pros:
By providing discounts or freebies, you may increase customer loyalty and reputation for your local business.
Create a brand-new product without spending a lot on advertising.
Build a strong online company by rapidly growing a large list of relevant subscribers.
Make a machine that generates leads continuously.
Cons:
UpViral Review; Pricing:
There are three types of pricing plans in UpViral: Starter, Business, and Premium. For all the plans you can start with $1 only for 14 days.
The starter plan costs $79/month on a month-on-month basis. The cost is $59 /month when billed annually. You can generate up to 10,000 Leads.
The Business plan is $119 per month. When paid annually, the cost is reduced to $89 each month. This plan has the opportunity to generate up to 25,000 Leads.
The monthly charge for the Premium plan is $299. When paid annually, the monthly cost is decreased to $219. In this plan, you can generate up to 100,000 leads.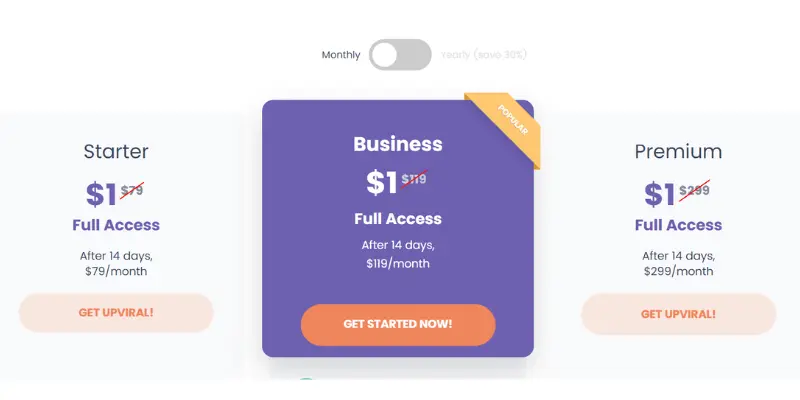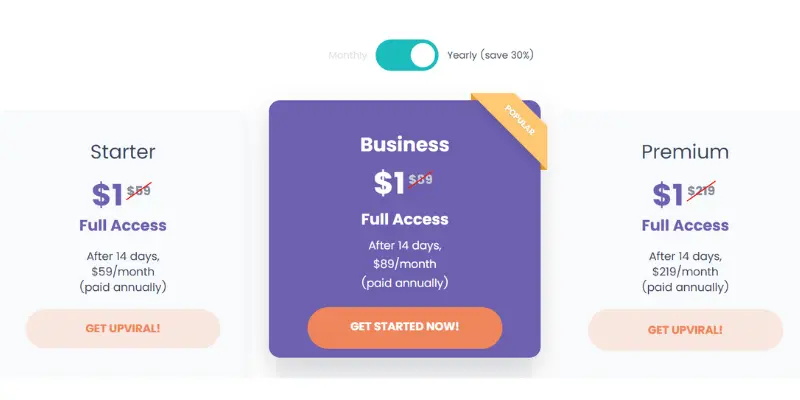 UpViral Review; Conclusion:
The key difference between UpViral and some other comparable viral Marketing tools is the simplicity with which it creates and executes freebies, sweepstakes, and challenges. It makes it easy to handle every aspect of the competition, from collecting email addresses to marketing the campaign on social networks. These are required to improve your customer lists and perhaps even keep these purchasers coming back for more sales.
If you want increased traffic to your website, UpViral is the perfect option for you. You may experiment with giveaways that UpViral lets you offer.
The product is suitable for advertisers with little technical background and little expertise in marketing tools. It is a totally sophisticated, web-based system that covers practically all parts of viral Marketing.
Finally, it's the quickest and simplest method to create a large social buzz about your product, business, or service.
It is feasible to establish large lists in a quick amount of time by paying members for spreading your contest and sending you new referrals.
Related articles: