What are the sales funnel?
A high converting sales funnel is simply the stages of a buyer's journey, beginning with entry into the funnel and ending with a purchase.
This is a process that reduces the number of potential clients as they progress through the conversion path. In detail, a sales funnel is a perception that assists us in understanding the flow of a visitor's journey to a potential customer landing and then taking the desired action.
Sales funnels map the path from the initial stage when someone is aware of your product or service to the point of purchase. Now the question is how to create a high converting sales funnel. In this article, we will understand the complete procedure.
How do you create a high converting sales funnel?
A high converting sales funnel consists of five stages.
Create an attractive landing page:
The first step is to design an attractive landing page or lead capture page. A landing page is a page created to convert visitors into valuable leads. A form on a landing page allows visitors to enter their personal information (email, phone number, etc.) in exchange for a free gift (e-book, free webinar, video course, etc.). This is called the lead magnet strategy. At the end of this article, we will discuss lead magnets. A landing page could be a page on your website or a separate web page.
Drive traffic to your landing page:
In the second stage of your sales funnel, you must direct traffic to your landing page. You can drive traffic to your landing page in both organic and paid ways. This is the most important part of creating a high converting sales funnel.
You can share the landing page on social media with your existing viewers. You can also do email marketing using your existing email list.
Run paid ads like Facebook ads, Google ads, Quora ads, and so on. For both organic and paid advertising, ensure that your target audience has an interest in your niche.
Collect emails:
The third stage involves collecting emails via the landing page. Basically, we don't need to do anything at this point except connecting the landing page to the email autoresponder. 
The landing page will send an email to your email autoresponder. The important factor here is how well the landing page is optimized. Your landing page must have a high conversion rate.
Redirect visitors to the thank you page:
Visitors will now be directed to the thank you page. Where we will express our thanks to visitors who have subscribed and shared their contact information.
You must redirect people from the thank you page to the sales page in order to make sales or conversions, which is the main goal of the sales funnel.
However, we must keep in mind that most people will not buy the product on the first try. This is why we collected visitors' contact information in the first stage of the sales funnel or on the landing page.
Send email sequence:
Now we have reached the final stage of the high converting sales funnel. Finally, we will send a series of emails to visitors, providing value to email subscribers while also educating them about the product. We can later pitch the product for purchase to the subscriber.
The goal is to send out a series of emails reminding people that you are still available and ready to provide values and do business.
A basic email sequence will look like this:
Day one: Your first email will simply be a "welcome" email. In this email, do not try to sell any products or services; instead, provide some value related to your niche.
Day two: To build trust, provide a checklist, an e-book, some trial, etc. on the second day.
Day three: You can provide a customer testimonial for your product or service on the third day. Also, provide the sales page link.
Day four: Explain in detail how your product or service can be more useful on the fourth day with the link.
Day five: On the fifth day, you can offer an added incentive for the final purchase.
How to drive traffic to the sales funnel?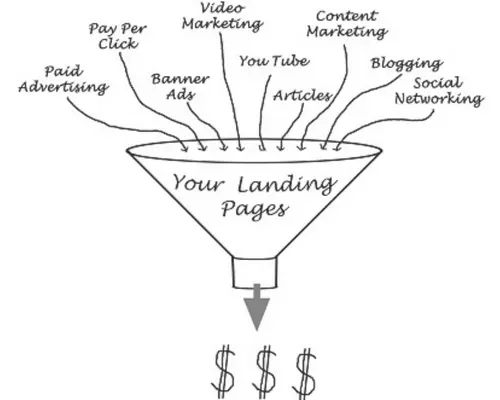 You now understand how to create a high converting sales funnel. Visitors or traffic can be generated through a variety of methods, including SEO, content marketing, social media marketing, paid advertisements, and even cold emails. 
You can promote your lead magnet on various social media platforms, which will direct visitors to your conversion funnel. You can also promote your blog post on social media platforms such as Facebook, Instagram, and LinkedIn.
Do on-page and off-page SEO to rank your blog post on Google. A good and informative post with a low competition keyword plays a significant role in ranking your post on Google.
Sales funnel diagram:
There are four stages of a sales funnel: Awareness, Interest, Desire, and Action. The stages are described below:
Awareness:
The first step is to make your potential customer aware of your product. The funnel is broad in this case because we need to reach out to as many people as possible about the product.
Interest:
You must generate interest in your product. Because all visitors may not show interest, the funnel gets smaller slightly.
Desire:
The requirement is to increase the desire for your product or service. The funnel becomes more narrow now because it is unrealistic to expect everyone who is interested to actually require your product.
Action:
The final stage consists of action. This is the narrowest section of the funnel because only a small percentage of visitors will buy the product.
What is a lead magnet?
Visitors will provide their email addresses if you include useful giveaways on your landing page. This theory is called a lead magnet. You should make sure that the free gifts add significant value to the journey of your viewers.
A series of helpful educational videos that help your audience in resolving issues related to your niche is an excellent example of a high converting lead magnet giveaway. An e-book and a checklist also can be valuable free gifts.
Few other ways to collect emails:
Opt-in form on your website:
Providing an opt-in form on the website is an effective way to collect emails. Include an opt-in form on your website's home page, sidebar, and at the bottom of each blog post.
Include an exit pop-up:
Whenever a visitor is about to exit a website, an exit pop-up appears. This will entice visitors to enter their email addresses.
Opt-in pop-ups:
A well-designed and a perfectly timed popup will massively boost your subscriber base.
Other ways:
With discount coupons, Quiz builder, From social media, From YouTube, and paid ads you can collect email leads.
How to improve the sales funnel?
After you've created your funnel, you should always be looking for ways to improve it. Testing is the most efficient way to achieve this. Remember that you should focus on all stages of the funnel, from awareness to action. To test your funnel, you must create several landing pages. Begin with the best performers and work your way up.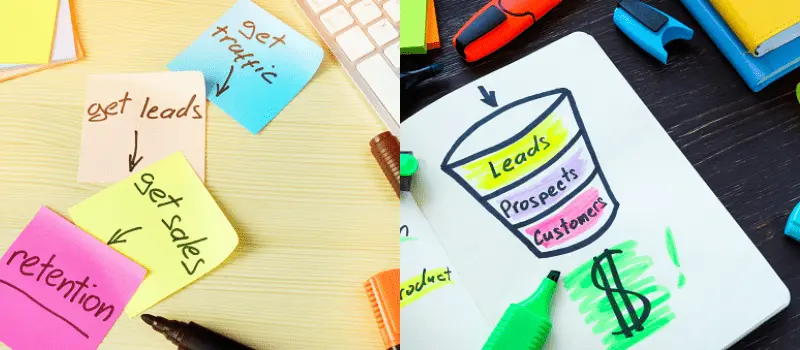 Marketing plan to walk prospects from one stage to the next:
Brand awareness:
The first phase is all about raising brand awareness. Make your company and its product more appealing. Also, explain how your products will benefit them. To introduce your company and focus your brand, create engaging content such as product videos and simple blog posts.
Build trust:
Now is the time to earn trust and demonstrate why people require your product or service. To build trust you need to create valuable, helpful, and trustworthy material such as case studies, training videos, etc.
Give reasons to buy your product:
Give prospects a reason to buy your product or service. As a result, you can offer free trials, send emails, and include CTAs.
Conclusion:
Consider your sales funnel to be a continuous process. Because your customers' needs change over time. By developing a high-converting sales funnel, you will not only build a loyal customer base, but you will also differentiate yourself from your competitors.
Related articles: