Introduction:
Hexomatic allows you to create, analyze, and launch automated workflows without any coding knowledge. Use the internet as your own data source and use it to automate 100+ sales, marketing, and research activities. In this Hexomatic Review, we will discuss how effective it is for web scraping and workflow automation. 
Hexomatic Review; Features:
Scrape info from any website:
With its simple point-and-click scraping method, you can automate time taking data-collecting tasks. Hexomatic has automated field identification and navigation to let you collect products, listings, and price data quickly.
Scraping recipes may be executed anytime or scheduled to find new, precise data that syncs seamlessly to Google Sheets or can be utilized in any automation workflow.
Hexomatic runs in the cloud 24×7, allowing you to handle tasks of any scale on autopilot. Each subscription provides a monthly limit of page access and free IP rotation for a hassle-free event.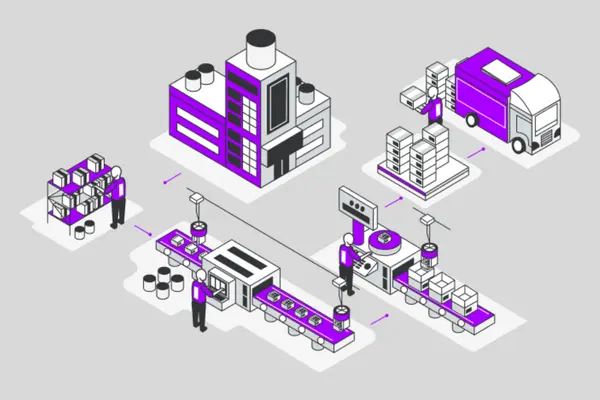 There are over 100 ready-mades built-in automation:
With their ready-made automation, you can complete time-consuming processes and enhance your data quickly. Find contact information, and particular document formats, convert photos, collect SEO data, identify software systems, and much more.
Initiate with a scrape recipe, CSV, or Google Sheets, and then add automation to conduct operations in bulk. A few built-in automation are Accessibility audit, Article scraper, Content analysis, Crawler, Crop images, Cryptocurrency converter, Currency converter, Data input, etc.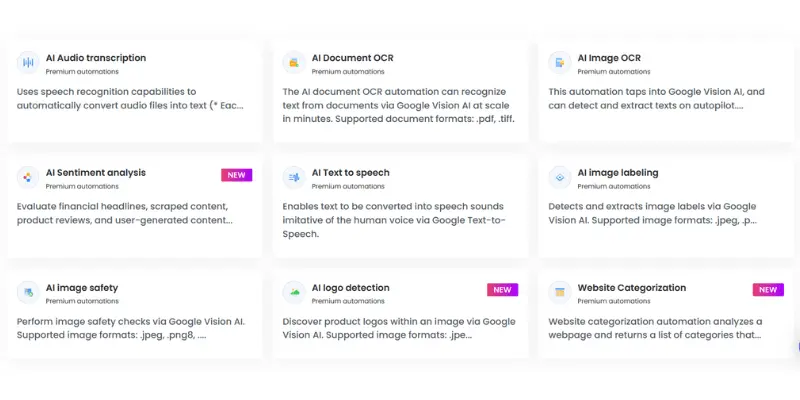 Utilize premium automation to gain access to third-party services:
No need to design your own scraping formula, identify leads through Google search or Google maps with just a few clicks. Integrate additional automation to uncover contact data, identify software solutions, or even calculate traffic for each client.
Receive Amazon info, use world-class computer translations from Google Translate or DeepL, and also get visitors analytics for any website directly within your processes, with no APIs or extra memberships needed. A few premium automation are AI Audio transcription, AI Document OCR, AI Image OCR, AI Sentiment analysis, AI Text speech, AI image labeling, etc.
Design your ideal workflow:
Workflows can be started with a collection of keywords, URLs, a CSV file, or even any website-collecting strategy. Conduct operations on your information, and link together more scraping techniques and automation systems.
Salespeople may automatically locate and enhance leads, saving hours of human labor. With translators, marketing people may get access to new marketplaces, information, and sources at volume.
SEO professionals may do sophisticated data capture scraping on a high level. To acquire and handle large datasets, data entry, and research people can create their customized scrape bots or use perfect automated systems.
Integrations:
Hexomatic integrates with the following:
Google Sheets
Discord
Telegram
Slack
Microsoft Teams
Integromat
SQL databases
Zapier
Integrately
Pabbly Connect
KonnectzIT
WordPress
Hexomatic Review; Benefits:
Transcribe photos in bulk.
Google Maps may be used to find B2B leads.
Audit of spelling and grammar on a website for SEO purposes.
Look for SEO guest post possibilities.
Attract affiliates for your product or service.
Learn how to contact Influencers.
Conduct a site-wide accessibility audit.
Examine a list of pages for accessibility concerns.
Analyze businesses that score high on Google for accessibility difficulties.
Using a list, research backlink partners and contact information.
Crawl your website and generate an XML sitemap.
Find email addresses for a variety of websites.
Search for backlink partners and contact information using a keyword.
Find all of the pages that connect to the highest-ranked websites.
Locate all of the pages that include links to your competitors.
Find domains that connect to the top-ranking sites for a certain keyword.
Look for domains that have links to your competition.
SEO options may be found on the resources page.
Obtain meta tags for a set of URLs.
Find the technology stack for a list of websites.
Examine websites and take screenshots on mobile devices.
Competitor analysis in a variety of domains.
In bulk, find email addresses and contact information for any domain.
Examine your competition for Amazon listings.
Audit the website's broken links
Create an XML sitemap by crawling a website.
Verify an email address list.
Pros:
There are several workflow and automation templates to pick from regarding data scraping.
The user interface is user-friendly.
Webhooks are available to quickly transfer data to other third-party apps.
It is best suited for minimal tech-savvy consumers.
Hexomatic's support is just fantastic.
Cons:
This is not intended for social media scraping or activities such as the automatic following, like, connection requests, or other behaviors that may result in users being banned from social media platforms.
When the workflow becomes stopped at a step and must be manually resumed in order to continue working.
Hexomatic Review; Pricing:
There is a free plan for Hexomatic, where you will get 75 automation credits and 1 Simultaneous running workflow.
There are three pricing plans for Hexomatic: Bronze, Silver, Gold, and Enterprise.
The Bronze plan costs $24 per month on a month-on-month basis. The costs become $20 per month when billed annually. Here you will get 2000 automation credits and 5 Simultaneous running workflows.
The Silver plan costs $49 per month on a month-on-month basis. The costs become $40.83 per month when billed annually. Here you will get 4500 automation credits and 10 Simultaneous running workflows.
The Silver plan costs $49 per month on a month-on-month basis. The costs become $40.83 per month when billed annually. Here you will get 4500 automation credits and 10 Simultaneous running workflows.
The Gold plan costs $99 per month on a month-on-month basis. The costs become $82.50 per month when billed annually. Here you will get 10000 automation credits and unlimited simultaneous running workflows.
The Enterprise plan is suited to your specific company requirements.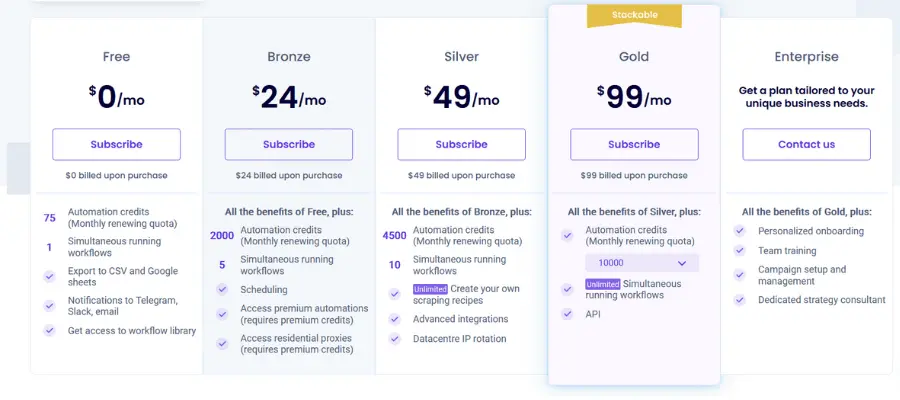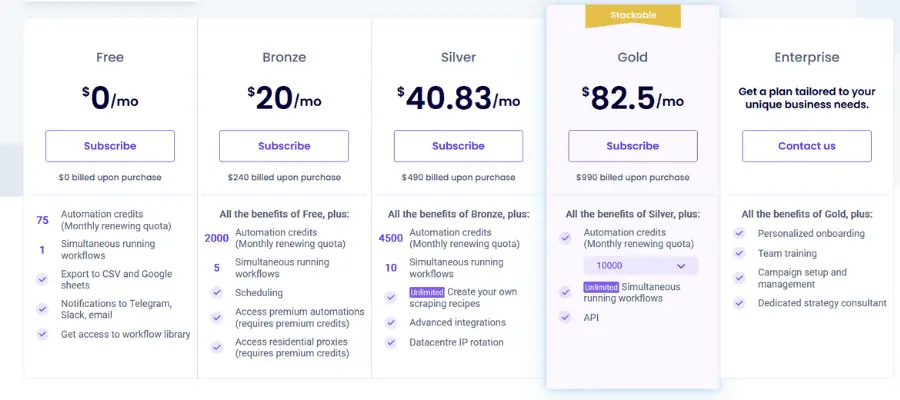 Hexomatic Review; Conclusion:
Hexomatic is a zero-coding powerful marketing partner, allowing you to use the web as your personal data source while automating and delegating time-consuming activities.
That's all about Hexomatic Review. Finally, all of their premium plans are protected by the 30-day money-back guarantee. So, if Hexomatic isn't a good fit for your company, they will give you a complete refund.
Related articles: