Introduction:
GroupApp Build a learning community across your topic of expertise. Connect your team and learn something new together in one location. You may earn money by selling courses and paid membership. In this GroupApp Review, we will discuss how effective it is to build a community, create online courses and earn money by sharing your expertise.
What exactly is a membership site?
A membership site is an online platform for managing memberships. A website where only members get access to exclusive information and other benefits. By focusing on client connections, is the best way to build a community and guarantee your business succeeds.
GroupApp Review; Features and Benefits:
Create your own growing community:
Create a community based on your knowledge, engage members with teammates, and grow via fascinating information and conversations.
With a simple community platform without distractions, advertising, and algorithm breakdowns, you can keep your members interested, participating, and obtaining the best potential results faster. A few tools to manage your community are listed below:
Channels: Use channels to organize your community topics and groups. Create levels for access, use membership payment plans to control membership, and manage what is posted within every channel.
Library: Manage and save your community supplies and additional course content in your community library, such as videos, PDFs, spreadsheets, and audio clips.
Group Chat and Direct Message: Personalized help may be provided to community members via direct messaging, or a group chat among community members.
Events Calendar: Highlighting future events and live courses can maintain your community active and interested.
Schedule your posts and emails: Through producing and planning community posts and email broadcasting, you can maintain constant interaction with your members while also saving time.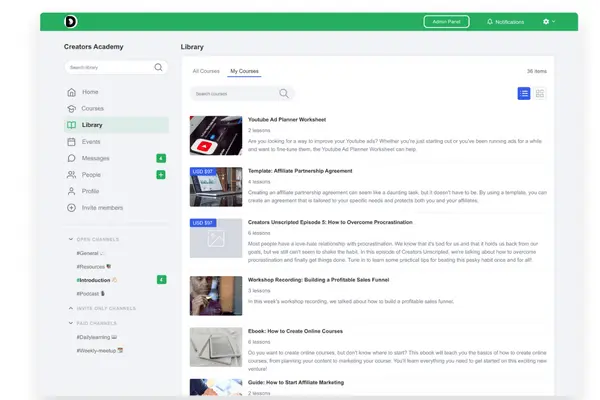 Make Online Courses:
Create engaging online courses using videos, voiceovers, worksheets, and posts to share your knowledge with your audience. Boost student performance and course completion via teamwork. Start sharing your expertise and help your community all in one place. Members receive regular feedback, coaching, and community assistance as required.
Conduct Cohort-based Courses: With their easy-to-use course creator and community features, you can build cohort-based learning that is interesting, dynamic, and engaging.
Monitor your student's progress: Track student coursework progress and level of activity to ensure student performance. Understand where they are having difficulty and give customized guidance.
Drip Schedule: Control when students receive access to course materials. Drip course lessons over a certain number of days following registration, or plan them to be released on a specified day.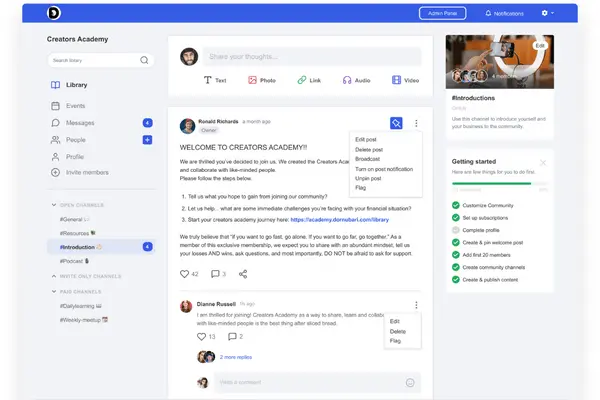 Get Paid For Your Knowledge:
Create a reliable and sustainable internet business that benefits you by sharing your knowledge. Profit from your skills by offering online courses and downloadable tools. Using recurring membership fees, you may create a long-lasting membership community.
Increase sales and revenue:
Through built-in automated, recurring processing transactions for premium memberships, courses, and training, you can save time. Also, you can eliminate the hassle of single product releases. Keep the cash register running 24×7.
Keep and Engage:
Increase participation by providing all-in-one online lessons, interruption-free conversations, and a support platform. As a result, members may easily stay engaged, achieve greater results, and convert leads into paid clients.
Live Stream Courses & Events:
Using integrated live streaming and video conference, you can provide your users with a much more engaged community experience while also incorporating real educational experiences into your programs.
Integrate GroupApp with your existing tools:
Smoothly Integrate GroupApp with your favorite tools using the existing integrations or create your own using the API and Zapier.
Integration with Zapier: Maintain your preferred tools and automate activities among your community and your favorite tool.
Single Sign-On: Set up Single Sign-on to enable authorized persons to access your community without having to input additional sign-in details.
API: Create a customized process and connect it to the API.
GroupApp is available for both iOS and Android:
You may join your community and online learning from everywhere, at no extra cost or setup.
Watch the official demo video below:
Pros:
Gain total control over your membership site's management system.
Simple online course creator – GroupApp is excellent for online courses since you can design and sell them inside the platform.
You don't have to be concerned about application integration because you may combine a variety of software solutions such as Mailchimp, Zapier, Google Analytics, HubSpot, and others.
Membership subscriptions are simple to manage with GroupApp.
Cons:
For the Basic plan, you will be charged a 5% transaction fee.
For a free trial, you need to provide credit card information.
GroupApp review; Pricing:
There is a lifetime free plan limited to 100 members only.
There are three types of pricing plans: Basic, Pro, and Premium. For all the plans you can start with a 14-day free trial.
The Basic plan is for connecting your online classes and community. It costs $39/month on a month-on-month basis. The costs are reduced to $29/month when billed annually.
The Pro plan is ideal for developing creators and enterprises. It costs $99/month on a month-on-month basis. The costs are reduced to $89/month when billed annually.
The Premium plan is for brands and large businesses offering learning at scale. It costs $499/month on a month-on-month basis. The costs are reduced to $489/month when billed annually.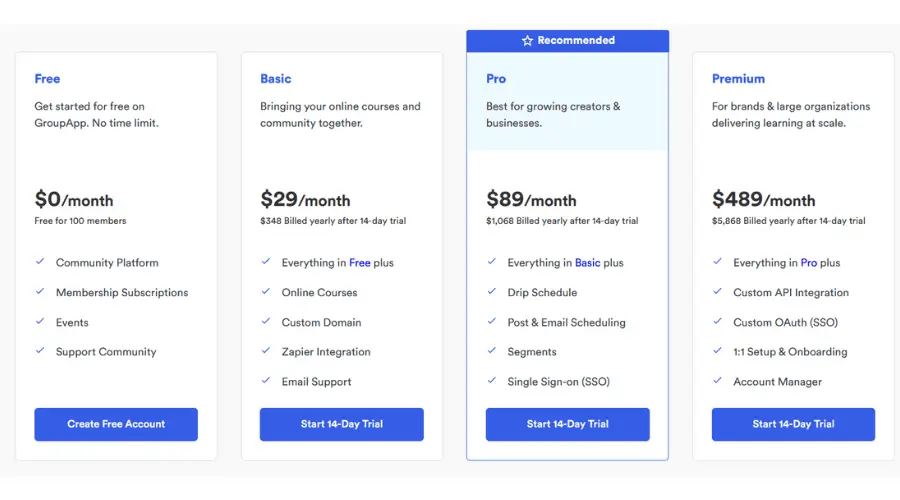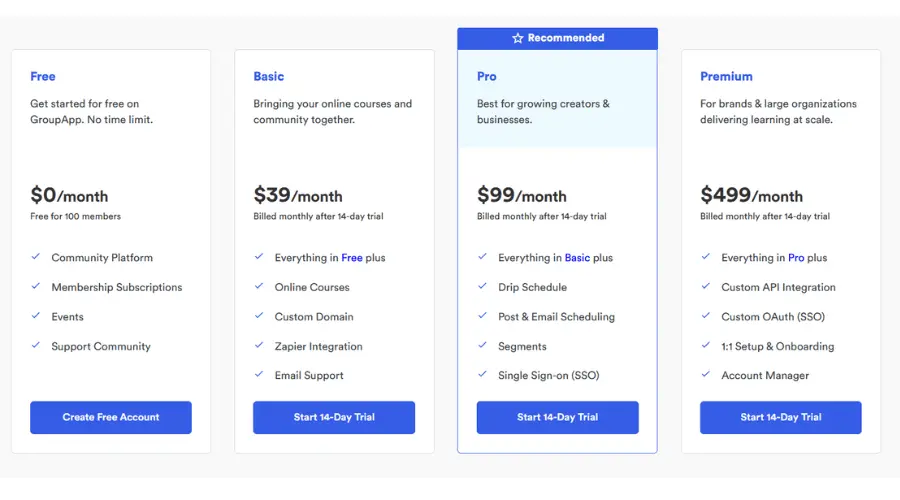 GroupApp review; Conclusion:
We hope you now understand the many features and crucial parameters to consider while considering GroupApp. That's all about GroupApp review. Let's start with a free trial to see whether it's the best fit for you.
Related articles: