What is Hoppy Copy?
Hoppy Copy is an advanced Artificial Intelligence Email Marketing Tool that helps you create engaging and interesting emails. It analyses your text and proposes modifications with natural language processing technologies. This Hoppy Copy Review has all its features and benefits to make you understand how effective it is for your email marketing campaigns. 
This may save you time while also producing higher-quality email writing for your subscribers. It can also help you increase sales. It offers plenty of other benefits that make it an essential tool for anybody looking to improve their email marketing efforts.
How does it work?
Hoppy Copy generates emails that are more successful and appealing to the subscribers. This tool performs this by analyzing prior email information and identifying trends that may be required to enhance upcoming emails. 
If it observes that a given form of email has a higher open and engagement rate, it will instantly alter the headline and the body of the new emails. This implies you're delivering higher efficient emails, which will result in a higher success rate.
With Hoppy Copy you can target the people on your mailing list who are most likely to respond positively, boosting interest in your product or service.
Want to purchase one year Deal in Appsumo? Click Here!
Best suitable for…
Bloggers
Content creators
Copywriters
Sales managers
Small businesses
Hoppy Copy Review; Benefits:
Create high-converting emails faster:
In seconds, this AI assistance generates strong text for hundreds of emails, drips, newsletters, and much more. It's especially focusing on email sales and marketing text, and more editing features.
Create a new email campaign and copy ideas:
Do not really wait for ideas to strike. Increase your imagination by coming up with fresh campaign concepts.
More than just email:
Utilize Hoppy Copy to create all of your other marketing materials as well. It may be your solution for superb marketing text.
Content converter:
With the content converter, you may repurpose content from any source. Convert your blogs into emails, from emails to tweets, and tweets to texts.
Increase open rates using spam detection:
Detect spam keywords that cause your emails to be sent to junk mail folders and replace them with better copies. 25% of marketing emails never make it to the inbox. There are a number of things you can do to minimize the probability of your email getting detected in a spam filter. 
Among the simplest and most crucial is to avoid utilizing spammy words in your subject line and the body. Hoppy Copy scans your text and tells you precisely what you need to modify so that your emails can deliver to your inbox.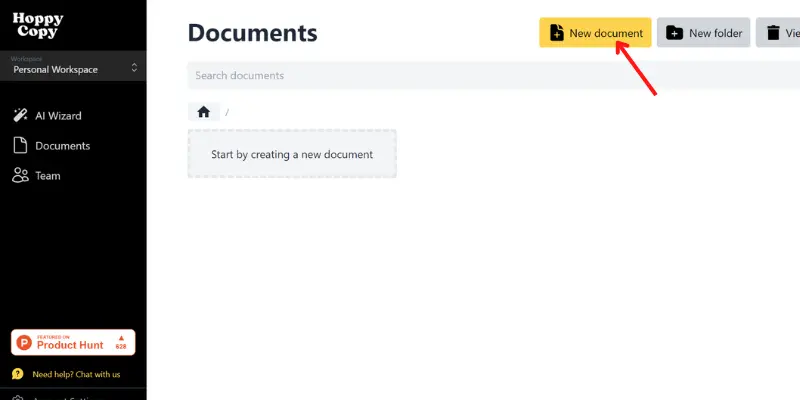 Sophisticated artificial intelligence copy editor:
Improve the look of your marketing content in a second. Advanced editing tools provide you with all you require to turn your work bloom in real-time. Using its Grammarly integration, you can modify a section, adjust the tone, add appealing CTAs, and guarantee the words mean correctly.
Want to purchase one year Deal in Appsumo? Click Here!
Hoppy Copy Review; Features:
Hundreds of email copy templates:
Apply proven templates and techniques to develop writing that generates extraordinary results for every sort of email.
Write variations:
Easily write variations of current emails for A/B testing, customized for a certain brand style, and modified for diverse personalities.
Check for Grammar and Spam:
Mark an email to discover spam terms, then replace those words with a cleaner copy.
Change the tone:
Choose a tone that fits your brand: convincing, cheerful, elegant, professional, and so on.
Formatting a copy:
You can easily drag, drop, and organize your information. There is a dark mode provided for late-night work.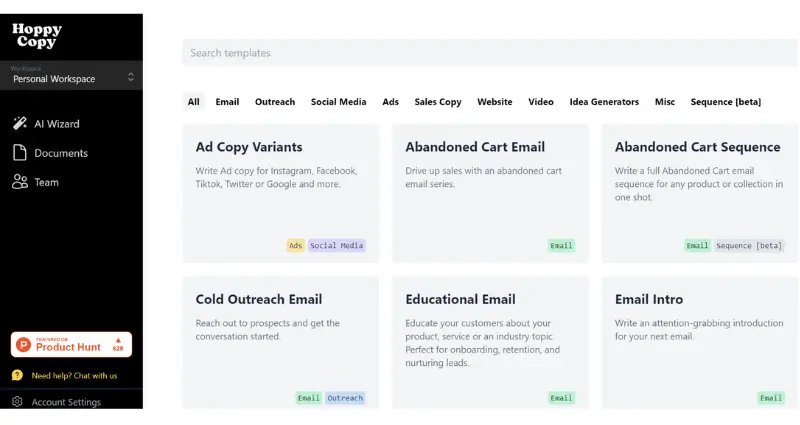 Pros:
Create fantastic email marketing text in seconds.
Create catchy headlines, attention-grabbing subject lines, strong call-to-action, and so on.
Create enticing Facebook advertising, enhance website material, and so forth.
Using 40+ email marketing templates, you can create effective email copy.
It is compatible with both desktop and mobile devices.
They support almost 35 languages.
Spam detector.
Community accessibility.
Cons:
The free trial period is only 7 days, which may not enough.
Hoppy Copy Review; Pricing:
There is a 7-day free trial for all its paid plans. Hoppy Copy provides three types of paid plans: Starter, Pro, and Pro+.
The Starter plan is $29 per month and allows you to create 20,000 words for one user. The Pro plan is $49 per month and includes 50,000 words for three users. The Pro+ plan costs $99 per month and allows you to produce 120,000 words for a maximum of 5 users.
There is also a one-year plan going on in Appsumo. This costs $99 for a whole year.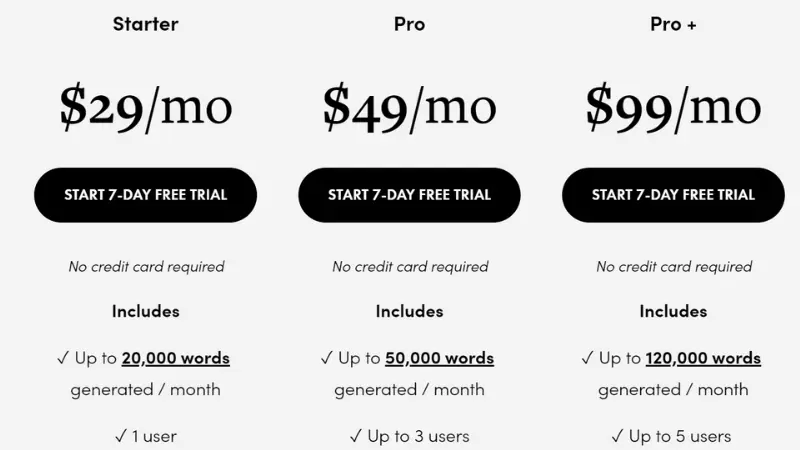 Money back guarantee:
Also they provide a money back guarantee with no questions asked. If you don't enjoy Hoppy Copy after 30 days, contact hey@hoppycopy.co and they will return 100% of your money without asking any questions.
Hoppy Copy Review; Conclusion:
There are several AI tools available on the internet, the vast majority of which employ basic language models that write the same for all users. Hoppy copy creates unique and engaging emails for everyone.
That's all about Hoppy Copy Review. That is exactly what the Hoppy Copy AI has been trained to perform. And this is the only tool that was specifically made for email marketers.
Want to purchase one year Deal in Appsumo? Click Here!
Related articles: