What is MailerCloud?
MailerCloud is a low-cost and simple-to-use email marketing and CRM platform. This is intended to ensure client retention by sending customized, scheduled, and time-sensitive emails. In this MailerCloud Review, we will go through all features and benefits of this email marketing platform. 
Don't worry if you've found it difficult to set up an email campaign. MailerCloud is one of the most user-friendly email marketing platforms available in the marketplace.
Mailercloud is a simple and effective email marketing tool. Its key functionalities assist marketers in increasing engagement and converting leads to buyers.
The drag-and-drop editor, email customization, automation, and categorization capabilities assist in the creation of email campaigns without the requirement for technical knowledge.
How MailerCloud works?
Create emails that are incredibly intriguing and aesthetically appealing. Create, deliver, and track frequent email campaigns that are very captivating, responsive, and personalized.
Pick an email template or create your own.
Make your email copy appealing.
Target the appropriate group or contact list.
Examine, test, and send your campaign at the correct time.
Analyze the results.
MailerCloud Review; Features:
Email templates that are responsive:
Mailercloud email designs are extremely responsive across all devices. This offers a high-quality and personalized emailing experience for the customer.
Specialized content blocks:
Select a content block from various categories. Drag and drop the content blocks you wish to include wherever you desire.
Custom templates can be saved in the template gallery:
Create your own templates and save them in your template gallery. You can employ them in many campaigns. You may also reuse these in future campaigns.
MailerCloud Review; Template Gallery:
Emails that stand out in the inbox and increase sales. Begin by customizing one of the templates. No coding knowledge is required.
You don't have to start from the beginning when creating an email. Its editable templates provide you with a variety of layout options to suit your messages. Use the design tools to generate appealing emails that look great.
Monitoring of the blacklist:
Ensure secure email delivery. Using Mailercloud's blacklist monitoring tools, you can eliminate any blacklisting scar issue on your targeted subscribers and enhance your brand.
When a blacklisted sender ID is utilized to deliver an email to a customer, spam complaints may increase. Also, avoid adding links to banned domains in email communications. The blacklist monitoring tool helps you to maintain high outreach results.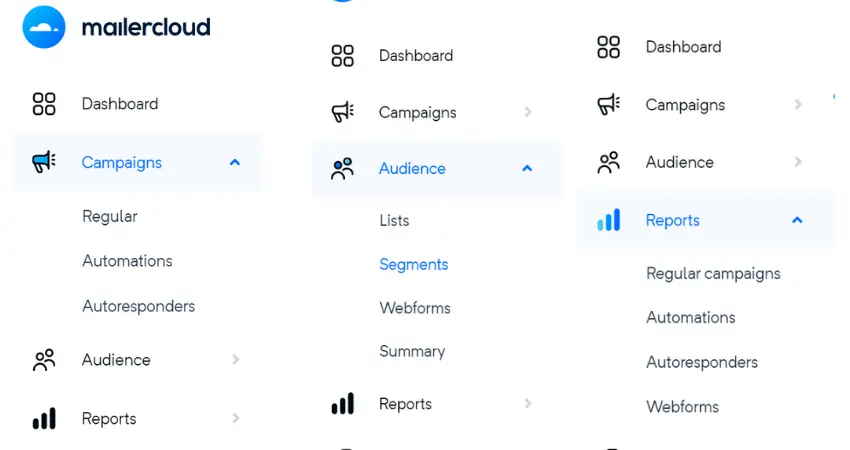 Custom HTML editor:
Create your own email template. Use HTML codes from a bespoke HTML editor to make your emails stand out. Choose a custom-coded template and just insert the code into it.
Subscriber segmentation:
Deliver the appropriate message to the appropriate individual. Contacts should be divided into specific categories based on mutual interests or behaviors. Deliver personalized emails in the easiest possible way.
Mailercloud allows you to categorize all of your subscribers depending on a number of factors such as subscription level, contact score, campaign hashtags, gender, age, region, sector, and so on.
Form builder:
Its online form builder is simple to use and doesn't require any technical knowledge. They have included a variety of form templates that would adapt to any of your company's needs and match your audience. This allows you to quickly and easily develop appealing online forms that automatically convert visitors into Mailercloud contacts.
You can create types of forms like Embedded forms, Standalone pages, Pop up forms, Dropdown banners, Slide-in right boxes, Slide-in left boxes, etc.
MailerCloud Review; Custom domains:
Utilize custom domains to establish a reliable brand. With the help of our custom domains, you may strengthen brand loyalty and expand your organization. The marketing of brands is the most significant advantage of utilizing a custom domain. Your brand will be presented in a more positive light and will show stability. Once users can see your brand name within the domain, people will access the right website with confidence.
Dedicated IP:
Boost the sender's reputation by obtaining a dedicated IP address that exclusively relates to your company. Numerous businesses are generally hosted on one email server by an email marketing company. Typically, this pool includes your IP address. You can utilize a private IP with just a dedicated IP that will just be connected to your SMTP server.
Timestamp:
Use Timestamp to determine your maximum email open time. Determine the exact day and time that emails were opened. With the Timestamp tool, you can determine when your email clicks and peaks after sending an email campaign.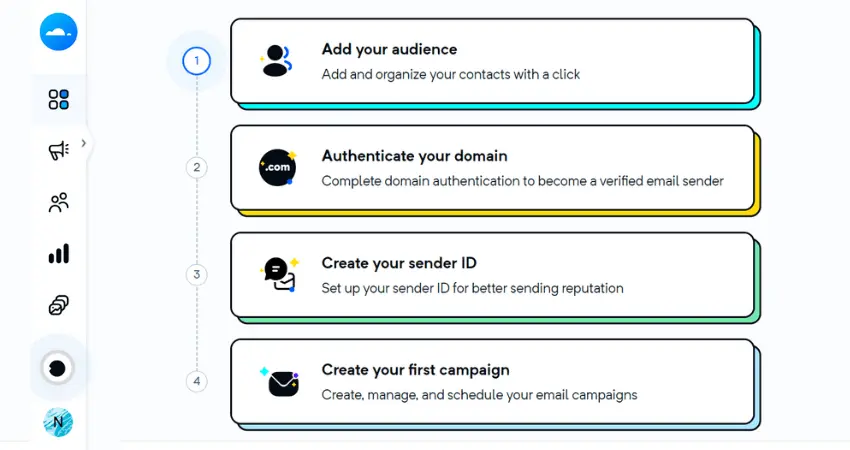 MailerCloud Review; Benefits:
No coding skills are necessary:
Mailercloud is a user-friendly tool for creating compelling email templates that require no technical knowledge.
Save time and energy:
The easy technique can save you all of the unnecessary time and energy you are spending typing HTML coding.
appealing creatives:
Customize your preferred email format by dragging and dropping appealing email blocks. Mailercloud allows you to create your own template for free.
Fulfillment of design:
Make your own template. Based on your consumers' preferences and the type of your business, you may create engaging and outstanding content that will retain your customers and also attract new clients.
Personalize your emails:
Utilizing the custom field tags, you can easily personalize your emails when using HTML code. They have compiled a list of possible custom field tags from which to pick. Include personal info about your clients, such as their company name or location, to make them feel unique. Your subscriber will think that the email had been sent especially for themselves.
Campaigns preview:
Mailercloud provides a preview for your PC, mobile device, and tablet. It guarantees that your consumers have a high-quality and enjoyable email interaction.
Build relationships and trust:
This will help you manage your contacts more efficiently. Sending incredibly relevant material at the proper moment will leave an impression on your subscriber. Many one-on-one interactions with everyone on your list of contacts.
Contact Monitoring:
Contact monitoring provides better insights into efficiency. Import a list of contacts, categorize your contacts, and obtain a full real-time summary of your connection activity record in just a few clicks.
Rating of contacts:
Learn who your most devoted clients are. Send campaigns to contacts who are highly engaged by rating them from one to five. By focusing on all contacts with a rating of fewer than three stars, you may re-engage all your less active connections.
Delete any inactive contacts:
Keep your contact lists clean by deleting inactive users. By avoiding sending email messages to subscribers that are inactive, you may save time and money.
campaign reports:
Get comprehensive insights for your email campaigns to help you plan ahead strategically and increase the quality of your leads. Get comprehensive reports for each of your campaigns on one platform.
You may examine all of your reports, including those from your A/B testing, regular campaign, autoresponder, and automation. You will boost conversions with the aid of these report analytics.
Get real-time results:
You may monitor and analyze your efforts by looking at who has read your email newsletters or interacted with the offers. Track trends using high-level data, or focus on specific subscribers. Track the level of interaction and general development of your audience with real-time data. Use these data to further target and improve the effectiveness of your email campaigns.
Based on time zone:
Choose the ideal time to send your emails. Deliver emails based on recipients' time zones to achieve high reader engagement. You may reach out to your consumers worldwide at their preferred time of day by sending emails according to their time zone. Try not to disturb your consumer with an email marketing message at unusual hours.
Automated email:
Automate your workflow to perfection. With simplicity, create custom email automation processes. Automate processes at a large scale with your full control under various situations.
A/B testing campaign:
A/B tests the effectiveness of your campaigns. After doing randomized testing on your emails, send the ideal email marketing campaign possible. You may test with your email's headers, subjects, preheaders, calls to action, text, graphics, etc. with Mailercloud.
Integrations:
Discover the plugins and integrations to help you synchronize contacts and integrate web forms. Deliver emails much more effectively, and customize your Mailercloud interface to your requirements and specifications.
Pros:
Because it is so clear and visual, it is very difficult to be confused.
Easy to use and comfortable.
thorough reporting and statistics.
a web-based tool that you may use to engage from anywhere with as many persons as you desire.
Cons:
Little expensive for large contact lists.
MailerCloud Review; Pricing:
There is an excellent lifetime free plan for Mailercloud. You can only save a maximum of 1000 contacts and send 12,000 emails each month on the free plan.
There are two types of pricing plans in Mailercloud: Premium and Enterprise.
Premium plan cost between $10/mo for 1k contacts to $1800/mo for 600k contacts. The Enterprise plan is a custom plan. The price depends on your needs.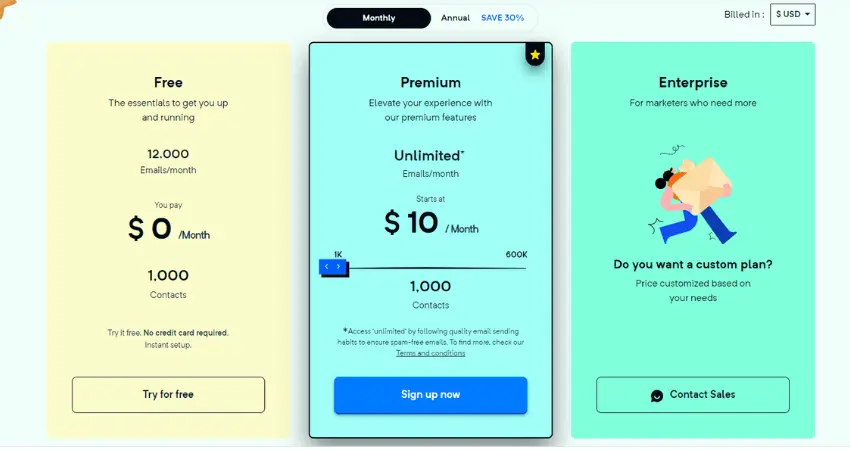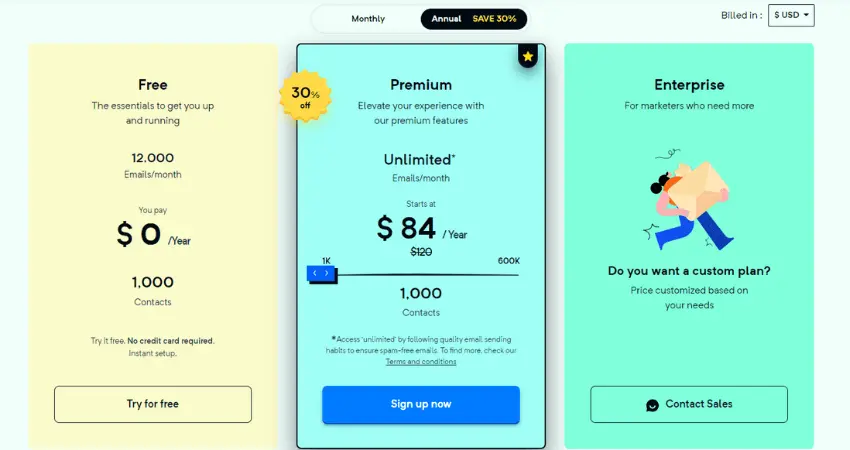 MailerCloud Review; Conclusion:
To simplify and strengthen your email marketing journey, use Mailercloud. Still confused? Try the free plan first, and if found suitable upgrade it. That's all about MailerCloud Review. I hope this review article will be helpful for you to make the right decision to pick this email marketing tool.
Related articles: