What is Podia?
Podia is a fully functional digital marketplace where you may host and sell your online courses and create memberships. It's a platform that prioritizes creators, business owners, and freelancers, in earning lifelong revenue. In this Podia Review, we will discuss how good it is to create online courses and market them. So, read this review article carefully before purchasing it.
This is one of the most excellent platforms for selling various digital content types, enabling you to market online courses, training, webinars, communities, and more. It is an excellent, affordable platform for building online courses with many exciting features.
Types of courses you can create:
Standalone course:
You may include any type of material in your courses online, such as writing, photos, videos, audio clips, links, PDFs, questionnaires, etc.
Drip courses:
Part by part according to a timetable you choose, provide the course material to your students.
Bundle of courses:
Related courses can be bundled together and offered as an expert or comprehensive teaching alternative.
Pre-sell courses:
Before launching, collect money. Pre-selling is the best method to test your future course design.
Cohort-based classes:
To establish a feeling of community and enable direct communication, choose a future launch date so that each of your participants may register for the course during the same period.
Pre-launch courses:
Prior to making a purchase and publishing your most recent course, test concepts and gather email addresses.
Podia Review; Features:
Build online courses:
You may design the course according to your preferences so you'll enjoy how it appears. With Podia, it's simple to create an appealing, professional-looking online course that your students will enjoy. No coding or design knowledge is necessary to quickly customize your complete website. 
Creating your course is simple since Podia handles the challenging aspects. Your videos may be directly uploaded to Podia, you can create a Podia high-converting sales page, market your course and accept the course fee online. Podia takes care of everything right away so you can concentrate on creating a course that your students will like.
Before spending any money, you may set up all aspects of your online course. Take as much time as you require, and once you're done, launch with Podia.
Digital download:
In only just a few minutes, you can create an appealing sales page, attach a digital download, and begin selling on Podia. Your book, infographics, videos, and pretty much anything else. No difference whatever product you're offering, Podia makes it simple for you to create a lovely sales page and make conversions.
Earn money right instantly by selling your worksheets and ebooks. Among the most demanded stuff that producers sell on Podia are textual items. Only need to upload those to begin selling and keep 100% profit.
Sell Zoom workshops and webinars:
Through Podia you can market your Zoom webinars and classes. Live courses and webinars are excellent things to sell, but handling the fees may be difficult. In order to use your preferred tools while keeping it all in one location, Podia enables you to sell directly to the courses you previously conduct via Zoom or YouTube Live streaming.
Podia enables you to host webinars for your audience by integrating with both YouTube Live and Zoom. Invite guests to sign up using Podia rather than conducting a live stream on YouTube. 
Convert inactive YouTube viewers into motivated email subscribers. To expand your email list, offer webinars at no cost. Your viewers can purchase access before the webinar goes live if you pick a date and time for the webinar.
Build website:
You can make an eye-catching free website in about ten minutes.
Your Podia site may be used for a variety of things, including selling items, sharing personal information, and hosting a community. With Podia, you can effortlessly develop and update your website. Your website's layout is up to you. With the use of color schemes, brand styles, and logos, you can modify your website as per your requirements.
Coaching:
Selling your skills is simple with coaching sessions, and it's much simpler if you can control your website, scheduling, and payments from a single platform like Podia.
Offer coaching in the same location as you offer other products. There is no new technology to learn.
One-on-one teaching is simple with Podia. Simply integrate your preferred scheduling tool, and visitors to your Podia page will be able to schedule and collect payment for coaching sessions.
Calendly, Acuity, YouCanBookMe, SavvyCal, and a lot more other well-known scheduling tools that Podia can be integrated with.
Invite affiliate marketers to sell:
Your sales team might be made up of your followers and clients. Your affiliate program enables others to promote your products in return for a commission that you choose, allowing you to expand by compensating others.
With Podia, inviting anyone to your affiliate program is simple. It may be previous clients who wish to support the sale of your products, or affiliate marketers who advertise your offerings in exchange for a commission. You can maintain everything in one location. You won't have to spend time figuring out how to integrate various tools while building your affiliate program on Podia.
Email marketing:
With Podia, you have all the resources you need to promote to your audience and offer digital products, in addition to building your email list. 
By including email registration forms on any webpage on your Podia site, you may expand your email list. Build automatic drip email campaigns that keep your subscribers interested throughout the whole sales process. Whenever anyone downloads a free product, begin using drip marketing to guide them through the sales funnel toward your paid items.
Embeds:
Product summary embedded for the download or subscription. Typically include a buy button, a product picture, a headline, and a summary. It may be included anywhere in a blog post or a separate sales page.
You can insert a little snippet of code into any website, including those powered by WordPress, Wix, Squarespace, LeadPages, Unbounce, and more. The people that visit your website will be able to purchase your products online.
Integrations:
Podia integrates with hundreds of tools so you may maintain everything you require on a single platform.  Podia can integrate 1900+ tools into your website. An embed will appear on your website as you press submit, just paste a link from YouTube, Spotify, Airtable, Google Forms, Twitter, or many other platforms.
Build a community:
You may design your own community in Podia that you can manage.
Podia gives you the ability to develop both free and paid communities for your audience in order to promote discussion about your creative work. Establish an accessible, inclusive group. Update the subscription feed for your paying customers.
Also, create a feeling of community in your online classes.
Podia Review; Benefits:
Create a captivating online subscription or course.
Wistia offers limitless video hosting.
Use the built-in course player to properly deliver your course content.
Make a sales page that is appealing.
Charge a one-time cost, a membership price that renews, or even a payment schedule.
Take payment without any hassle with Stripe or PayPal.
Digitally manage EU VAT taxes.
Make your affiliate program and control it.
Send automated emails and broadcasts.
Pros:
Setup and use are quite simple.
Both the store and the course can be built with a simple, contemporary style.
Include checkout and purchase buttons on outside websites.
live chat widget built-in.
You can set up autoresponders.
Excellent customer service.
No transaction fees on any paid plans.
Cons:
Need to pay a transaction fee for the free plan.
You can't create a separate community.
Not appropriate for create a whole website.
Podia Review; Pricing:
There is a lifelong free plan for Podia, but you need to pay an 8% charge for each transaction. 
There are three paid plans in Podia: Mover, Shaker, and Earthquaker.
The Mover plan costs $39/mo when billed monthly, and the costs are reduced to $33/mo when billed annually.
The Shaker plan costs $89/mo on the month on monthly basis, and the costs become $75/mo when billed annually.
The Earthquaker plan costs $199/mo when billed monthly, and the costs are reduced to $166/mo when billed annually.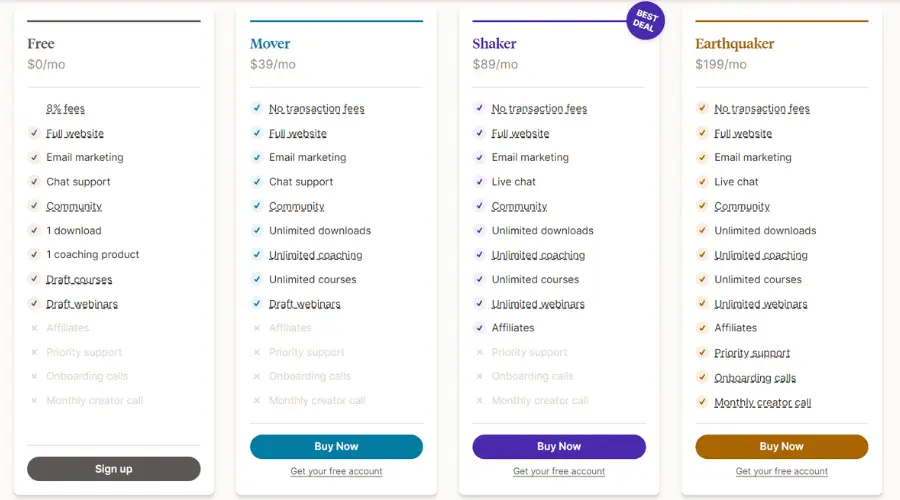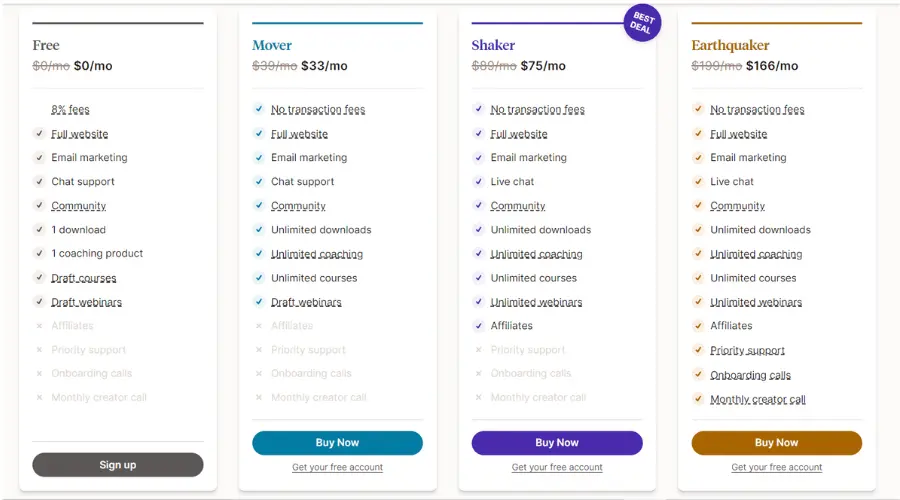 Podia Review; Conclusion:
That's all about Podia Review. Because it makes starting an internet company easier, I prefer Podia. I can concentrate on developing the greatest courses possible instead of bothering about the website and operations. They also provide outstanding customer service.
Podia is the most user-friendly tool for developing and marketing online courses and subscriptions. If you don't know how to code or have any technical experience, you can still host and deliver your stuff, create a lovely web store, and begin selling it.
Related articles you may like to read: