Introduction:
Hubspot is a CRM platform that is simple to use that you and your entire organization will prefer. The CRM platform from HubSpot offers all of the tools and connections required for sales, content management, marketing, and customer support. In this Hubspot CRM Review, we will go through all features, benefits, prices, pros, and cons of this tool. So, before purchasing the tool, read this article.
The real magic comes when all of your products are used together, and Hubspot CRM will do the same for your business. Every week, more than 750,000 clients utilize the HubSpot CRM to power their marketing and relationships. This gives them the information they need to organize, manage, and cultivate relationships with prospects and clients.
Hubspot CRM Review; Features:
HubSpot Marketing Hub:
Marketing Hub centralizes all of your marketing tools and data into a single, comprehensive platform. You'll save time and obtain all the information you need to deliver an excellent experience that engages and converts visitors into consumers.
Produce Blog article:
Produce content that your intended audience is searching for, and you'll get more visible in search engines, social media, and more. Include CTAs that will turn visitors into buyers.
Ad tracking and managing:
Stop fighting to justify your advertising expenditure. Control Facebook, LinkedIn, and Google advertisements from within HubSpot, and monitor which ads are converting visitors into sales.
Social Media Administration:
Track and prioritize interactions, and post to social networks using the same platform you use to design campaigns.
Use Videos:
Improve the quality of your content by utilizing the power of video. Videos can be hosted and managed inside HubSpot, and they can be simply included in social media, websites, and blog articles.
Live Chat:
Use chatbots to verify leads and expand your activities so you can focus on the important interactions.
Sales Hub:
Sales Hub minimizes hassle by putting all of your technology and analytics together on one simple, effective CRM platform. You can now concentrate on your consumers.
Tracking and managing documents:
Create a collection of useful sales information for your business, send files directly from your Gmail or Outlook inbox, and track which content is most effective in closing sales.
Conversation AI:
Collect data from each and every call instantly so you can discover the reason for the performance of the team.
Call monitoring:
For optimal productivity, prioritize your sales calls, record conversations right from your computer, and immediately track them in your CRM.
Service hub:
Service Hub gathers all of your client service data on a single CRM platform, allowing you to efficiently maintain, retain, and expand your client base. As a result, Good customer service management and satisfied customers at every point of the process.
Customer Service Portal:
With a secure client portal, you can give your consumers control over their experience. Your gateway maintains ticket discussions between consumers and representatives, allowing issues to be handled more quickly.
The Knowledge Base:
Reduce the number of support queries by assisting clients in self-help. Turn common inquiries into a searchable library of support pages, videos, and information.
Omni-Channel Messaging:
Access numerous channels in your email and effortlessly move among them to engage your consumers wherever they are.
Inbound Calling:
In HubSpot, you can accept and analyze incoming calls from people.
Calling using VoIP:
Using HubSpot's VoIP software, call your customers straight from the HubSpot platform. Get clear voice quality as well as call tracking and statistics.
Website Themes:
Use all of HubSpot's pre-made website templates with customization options. Create a unified website without having to worry about inconsistent designs, logos, or layout.
CRM is fully integrated:
Monitor site viewers in one location and use CRM data to build a customized online experience. Also with the HubSpot CRM platform, your site can be transformed into a business generator.
Adaptive testing:
Easily optimize your website on a continuous basis. Compare different revisions of a page. HubSpot will track progress and recommend the best one.
Syncing of data:
Maintain your data and apps in sync with a no-code method. Two-way sync, custom field mappings, filters, and historical synchronization are all included to keep your teams on the same page.
Automation of Data Quality:
Get rid of time-consuming data cleaning. With new automation, you can modify data attributes, format titles, and more quickly.
Customized Properties:
In HubSpot, you have the freedom to keep and personalize all of your data. Create reports using customized property data, and create dashboards to communicate ideas with your staff.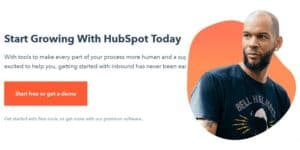 Hubspot CRM Review; Benefits:
Improve SEO:
Increase your search exposure and beat the competition by utilizing tools that can help you build your content marketing plan and optimize your content.
Drag-and-drop builder:
Websites can be updated and created without the help of a developer or special code.
Templates for emails:
Make your effective sales emails into templates that can be shareable with your group and save time. Simply customize the email and send it using your CRM dashboard.
Email analysis:
Know the exact moment a prospect reads an email so that you can follow up at the perfect time and execute sales quickly.
Suggestions for SEO:
With the SEO tips home page, you can instantly see how you may optimize your point and take steps, all in one location.
Automation of sales:
Personalize your sales funnel by automating it. Create a series of customized emails and follow-up activities to keep you in the front of your prospects' minds all throughout the sales pipeline.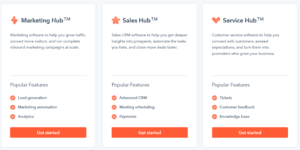 Pros:
Free Plan:
Out of the hundreds of CRMs we've researched and reviewed, HubSpot has the most complete free plan.
Pricing is flexible:
Although HubSpot's subscription plans might be costly, there are several methods to combine services to obtain what you need at a low cost.
A Scalable Solution: 
The suite of scalable tools it provides for management, content, customer support, sales, and advertising.
Simple to use:
With HubSpot's sophisticated price structure and customization, the software itself is simple to use and easy. There are hundreds of options available, the creators do an excellent work of creating things readily available.
Simple to create:
HubSpot is simple to access and utilize on a daily basis. 
Customer Service:
HubSpot is well-known for having an excellent customer support team. You may ask the support by chat, email, or phone, based on your plan.
There are several free tools available:
Everybody can use the free features, irrespective of whether they use HubSpot for their CRM. HubSpot provides a bunch of free tools to new company owners.
Cons:
Pricing tiers are a little complicated.

There is no customer service on the free plan.
Hubspot CRM Review; Price:
HubSpot offers a large number of free tools across all of its product lines. Free CRM tools, promotional tools, sales tools, and customer support tools are all included. You can afterward upgrade to the premium versions. 
HubSpot, on the other hand, makes it difficult to determine how much those new versions will cost you. It's a little complicated because there are so many different packages and pricing tiers to pick from.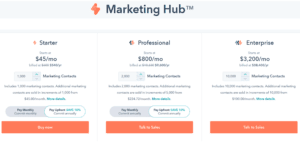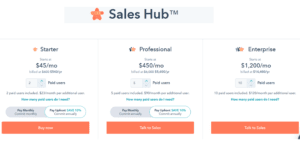 Marketing hub:
When invoiced yearly, the Starter plan costs $45 per month.

A professional plan costs $800 per month for purchasing an annual contract.

The Enterprise plan costs $3200 per month when billed yearly.
Sales hub and service hub:
When invoiced yearly, the Starter plan costs $45 per month.

The professional plan costs $450 per month for purchasing an annual contract.

The enterprise plan costs $1200 per month when billed yearly.
CMS hub:
The starter plan costs $23 per month when billed annually. 

The professional plan costs $360 per month for purchasing an annual contract.

The Enterprise plan costs $1200 per month when billed yearly.
Operations hub:
The Starter plan costs $45 per month when billed annually.

For an annual commitment, the professional plan costs $720 per month.

When invoiced yearly, the Enterprise plan costs $2000 per month.
Hubspot CRM Review; Conclusion:
HubSpot CRM is an established industry leader in sales and marketing. But, whether that's worth paying depends on your demands and the nature of your organization.
HubSpot is a robust CRM that can assist your business to expand, from managing contacts to services like live chat and email scheduling.
That's all about Hubspot CRM Review, this is a vital part of the HubSpot ecosystem. An inbound marketing SaaS platform that helps businesses of all sizes to attract people, convert them, generate more leads, and close more sales.
Few related articles you may like to read: